A video claiming that Gorkhali soldiers serving in the Indian Army have been recalled to Nepal and that China has given assurance to recruit those soldiers into its army has gone viral on TikTok. Newschecker found that the viral claim is fabricated.
TikTok user @manojthakuree7 posted a video, which shows visuals of military parade, and text superimposed on it reads, "Suddenly, Gorkhali soldiers serving in the Indian Army have been called in to Nepal. China calls on Gorkhali soldiers to be recruited into its Army." Audio accompanying the footage is presented in a news bulletin style, and echoes the similar views.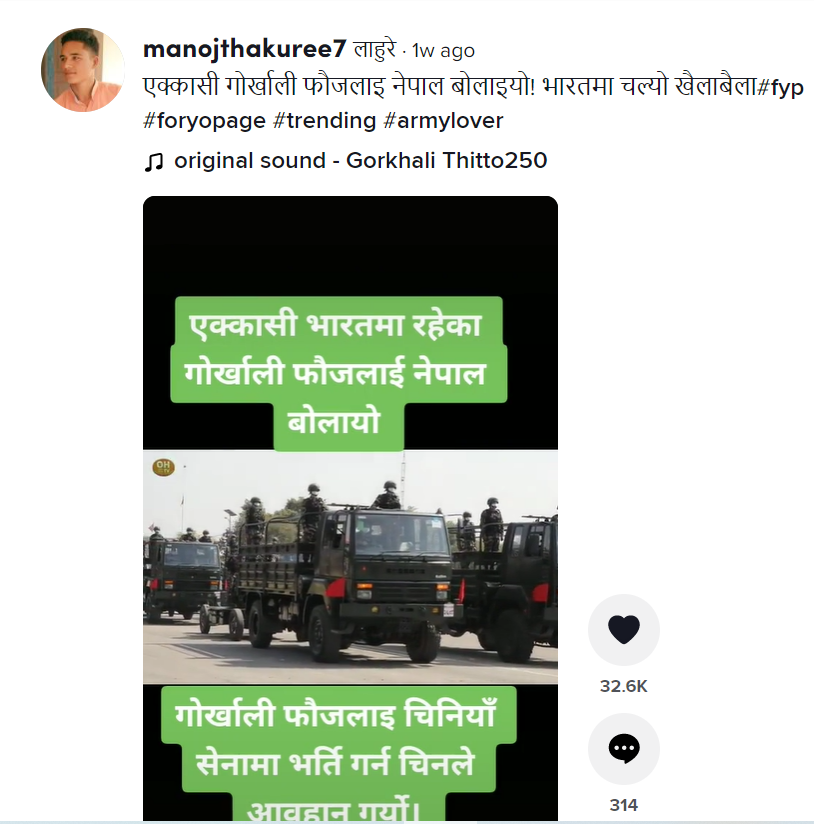 The video posted on March 1 has been spreading fast, garnering 32.6k likes, 120 shares and 314 people have commented on it until the last count.
Fact Check /Verification
To check the veracity of the claim, Newschecker began by searching for reports of the Nepal government recalling Gorkha soldiers serving in India. We also searched for reports about China's alleged assurance to recruit Gorkha soldiers into its army. But we couldn't find anything like that.
Then, we took key-frames from the video and conducted a Google reverse image search and found a photo story, published on dainiknepal.com, carrying some pictures resembling the video. The photo story depicts moments of Army Day celebration, marked every Mahashivaratri festival.
On closer inspection, we noticed a logo of OnlineHarpal on the viral video. Taking it as a clue, we searched the YouTube channel of OnlineHarpal and found a video of this year's Army Day celebration observed in Tundikhel, Kathmandu. Newschecker analysed the video and found the portion of the video from 12.15 time-stamp indistinguishable from the viral video. See the video below:

Further, to find the original source of the voice-over used in the viral video, we searched YouTube for Nepali keywords 'Gorkha soldiers', 'China', and 'recruitment' and came across a video with a title reflecting the spirit of the claim made in the viral video. On checking the video posted on a lesser-known YouTube Channel 'Mero Pokhara TV', we found that the video contained the same audio used in the viral video. The narration and visuals shown in the video seem amateurish, while the video contained unsubstantiated and unverified claims.
Conclusion
The video claiming that the Nepal government has recalled Gorkha soldiers serving in India to Nepal, and that China has assured to recruit those soldiers is fabricated.
Result: Fabricated
Our Sources
OnlineHarpal
Dainik Nepal
Mero Pokhara Tv
---
If you would like us to fact check a claim, give feedback or lodge a complaint, email us at checkthis@newschecker.co You can also visit the Contact Us page and fill the form.