As the fans of Nepali Cine artist Purna Bikram Shah alias Paul Shah are eagerly waiting for the final verdict on a rape allegation case against him, many videos with unverified claims regarding Shah are being shared online. Against this backdrop, two videos allegedly claiming that artist Shah has been released from jail are viral on TikTok. Newschecker found old and unrelated videos are being shared in a false context.
Shah is currently being held in judicial custody at Tanahun District prison after a 17-year-old singer accused him of raping her on a promise of marriage. Shah and the singer have worked together in several music videos. On March 24, Tanahun district court ordered Shah to remain in custody until the final verdict.
The rape allegation case against Shah has drawn a widespread public attention, and took more twist after the singer changed her statement that she was not raped by the actor but filed complaint after being provoked.
A TikTok user @paulshahofficial posted a video, showing some media workers and artist Shah entering a residence compound and meeting the apparent house owner. Text superimposed on the video reads, "Paul Shah has been released from jail. He got a chance to meet his father after a long time. Paul Shah's house in Dang"
The audio attached to this video says, "Today, we are at the residence of Nepal's superstar Paul. I am with Kabita, Arjun Dai and Da [Paul Shah]. Here is Buwa [Paul's father]. We have already greeted him. How are you Buwa? Don't you feel lonely in the village?"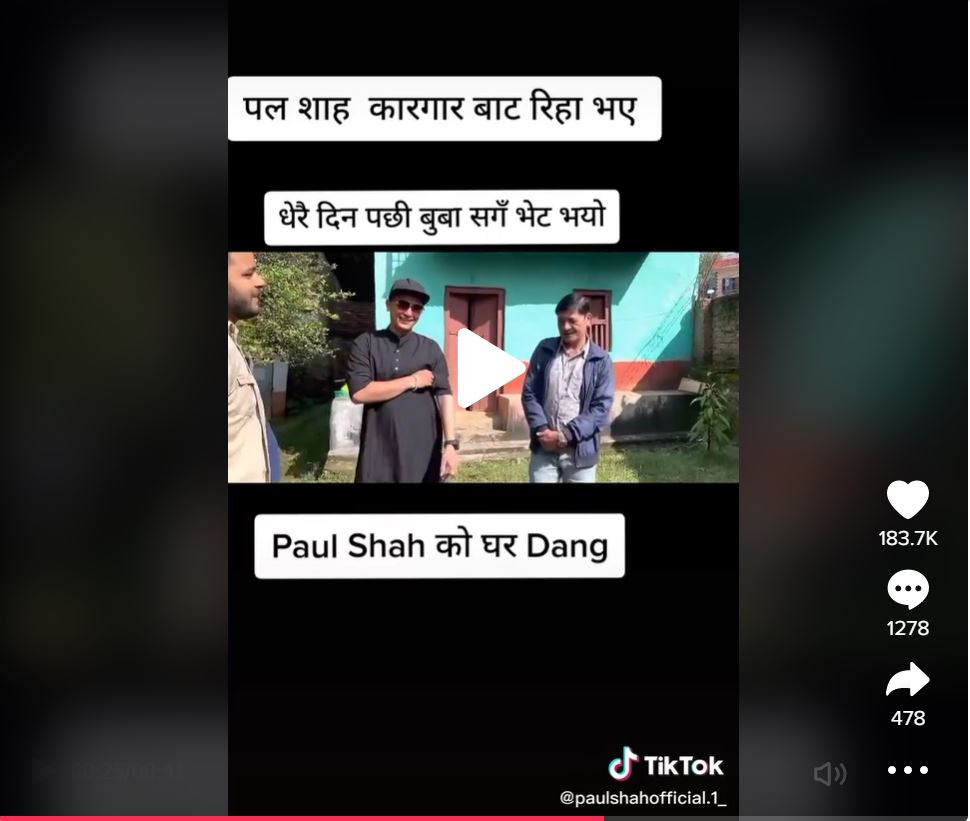 The video posted on April 18 has garnered 183.7k likes, 472 shares, and 1,278 people have commented on it till this report was filed.
Another TikToker user @laxmanachary77 posted a video, where Paul Shah is escorted by police personnel as soon as he gets out of a vehicle. People are heard chanting, "Paul Shah". Text superimposed on the video reads, "Finally, Paul has won. Ravi has reached Tanahun jail, Pooja's secret video." We reckon that the text refers to journalist Ravi Lamichhane and actress Pooja Sharma.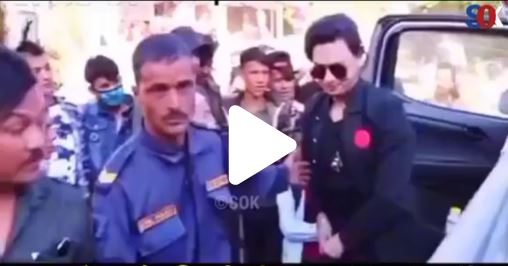 The video posted on July 17 has been liked by 11.1k users, with 119 comments.
Fact Check /Verification
To check the veracity of the claims made in the first viral video, Newschecker conducted a search on YouTube by using the keyword 'Paul Shah's home' and found a video, the frames of the video exactly matched the shared video. The video was posted on a YouTube channel, Ratoparda TV in March, 2022. On analysing the video, Newschecker found that the video shows Shah visiting his ancestral home in Dang. In the video, the narrator says that the people who are sick and tired of the failures in the film and modelling industry should not worry anymore. He goes on to say that they can keep some soil collected from Shah's house to remove the bad spell.
Newschecker reached out to Prem Pun to inquire about the tentative date when the video was shot. He confirmed that the video was shot about a year ago, which is around six months before Shah's arrest. Earlier in February, Shah had turned himself in at Tanahun District Police after two separate cases were filed against him. He has not been released since he was taken into custody in February.
The Newschecker in its investigation found the video old and out of context.
To check the authenticity of the second viral video, Newschecker took several keyframes from the video and conducted reverse image searches but could not find any satisfying results matching the viral claim.
We further searched YouTube and Facebook using keywords 'Paul Shah' and 'Paul Shah security' but didn't find any results matching the viral video.
Finally, we reached out to Tanahun district court registrar Min Bahadur Kunwan to inquire about Paul Shah's status. He told Newschecker that Shah is still in judicial remand and has been kept at Tanahun District Prison in Damauli.
Earlier in May, Shah had appealed at the Pokhara High Court, challenging the decision of lower courts—where the cases against him were filed. But the High Court on June 2 upheld the decisions of Tanahun district court and Nawalpur district court of sending actor Shah to judicial custody on a rape charge.
Conclusion
No, actor Paul Shah has not been released from jail, the viral videos allegedly showing Shah's release were old and unrelated.
Result: False Context /False
Sources
Tanahun District Court Registrar
---
If you would like us to fact check a claim, give feedback or lodge a complaint, email us at checkthis@newschecker.co You can also visit the Contact Us page and fill the form.