A 27-second long video appealing people to vote for Bhim Rawal, who is allegedly running for a seat in the federal House of Representatives from Achham-1 in the upcoming election on Communist Party of Nepal-Unified Marxist Leninist (CPN-UML) ticket, has gone viral on TikTok, recently. Newschecker found the claim to be false. Rawal is not fighting any election this time, he was denied a ticket by his party. 
TikTok user @lokendrasaud4 posted a video, showing a series of images of CPN-UML leader Bhim Rawal. Audio accompanying the video says, "Namaskar local brothers and sisters! Vote for sun to elect CPN-UML candidate Dr Bhim Rawal with a huge majority from Achhan district constituency-1 in the upcoming election slated for November 20, Long Live CPN-UML and Dr Bhim Rawal."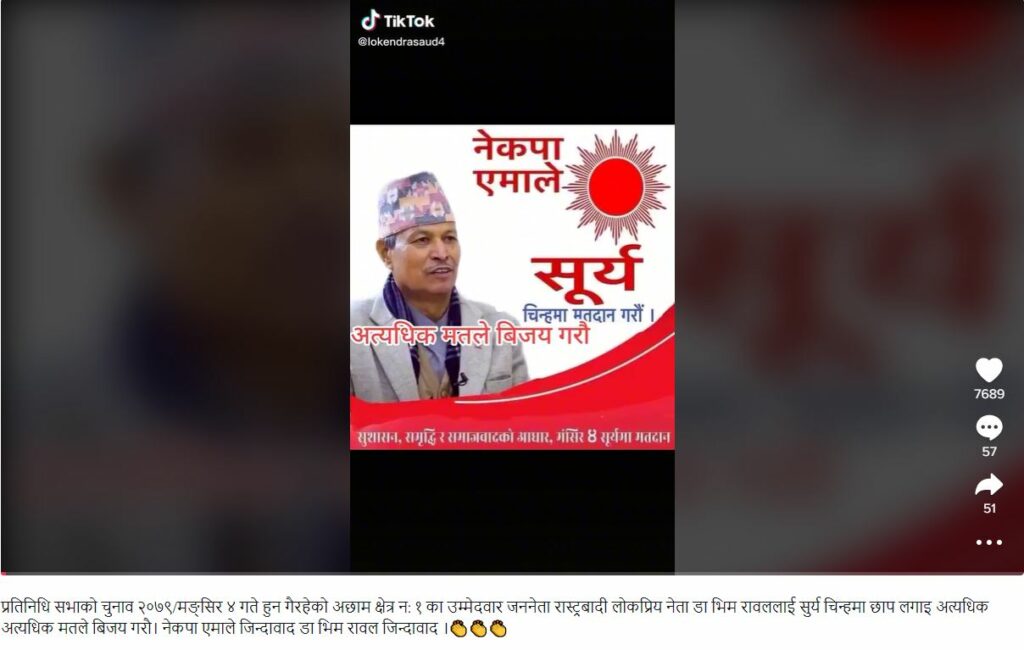 The video posted on September 4 has garnered 7689 likes, 51 shares and 57 people have commented on it until the last count.  
Fact Check /Verification
To check the veracity of the claim made in the viral video, Newschecker browsed the website of Nepal election commission to see who has been fielded by the CPN-UML to contest the election from Achham district-1 and found that the party has fielded Jhapat Bahadur Bohara in the constituency. This was also confirmed by the election update portal of Kantipur daily.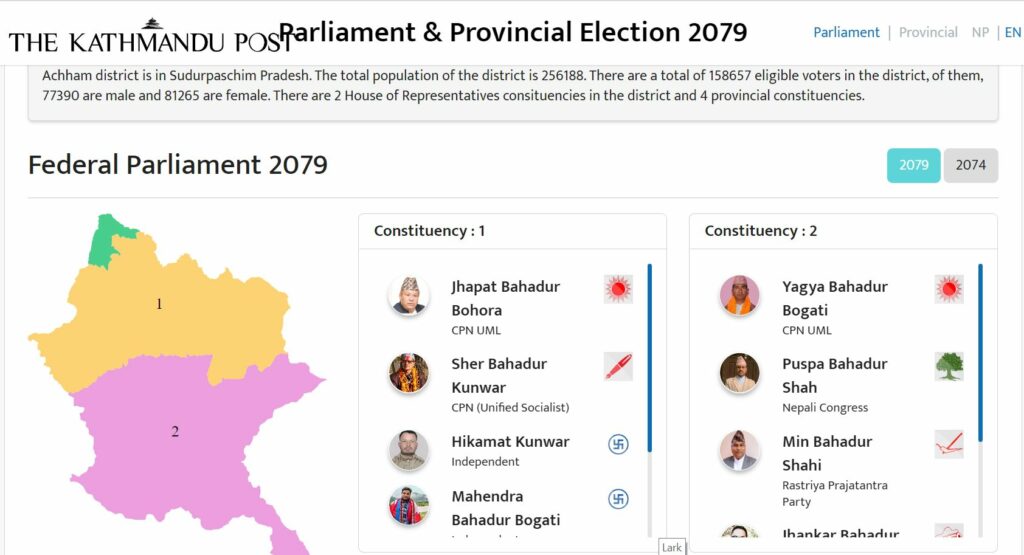 Further, we searched for news related to Rawal's candidacy and found a news article published in setopati.com on October 13. The news reported Rawal expressed his displeasure at the CPN-UML's move to deny him election ticket.
We also found another news report published in myrepublica online on October 7 about CPN-UML's reluctance to give election any ticket to Bhim Rawal. The news article further clarified that though Achham District Committee of the UML had unanimously recommended Rawal's name to run for a seat in the federal parliament, the party didn't give him a ticket from Achham-1.
Conclusion
The election promotion video appealing to vote for Sun, the election symbol of UML, to ensure victory of CPN-UML leader Bhim Rawal is false, as Rawal was denied ticket by his party and Jhapat Bohara is running for a seat in the federal House of Representatives from Achham-1.
Result: False
Sources
ekantipur.com
Setopati.com
Myrepublica.com
---
If you would like us to fact check a claim, give feedback or lodge a complaint, email us at checkthis@newschecker.co You can also visit the Contact Us page and fill the form.