Claim
Shoe hurled at Prime Minister Pushpa Kamal Dahal during a programme at City Hall

Fact
Old video of a man being grabbed and dragged by police shared as recent incident

A video claiming to show a person being arrested after he threw a shoe at Prime Minister and Communist Party of Nepal (Maoist Centre) Chairman Pushpa Kamal Dahal is going viral on TikTok. Newshecker found the video to be old and shared as recent.
With the Supreme Court registering two petitions against Prime Minister Pushpa Kamal Dahal in an insurgency-era case, many old videos and images linked with Prime Minister Dahal, who is known by his nom de guerre 'Prachanda', are being shared as recent among Nepali social media users.
Among such videos, TikTok user @surya_a_brand posted a video showing security personnel grabbing a person from the audience and dragging at a formal program. Audio presented in a news reporting style says, "Prime Minister Pushpa Kamal Dahal has been attacked with a shoe at Rastriya Sabha [City Hall]. Police tortured and arrested the person who hurled a shoe at the prime minister." The archived link to the TikTok video can be seen here.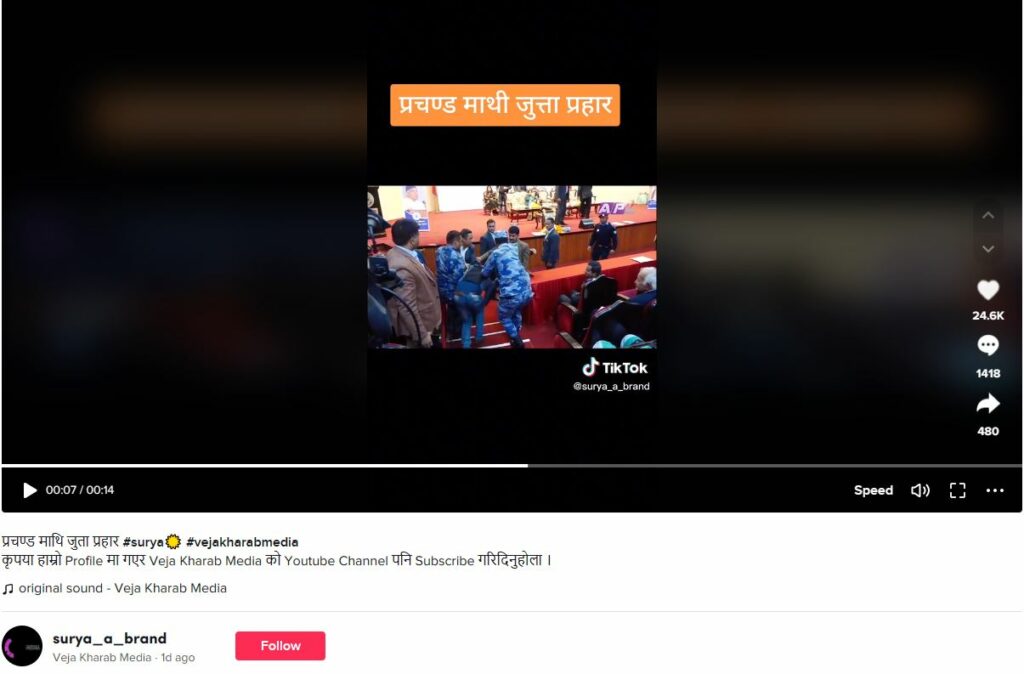 The video posted on March 15 has garnered 24.6k likes, 480 users have shared it and 1418 people have commented on it until the last count.
Fact Check /Verification
To check the authenticity of the claim made in the viral video, Newschecker took a keyframe from the viral video and conducted a reverse search which threw up several results posted on Facebook. On checking a March 1, 2020 post by Nepal Swatantra Party lawmaker Biraj Bhakta Shrestha, we found that the video frame exactly matched the viral video. Shrestha had shared the video, originally posted by Nepal Live online on its Facebook page, on the same day. This indicated that the post was from March 2020.
Further, we noticed the logo of AP1 Television on the top right corner of the video. Taking it as a clue, we conducted a search on YouTube using relevant keywords and found a video posted on the YouTube channel of AP1 Television whose frame exactly matched the viral video.
Then, we also looked up for news article of the incident where a shoe was thrown at Pushpa Kamal Dahal and found several news articles related to the incident. On scanning an article published on The Kathmandu Post online on March 1, 2020, Newschecker found that a 22-year-old youth was arrested for throwing a shoe at Nepal Communist Party Chairman Dahal. The news identified the youth as Ratan Tiruwa, son of a former Maoist combatant who died during Nepal's decade-long civil war.
Thus, our findings leave no room for doubts that the viral video shows the March 1, 2020 incident where a youth was arrested after he hurled a shoe at Pushpa Kamal Dahal.
---
If you would like us to fact check a claim, give feedback or lodge a complaint, email us at checkthis@newschecker.co You can also visit the Contact Us page and fill the form.