Claim
Massive fire engulfs a high-rise building in Kathmandu
Fact
The viral video shows September 22 fire incident in a tall building in central China
A nine-second video claiming to show a massive fire engulfing a building in Kathmandu is going viral on TikTok. Newschecker found the claim to be misleading.
TikTik user @karanarjunbhai9076 posted a video showing a skyscraper in flames with plumes of smoke billowing out. Terrified people on the street are seen running on the street. Text superimposed on the video reads, "Today in Kathmandu April 10, 2023." The video claims to show the building on fire in Kathmandu. The archived version of the claim can be seen here.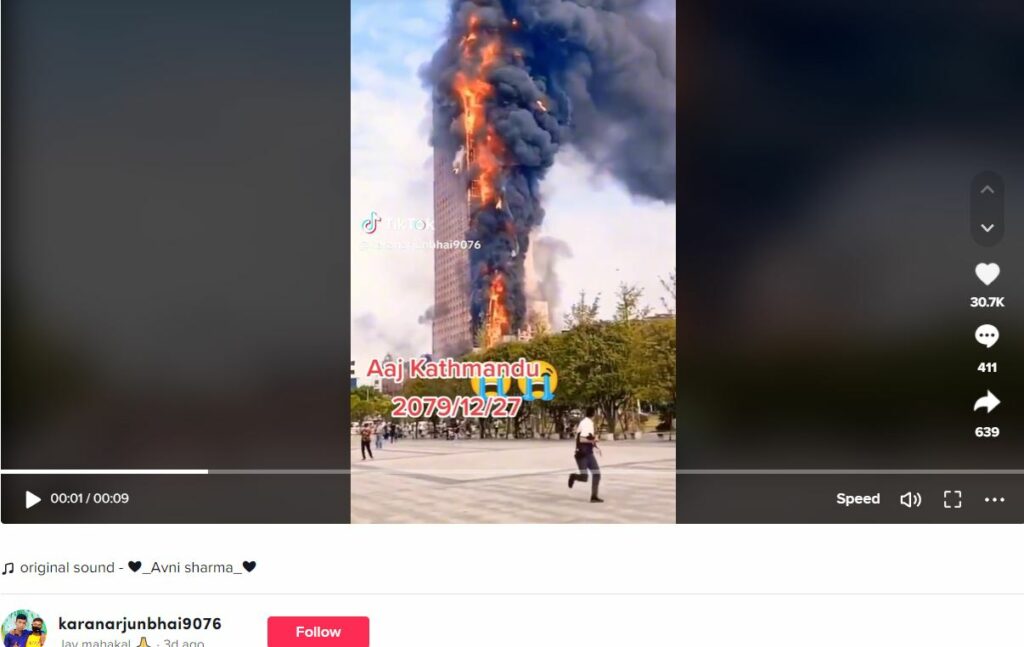 The video posted on April 11 has garnered 29.7k likes, 611 users have liked it and 394 people have commented.
Fact Check /Verification
To check the authenticity of the claim made in the viral video, Newschecker took several keyframes from the viral video and conducted a reverse image search on each of them. The results threw up several results matching the viral video. On checking a video published on a YouTube Channel named Sosial Black, we found that the video frame matched the viral video. The caption and description of the video posted on 17 September, 2022 was in Russian language. So, we translated Russian text with the help of google and found the video circulating on social media showing a giant plume of smoke rising from a building that caught fire on 16 September in Changsha, central China.
Further, we conducted a search on YouTube by using the relevant keyword 'fire engulfs skyscraper in China' which led us to a video report published in the YouTube channel of Hindustan Times on 16 September 2022. We analysed the footage after watching the video thoroughly, we found that the high-rise building shown on the Hindustan Times video matched the tall building seen on the viral video. On reading the video description, we found that the fire broke out in a 42-storey building housing an office of China's state-owned telecommunications company China Telecom in the central Chinese city of Changsha.
Thus, our investigations showed that the video shows a fire incident in a skyscraper in China and not in Kathmandu as claimed by the viral video.
Conclusion
The viral video claiming to show a massive fire in Kathmandu is actually an old video from China.
Result: False
Our Sources
Sosial Black, 17 September, 2022
Hindustan Times, 16 September, 2023
---
If you would like us to fact check a claim, give feedback or lodge a complaint, email us at checkthis@newschecker.co You can also visit the Contact Us page and fill the form.