Claim
Rastriya Swatantra Party lawmaker Dr Toshima Karki lashing out at the detractors of Dharan Sub-Metro's Mayor Harka Sampang
Fact
RSP lawmaker Karki is venting her ire at the attempt by big political parties to protect culprits of Bhutanese refugee scam
A viral video allegedly showing Rastriya Swtantara Party (RSP) lawmaker Toshima Karki hitting out at those calling Dharan Sub-metropolitan City Mayor Harka Sampang 'a mad man' is going viral on TikTok. Newschecker found the claim to be misleading.
TikTok user @sanjubabasanju763 posted a video showing RSP lawmaker Karki passionately speaking at the parliament. Text superimposed on the video reads, "RSP Lawmaker Toshima gave a strong reply to those who are calling Harka Sampang a mad man." The purported voice of Toshima says, "The sunken eyes of Bishnu Rimal who sees Harka Sampang [Dharan Sub-metropolitan City's mayor] as an insane person. You should tell what kind of damage and destruction Harka Sampang has done because of his craziness. And which part of Nepal's territory has Harka Sampang sold? You should also make it clear how many people Sampang sold by providing fake documents of Bhutanese refugees to Nepali people. You must have seen it with your damaged and sunken eyes. You have been constantly posing an obstruction in the development since the very beginning…" The archived version of the TikTok video can be seen here.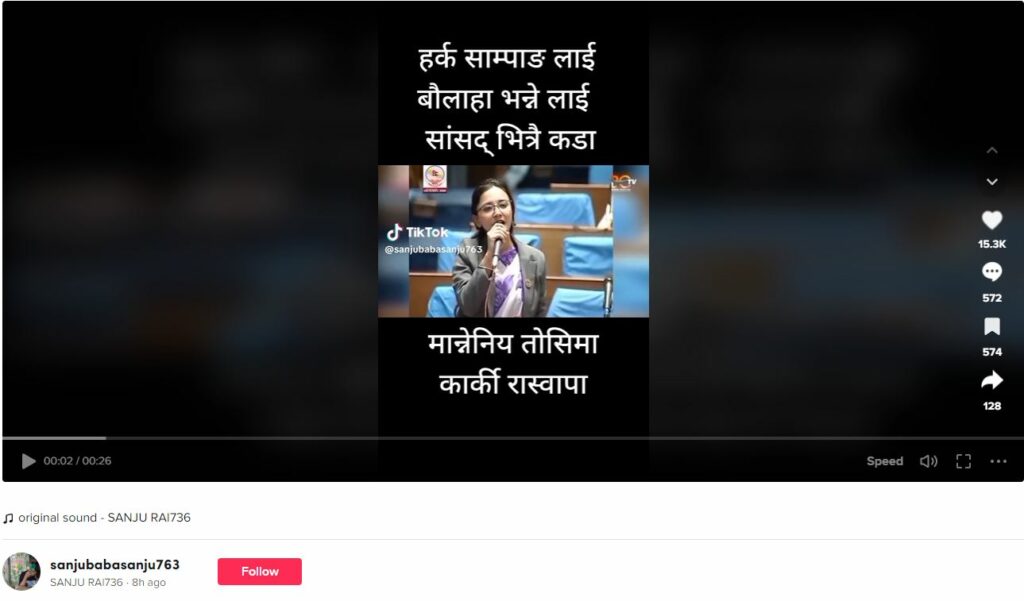 The video posted on May 22 has garnered 22.4k likes, 195 users have shared it and 852 people have commented on it until the last count.
Fact Check /Verification
To check the authenticity of the claim made in the viral video, Newschecker took a keyframe from the viral video and conducted a reverse search. The results threw up several results, pointing us to a recent video of RSP lawmaker Toshima Karki speaking in the House of Representatives regarding the fake Bhutanese refugee scam.
On checking a video published on the YouTube channel named Darsan Television, we found that the video frames exactly matched the viral video. However, RSP lawmaker Karki can be heard venting her ire at the tendency of protecting corrupt people and bringing the country to disrepute on the global stage. She goes on to criticise Nepali Congress lawmaker Arzu Rana Deuba raising question about the latter's recent comment when asked for an investigation into the alleged audio tape on the fraud case of turning Nepali citizens into Bhutanese refugees for sending them to the United States.
Further, we checked for the news regarding Toshima Karki's speech in the parliament and found an article published on Myrepubica online on 9 May, 2023. The article titled 'Dr Karki questions Arzu Deuba: How is gender linked to corruption?'. We found that the article was about Dr Karki's passionate speech in the parliament that hinted at NC member of parliament Arzu Deuba's complaint of violence against women while an investigation into the fake Bhutanese refugee scam was demanded.
Our findings clearly showed that RSP lawmaker Dr Karki has not spoken about Dharan mayor Harka Sampang Rai but she spoke about the attempt to protect the culprits in the fake Bhutanese refugee scam.
Conclusion
The viral video purporting to show RSP lawmaker Dr Toshima Karki speaking in favour of Dharan mayor Harka Sampang in the parliament is edited by laying a false audio on top of a video of her criticising the big political parties for their dubious role in the fake Bhutanese refugee scam.
Result: Edited Video
Sources
Darshan Television/YouTube, 9 May, 2023
My Republica Online, 9 May, 2023
---
If you would like us to fact check a claim, give feedback or lodge a complaint, email us at checkthis@newschecker.co You can also visit the Contact Us page and fill the form