Claim
Nepali girl performing In Blind Audition of An American Singing Competition
Fact
Indian-origin girl performing in Australian music reality show The Voice

A video allegedly showing a Nepali girl performing in an American reality show singing competition is going viral on TikTok. Newschecker found the claim to be false and misleading.
TikTok user @dimanvibe posted a video showing a girl singing an English song. Text superimposed on the video reads, "The voice of global. Nepali sister." Text on the bottom right corner of the video reads, "Blind auditions USA 2019. Song: When it rains it pours by Luke Combs." The archived version of the TikTok video can be seen here.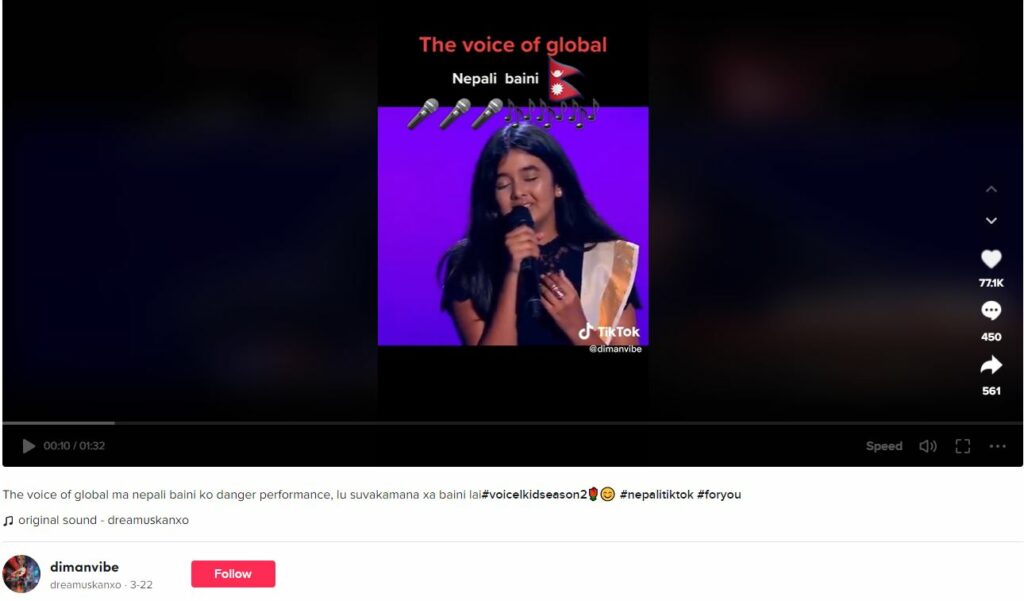 The video posted on March 22 has garnered 77.1k likes, 561 users have shared it and 450 people have commented on it until the time of publishing this article.
Fact Check /Verification
To check the authenticity of the claim made in the viral video, Newschecker took several keyframes from the viral video and conducted a reverse search on them which threw up several relevant results. The search led us to a video posted YouTube channel named The Voice Australia. The video frames exactly matched the viral video of a girl singing in a reality show. The caption of the video posted on 9 August 2021 revealed that the girl is 12-year-old Janaki performing in Australian music reality show The Voice.
Further, the reverse search also pointed us to a YouTube Channel named Janaki Eswara. On checking a video pinned on the channel, we found that the girl identified as Janaki Eswara is an Indian-Australian singer who was the youngest singer in the history of the singing competition show The Voice.  
We also found an interview of Janaki published on an online magazine named 'The Week' and learnt that she was performing a song titled 'Lovely' by American artist Billie Eilish on the show. However, she was not performing on an American reality show and she was not covering a song titled 'When it rains it pours by American artist Luke combs' as claimed in the viral video.
Our investigation clearly showed that the girl was an Australian artist with Indian origin and she was performing in an Australian reality show.
Conclusion
The viral video purporting to show a Nepali girl performing in an American reality show is misleading as the girl seen performing in the video is an Indian-Australian teen.
Result: False
Sources
Janaki Eswara/YouTube , 31 May 2022
The Voice Australia, 9 August 2021
The Week, 31 August 2021

---
If you would like us to fact check a claim, give feedback or lodge a complaint, email us at checkthis@newschecker.co You can also visit the Contact Us page and fill the form.