Ever since Russia launched an all-out attack on Ukraine, many unrelated images, videos, and false information regarding the ongoing Russia-Ukraine conflict are making their way online. No wonder that this virtual trend has made it difficult for many people to distinguish between what's true and what's not. Amidst this inundation of unsubstantiated claims, two videos claiming that Ukraine's President Volodymyr Zelensky has urged Nepal's government to send Gorkha soldiers to support his country's war against Russia, are going viral on social media platform TikTok. The videos further claim that Zelensky has said that he can "teach a lesson" to Russia if he gets the support of Gorkha soldiers. Newschecker found that the claim to be false and fabricated.
TikTok user K-eshabmc24 posted a video showing a mix of visuals including Ukraine's President donning army combat gear, Nepal's Prime Minister Sher Bahadur Deuba, a military parade of Nepali Army and Nepal Police personnel. Text superimposed on the video reads, "Now Gorkhali soldiers are going to Ukraine. What is going to be the plight of Russia?" Audio accompanying the video says, "Ukraine's President has spoken to the Nepal government seeking support of the Gorkha army. The Ukraine's President says if Ukraine gets the support of the Gorkha army, then they can teach a good lesson to Russia."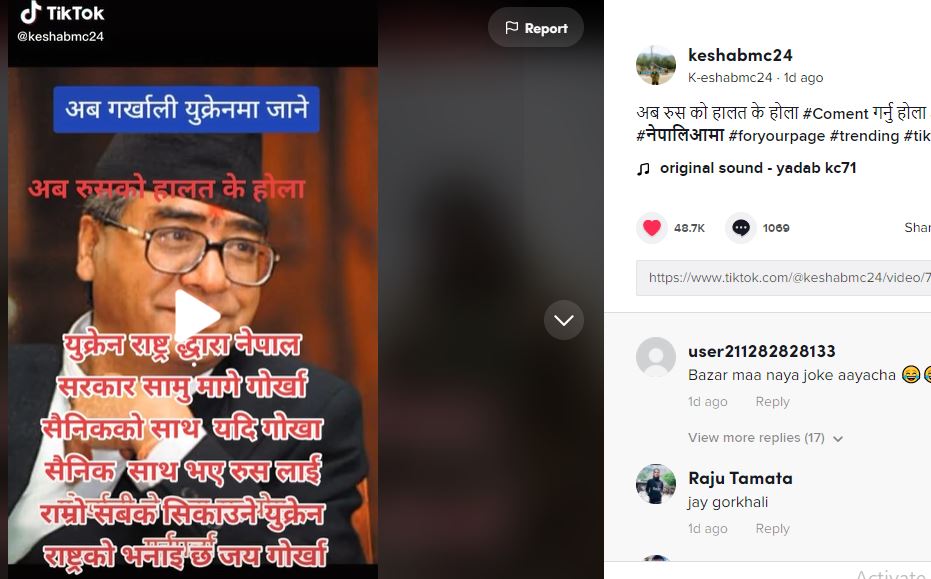 The video posted on February 26 has been spreading fast garnering 48.7k likes, 324 shares and 1069 people commenting on the post until the time of publishing this article. We also found that the audio presented like a news bulletin has been used in 35 other videos available on the platform.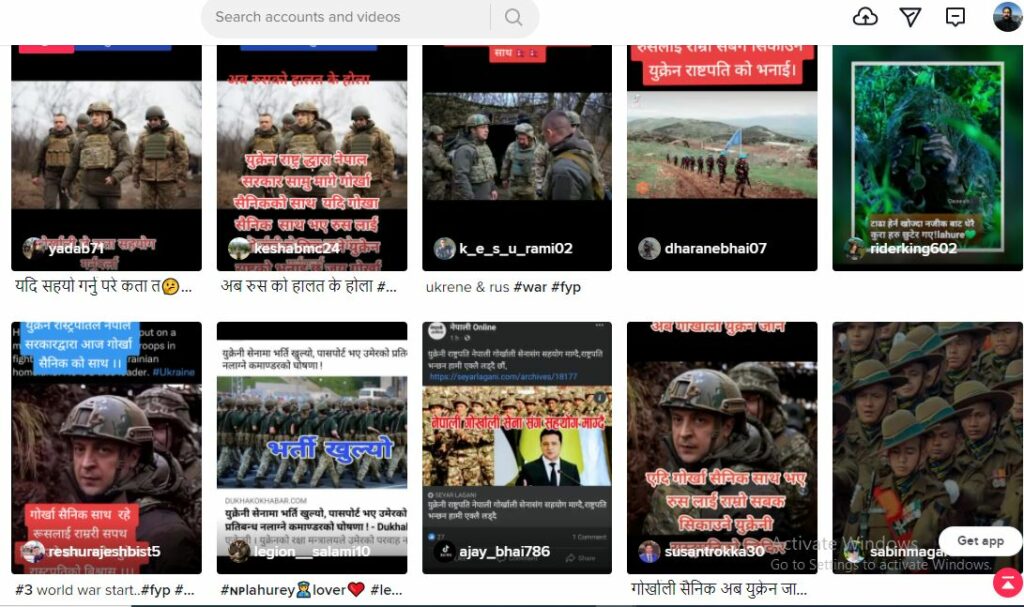 Another TikTok user YESHU______MASHI posted a video, showing texts appearing like a news article published in an unknown website. The article carries an image of Nepal Army personnel and Ukraine's President Volodymyr Zelensky. Texts superimposed on the video reads, "Asking for help with Nepali Gorkha soldiers." The text further reads, "I need the support of Gorkhali soldiers, as we are fighting alone: Ukrainian President." At the end of the purported news clip, a bold text reads, "To watch the full video of this news, click below."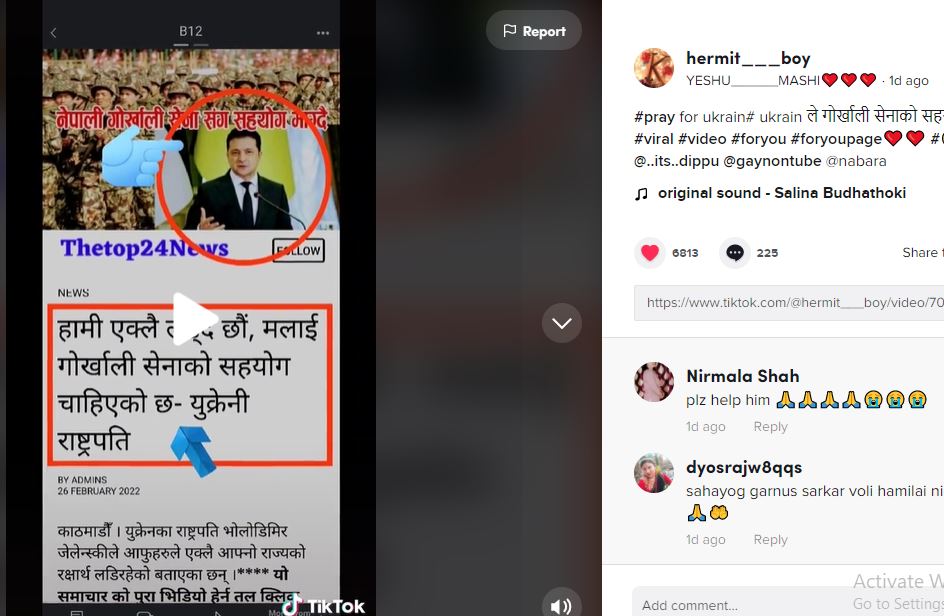 Fact Check /Verification:
To check the veracity of the claim, Newschecker conducted a reverse image search by using key-frames from the first video and found an image of Ukrainian President Volodymyr Zelensky donning a military outfit bearing resemblance to the one used in the viral video. The photograph, reportedly from February 2021, was taken when Zelenskiy visited the Donetsk region then part of eastern Ukraine on Feb. 11, 2021.
However, we couldn't find the source of the footage showing Nepal Army personnel used in the viral video.
Has Zelensky requested Nepal for military support?
Further, we looked at media reports regarding Ukraine's President seeking support from foreign countries. But we couldn't find any reports from credible media regarding Ukraine approaching Nepal government officially seeking support of the Gorkha army. So Newschecker reached out to the Honorary Consulate of Ukraine in Kathmandu, which told us to either contact Ukraine's embassy in New Delhi or Nepal's embassy in Germany to enquire anything about Ukraine
Besides seeking military support from the US, the UK, France, the Netherlands, and Germany, among other NATO alliance countries, Ukraine's President Volodymyr Zelenskyy on Saturday made a phone call to India's Prime Minister Narendra Modi, seeking support at the UN Security Council. No issues of military support figured during the meeting.
We scanned the Twitter handle of Ukraine's President Volodymyr Zelenskyy, who has been constantly posting updates on the microblogging platform about his conversations with international leaders. However, he has not posted anything about speaking with Nepali leaders and asking for support of Gorkha soldiers.

An official at Nepal's Foreign Ministry refused to comment on the claim that Ukraine's President has sought support of Nepali Gorkha soldiers, saying that it was too far-fetched. The official told us to go and check with the source who made such a claim. 
Conclusion:
The videos claiming that Ukraine's President Zelensky has sought support of Nepal's Gorkha soldiers and that "he can teach a lesson to Russia, if he gets support of Gorkha soldiers" are fabricated, and thus false.
Result: Fabricated /False
Our Sources:
France24 News
President Volodymyr Zelenskiy's Twitter handle
The Hindustan Times

---
If you would like us to fact check a claim, give feedback or lodge a complaint, email us at checkthis@newschecker.co You can also visit the Contact Us page and fill the form.