A 10-second video claiming that newly appointed Home Minister Rabi Lamichhane has reached Kanchanpur with a team of Nepal police and sniffer dog to search for the killer of Nirmala Panta, a 13-year-old girl who was raped and murdered in July 2018, has gone viral on TikTok. Newschecker found the claim to be false.
A 13-year-old girl of Bhimdutta Municipality-2 in Kanchanpur district was found dead at a sugarcane field close to her home on July 27, 2018. An autopsy report later suggested that she had been sexually assaulted before her murder. The case remained a mystery for years as the police have not been able to find the culprit even after forming and deploying separate investigation teams to look into the incident.
As soon as he was appointed the Home Minister on December 26, 2022, Lamichhane, who also holds the portfolio of deputy prime minister, promised to do his best to resolve the Nirmala Panta murder case and accordingly directed the Home Secretary to take initiatives to resolve the case.
Against this backdrop, TikTok user @hamroaawaj17 posted a video showing an image of Nepal police personnel posing with dogs. The voice over, presented in a news bulletin style, says, "Suddenly, Home Minister Rabi Lamichhane's team is heading to Kanchanpur along with Nepali Police personnel and sniffer dogs. Killer of Nirmala Panta will be arrested soon." Text superimposed on the video reads, "Looks like something is going to happen for a change in the country. Home Minister Rabi Lamichhane has left for Kanchanpur with a team of police and sniffer dogs to hunt the killer of Nirmala Panta. Search Kashidada on YouTube and subscribe in order to support Rabi."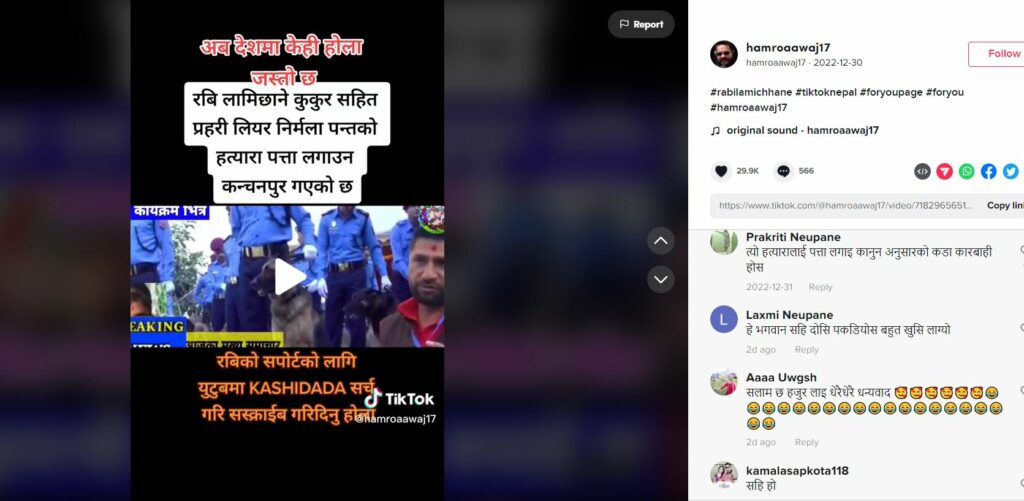 The video posted on December 30 has garnered 29.9k likes, one 145 users have shared the video and 566 people have commented on it until the time of publishing this article.
Fact Check /Verification
To check the veracity of the claim made in the viral video, Newschecker checked the social media pages of the Ministry of Home Affairs. However, we didn't find any press statement or update regarding the investigation status of the Nirmala Panta murder case. We also checked the website and social media pages of Nepal Police. But we didn't find anything relevant to the claim.
We then looked up the latest news about Nirmala Panta case and found a news article published on My Republica online which confirmed that a five-member team headed by Deputy Inspector General Puja Singh has been formed to look into the rape and subsequent murder of Nirmala Panta.
Newschecker reached out to Minister Lamichhane's press aide Nawaraj Pandey, who confirmed that the minister has not left for Kanchanpur in connection with the investigation of the Nirmala Panta case. "He has directed the police to probe the incident but has not left the Capital with a police team," said Pandey.
Further, we took a keyframe from the viral video and conducted a reverse image search that pointed us to a video published on the YouTube Channel of Ratopati Online. The video uploaded on 27 October, 2019 was about the Canine Division of Nepal Police. We watched the video thoroughly and found that the video's frame at 0.27-minute time exactly matched the viral video. On comparing the image from the viral video and screenshot from the RatoPati TV, we could deduce that they were from the same event and has nothing to do with Minister Lamichhane heading to Kanchanpur with a Nepal Police team comprising dogs.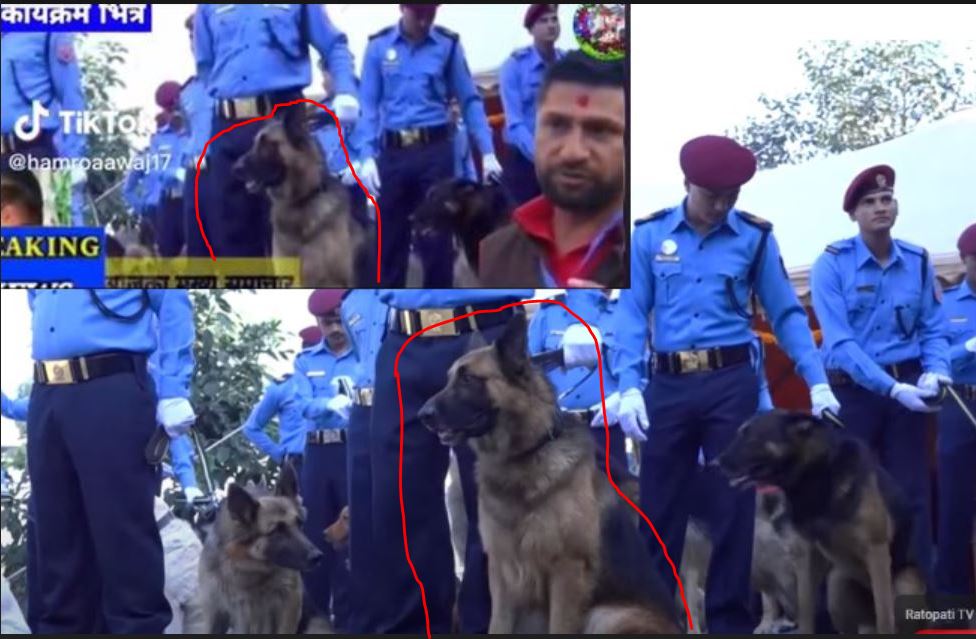 Conclusion
The video claiming that Home Minister Rabi Lamichhane has left for Kanchanpur with a team of Nepal Police comprising sniffer dogs is edited, and thus false.
Result: False
Sources
Rato Pati TV
My Republica Online
Home Ministry Facebook
If you would like us to fact check a claim, give feedback or lodge a complaint, email us at checkthis@newschecker.co You can also visit the Contact Us page and fill the form.