At a time when the videos of wild predators wandering into human settlements are making rounds among Nepali social media users, a video purporting to show a 'big cat' leaping over a small barrier of a hotel entrance in Chitwan and casually leaving the hotel compound shortly after has gone viral on TikTok. Newschecker found that an old video from Gujarat was falsely shared as the incident from Chitwan, Nepal.
One TikTok user suresh_singh_1987 posted a video containing a logo of Nepal Television on December 26 with a caption that reads, "Though it is common to see one-horned rhino in Chitwan's urban area, it is unusual to spot a lion here. From Nepal Television."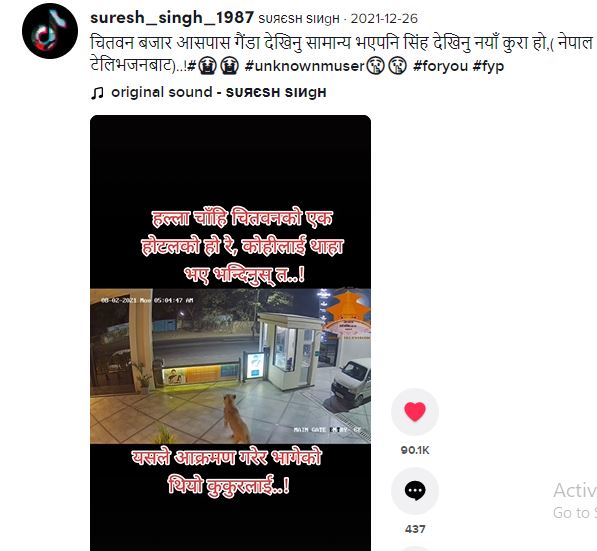 The video shows a lion casually jumping into the compound and leaving the premises a few seconds later by crossing the same entrance barrier after a casual tour. Texts on the video read, "There was a rumor that this footage was from a Hotel in Chitwan, please inform if anyone knows about this video. The predator had attacked a dog before leaving."
The video has been liked 90.1k times, shared 541 times and commented by 437 people, indicating that it is spreading fast.
Fact Check/Verification:
To check the veracity of the claim made in the video, Newschecker began by conducting a reverse image search of the keyframes from the video, leading us to a number of news reports of an incident of a lion entering a hotel by jumping over a wall in Gujarat, in India. We found that the CCTV footage of an Asiatic lion entering a hotel first posted in social media on February 10 had become viral then.
On comparing the viral video purported to be from Chitwan with the video footage from Gujarat, we found the two videos identical.
We also found a news report published on NDTV that said that a 'lion checked into a hotel in Gujrat'. The news dated February 10, 2021 said surveillance camera footage from a hotel in Junagadh shows the lion leaping over a low boundary wall to enter the hotel premises in the early hours of Monday morning.
Conclusion:

The viral video claiming to show a 'big cat' entering a hotel compound and taking a casual stroll before leaving the premises was actually an old video from Gujrat state of India and falsely shared as an incident at a hotel in Chitwan, Nepal.
Our Sources

NDTV: Caught On Camera: Lion Enters Hotel In Gujarat By Leaping Over Wall

Republicworld.com : Video Goes Viral As Asiatic Lion Enters A Hotel In Junagadh, Take A Look
---
If you would like us to fact check a claim, give feedback or lodge a complaint, email us at checkthis@newschecker.co You can also visit the Contact Us page and fill the form.