As tensions escalate in Ukraine with Russian troops edging closer to the capital city Kyiv, a flood of misleading and false information is circulating across online platforms. Nepali social media has not remained immune from the misinformation surrounding the Ukraine-Russia conflict. Two videos—one allegedly showing a fleet of helicopters carrying Nepal soldiers to Ukraine and another claiming to show the second battalion of Nepal Army soldiers on their way to Ukraine—have gone viral on TikTok. Newschecker found the videos to be old and unconnected to the developments pertaining to the ongoing Russian invasion of Ukraine.
Russian military is reportedly holding fire and opening humanitarian corridors in several Ukrainian cities on Monday (March 7) at the request of French President Emmanuel Macron in view of the current situations on the ground. While Ukrainian President Volodymyr Zelenskyy has repeatedly urged western nations to strengthen sanctions on Russia, the US is considering a ban on Oil from Russian to put pressure on Moscow over its invasion of Ukraine.
In light of the latest developments in East Europe, TikTok user manojthakuree7 posted a video, showing visuals of a fleet of helicopters. Text superimposed on the video reads, "Journey to Ukraine. Nepali soldiers flying to Ukraine to support the country in the ongoing conflict with Russia."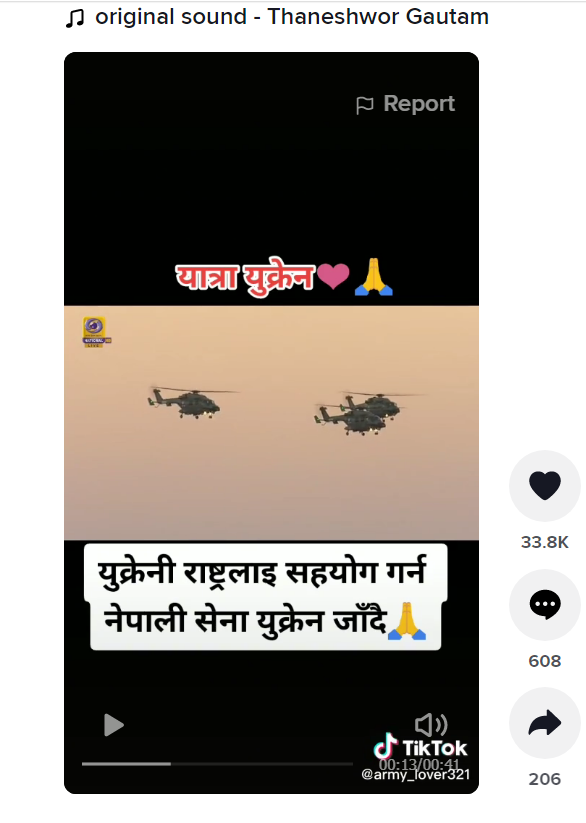 The video, posted on March 2 is gaining a lot of traction among social media users, garnering 33.8k likes and 206k shares at last count.
Another TikTok user gurungkancha15 posted a video, which shows visuals of Nepal Army personnel standing in front of a Nepal Airlines aircraft. Text superimposed on the video reads, "Wish you all the best Nepal Army. Another Nepali Army battalion heading to Ukraine after the Chief of Ukraine's army asked for support from Nepali soldiers." The video purports to show Nepal Army personnel ready to board a flight before their departure to Ukraine at the request of the Ukrainian Army Chief.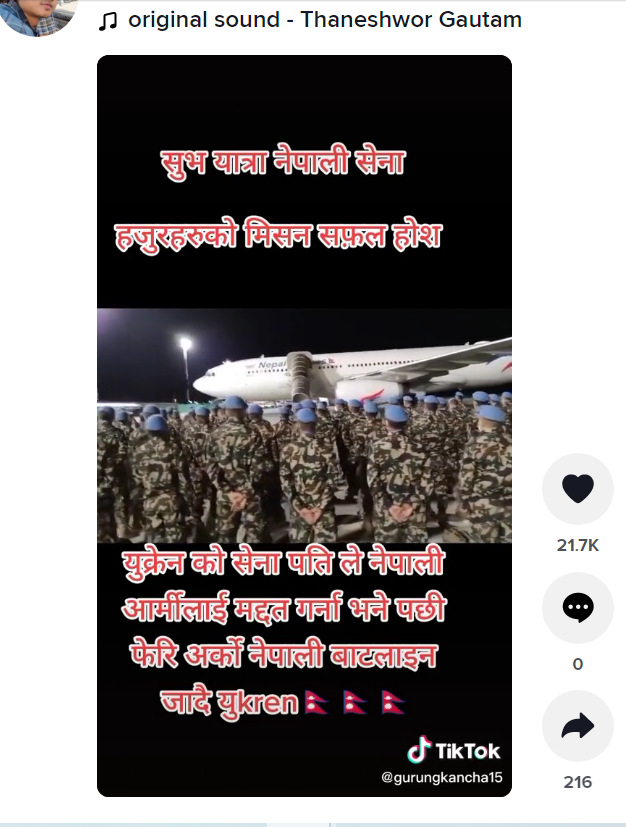 The video, posted on March 3 has been liked 21.7k times, and shared 216 times.
Fact Check /Verification
To check the veracity of the claim made in the first video, Newschecker looked for official reports on military assistance provided by Nepal to Ukraine. However, there are no such reports about any other foreign countries—let alone Nepal—sending their army troops to Ukraine for support in their defence against Russian invasion.
Further, we closely observed the video and saw the logo of Doordarshan TV on the viral video. Taking the logo as a clue, we searched the YouTube Channel of India's Doordarshan National TV and found a video matching the viral video. We thoroughly watched the video and found a clip resembling the viral video at 20.5-minute timestamp. Our findings put to rest our search for the original source of the viral footage.
To check the authenticity of the second video, we took the blue cap worn by the soldiers seen in the viral video as a clue and conducted a search on YouTube for keywords such as 'Nepal Army', United Nations', 'peace keeping' force that led us to a video on the YouTube channel of Nepal Airlines' Captain Vijaya Lama. Then we carefully watched the YouTube video and found the same visuals at 3.40-minute time-stamp bearing resemblance to the viral video.

Captain Lama had himself posted the video on his YouTube channel on 23 August, 2020.The video showed a UN Chartered flight before the Nepal Army troop flew to Juba in South Sudan for a peace keeping mission.
Conclusion:
One of viral videos claiming to show a fleet of helicopters carrying Nepal Army soldiers heading for Ukraine is a clip from recent multilateral naval exercise (MILAN 2022) of Indian Navy and is being shared in a false context claiming to show Nepal's army heading to Ukraine. The second video is a clip from August 2020 and shows Nepal Army soldiers ready to board a Nepal Airlines flight to Sudan for a United Nations Peacekeeping mission and has nothing to do with the ongoing conflict in Ukraine.
Result: False Context /False
Our Sources
Doordarshan National TV
Reuters
Naval-technology.com
Economic Times
Vijaya Lama (YouTube)
---
If you would like us to fact check a claim, give feedback or lodge a complaint, email us at checkthis@newschecker.co You can also visit the Contact Us page and fill the form.