Shortly after Indian Chief of Defence Staff, General Bipin Rawat died in a chopper crash in neighbouring India's Tamil Nadu, two videos claiming to show the moments before the helicopter crash started going viral on TikTok among Nepal users. A fact-check by Newschecker found that the videos were old and from unrelated past incidents. One of the videos was from an incident of an Mi-17 crash landing in Arunachal Pradesh, while the other video, from 2020 was from Syria, showing a helicopter being shot down by rebels in Idlib.
In a tragic incident, General Rawat, his wife Madulika, and 11 other military personnel were killed in a chopper crash in Nilgiris near Coonoor of Tamil Nadu state of India on December 8.
Two TikTok videos showing images of late General Rawat were widely shared. TikTok user purnakhadakaoptio shared a video claiming it to be "real footage of the crash of the helicopter in which Chief of Defence Staff Rawat was onboard." The video shows a burning helicopter in a free fall, eventually splitting into two parts. The video, shared by 671 users, had garnered 45.2k likes and 327 comments at the time of publishing this report.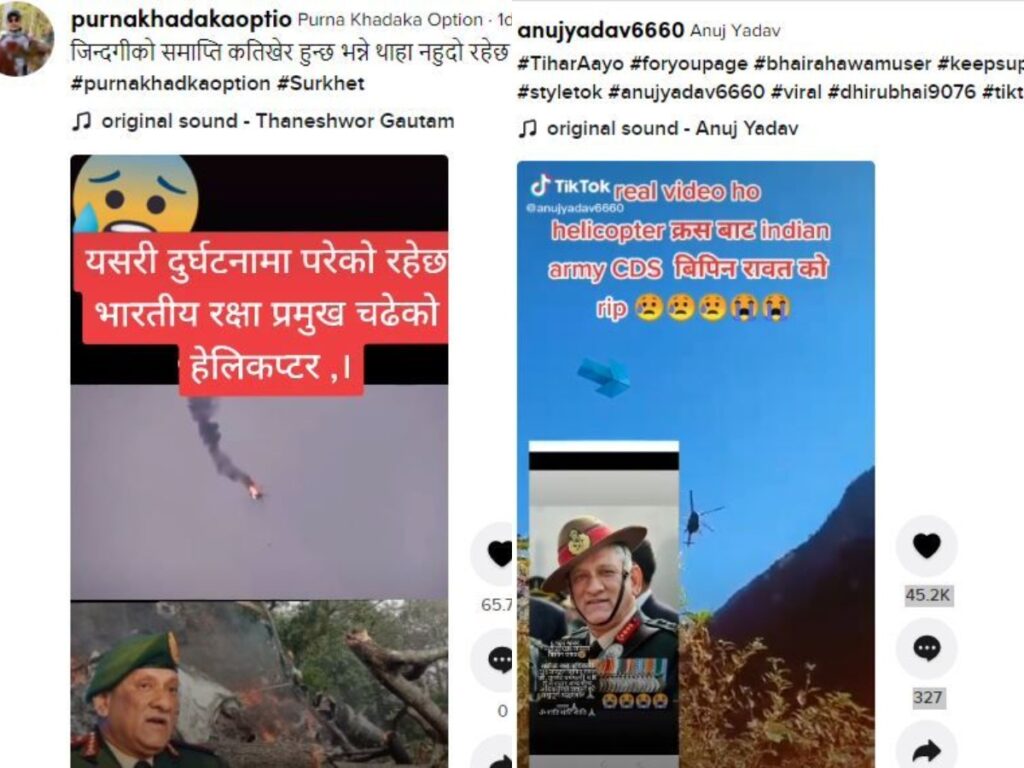 Another TikTok user purnakhadakaoptio shared a video with an image of the late general, with superimposed text claiming, "This is how the Chief of Indian Army crashed." The video showed a helicopter descending slowly before crashing in hilly terrain and was shared 612 times and had been liked by 65.7k at the time of publishing this article.
General Rawat was conferred with the honorary title of Chief of Army Staff of Nepal Army by President Bidhya Devi Bhandari during his visit to Kathmandu as the Chief Guest for Nepal Army in March 2017. There is a long-standing tradition between Nepal and India to honour each other's army chiefs with conferring the honorary rank of general.
Fact Check /Verification
To verify the authenticity of the viral videos, we conducted a reverse image search by using the key frames which led us to several results. On digging further, we came across a similar video on Youtube , dated November 18, 2021, and posted by The Times of India. This video claimed to show an Indian Air Force Mi-17 helicopter crash-landing in Eastern Arunachal Pradesh while carrying out an air maintenance sortie
Newschecker also found a tweet by news agency ANI dated November 18, 2021, carrying the same footage of the Mi 17 crash describing it to be from Arunachal Pradesh.

For the second video, on conducting a keyword search for a "helicopter in flames", our Google reverse image search led us to an AP report showing a Syrian regime helicopter bursting into flames after it was shot by a missile in Idlib province in February 2020. Using this as a clue, we narrowed down our search, eventually leading us to a dailymail.co.uk report dated February 11, 2020. The report also led us to a youtube video captioned "Syria rebels claim downing of a government chopper" and associated news of a Turkish-backed rebel group in western Syria amid spiralling tensions in the region.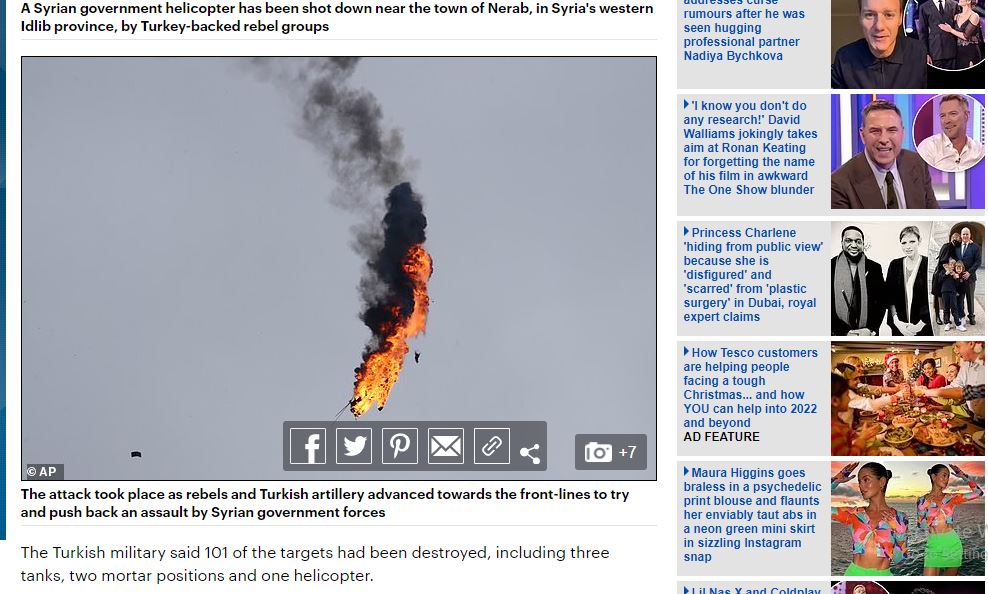 Newschecker's findings clearly indicate that the videos from old and unrelated incidents have been shared claiming to show the final moments before CDS General Bipin Rawat's chopper crashed. He was on his way to the Defence Staff College in Wellington from the Indian Air Force base in Sulur near Coimbatore.
According to India Today, a local from the site of the crash said he heard a loud sound and when he moved to check what had happened, he saw that the chopper had hit a tree and was engulfed in a massive fire.
Conclusion
Based on our investigation and internet research, we found one of the videos shared on TikTok as CDS Gen Bipin Rawat's helicopter was from an accident that took place in Arunachal Pradesh earlier this year in November, while the other was from 2020 footage of Syrian government downed by rebels.
Result: Misplaced Context /Partly False
Our Source
---
If you would like us to fact check a claim, give feedback or lodge a complaint, email us at checkthis@newschecker.co You can also visit the Contact Us page and fill the form.