Ever since the Supreme Court scrapped the Deputy Prime Minister and Home Minister Rabi Lamichhane's status as a member of the House of Representatives saying that he didn't have a valid Nepali citizenship, many unverified claims have been shared among Nepali social media users. Against this backdrop, a video claiming that Lamichhane has been reinstated to the post of Home Minister is going viral on Facebook. Newschecker found the claim to be false.
The Constitution Bench on January 27 ruled that Lamichhane's failure to re-acquire Nepali citizenship after renouncing his United States citizenship prevented him from becoming a national lawmaker. Following the court's ruling, Lamichhane lost his ministerial portfolio and the presidency of Rastriya Swatantra party. He reacquired his citizenship from Kathmandu District Administration on January 29 and the party central committee reappointed him to the post of party chairman.
In this context, a Facebook page named Man Thiyen Mari Meti Dhan Kamauna posted a 20-second video showing images of Rabi Lamichhane and Prime Minister Pushpa Kamal Dahal shaking hands. Audio accompanying the video presented in a news bulletin style says, "Maoist leader Pushpa Kamal Dahal, in spite of his reluctance, compelled to appoint Rabi Lamichhane as the Home Minister after CPN-UML chairman KP Sharma Oli insisted." Text superimposed on the video reads, "Finally Rabi won, Prachanda [Pushpa Kamal Dahal] is appointing Rabi as Home Minister, this has brought cheers across the country and congratulatory messages are pouring in."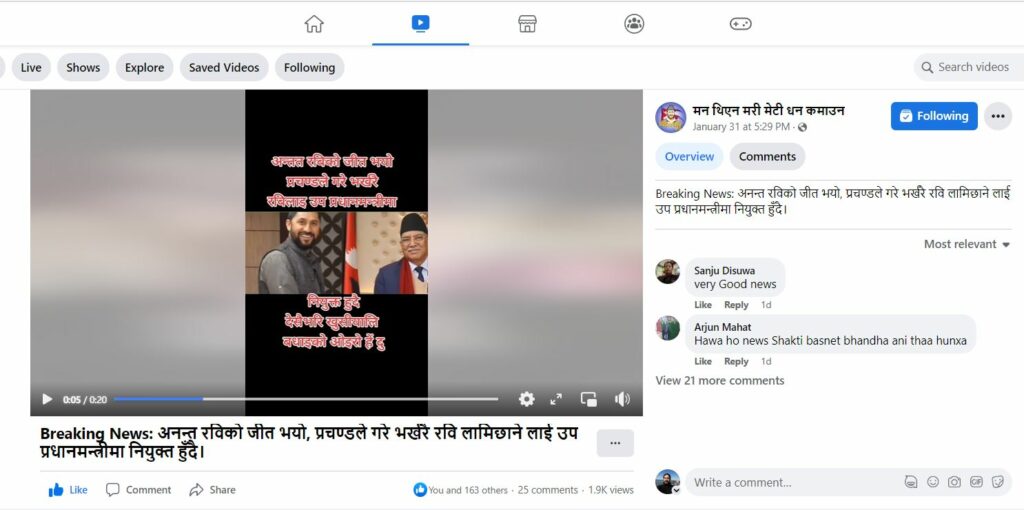 The video posted on January 31 has viewed 1.9k times, 25 people have commented on the post and 14 users have shared it.
Fact Check /Verification
To check the authenticity of the claim made in the viral video, Newschecker searched for the latest news regarding the government decision to appoint the Home Minister. We found an article titled 'Dahal in no mood to give Home portfolio to Rastriya Swatantra Party (RSP)' published in the Kathmandu Post online. The article published on February 1 has clearly reported that Dahal has decided not to give the Home portfolio to Lamichhane's party until the Supreme Court releases the full-text of its verdict on the citizenship case of Lamichhane.
Further, we took a keyframe from the viral video and conducted a reverse image search on google which led to a news article published on Nepali Times online. The image matching the frame from the viral video shows Lamichhane shaking hands with Prime Minister Pushpa Kamal Dahal. The photo has been credited to Pradeep Raj Onta, a photographer of Nepal's national news agency, Rastriya Samachar Samiti.
Further, we found an editorial regarding Home portfolio published in the Himalayan Times online. According to the editorial published on February 2, Lamichhane had met Prime Minister Dahal on January 31 to seek his reappointment as the home minister but he didn't get any assurances.
Conclusion
The video claiming that Rabi Lamichhane has been handed back the Home Ministry portfolio is false, Prime Minister Dahal has made no such decision.
Result: False
Sources
Man Thiyen Mari Meti Dhan Kamaune, Facebook Post, Jan 31, 2023
Dahal in no mood to give Home to RSP, The Kathmandu Post, Feb 1, 2023
No Home Portfolio, The Himalayan Times, Feb 2, 2023
Rabi Lamichhane is Home-less, Nepali Times, Feb 2, 2023

---
If you would like us to fact check a claim, give feedback or lodge a complaint, email us at checkthis@newschecker.co You can also visit the Contact Us page and fill the form.