A video claiming to show the aftermath of an alleged clash between 'protesters' and security forces, killing 20 people and injuring 200 others, has gone viral on TikTok. The video, which lacks specifics, is being shared widely on social media, with many believing it to be true. Newschecker has found that the video was from a clash between cadres of CK Raut-led Janamat Party and riot police personnel in Janakpur on January 26 and no one was killed in the clash as claimed in the video.
TikTok user rockstarbhai22 shared the video on Thursday (January 27), which depicts a scene from a fresh demonstration where the police personnel in riot gear are seen cleaning their faces with water. Text superimposed on the video read, "This is a fresh incident, shots are still being fired, 20 people killed and 200 others injured."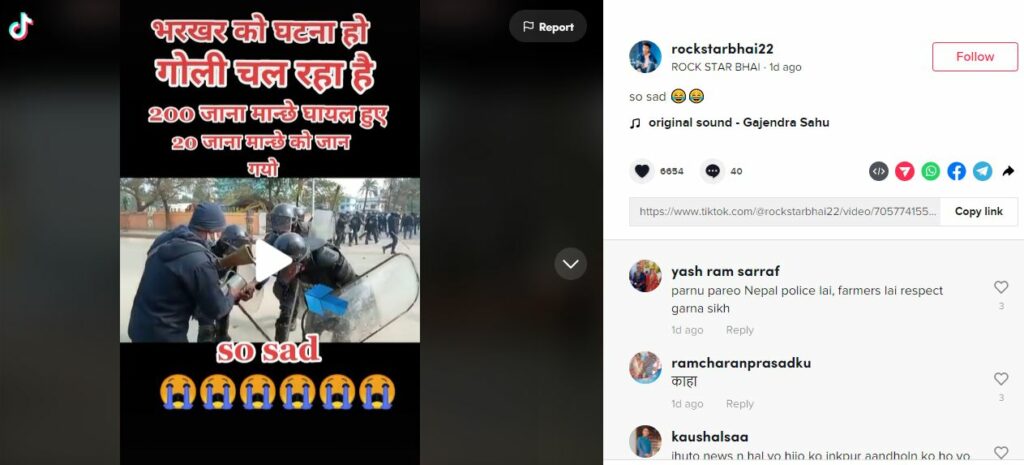 This video has received a lot of traction online with 5,434 likes and 9 shares at the time of publishing.
Fact Check /Verification
To find the authenticity of the video, we began by searching for recent incidents of clashes between the police and demonstrators in which a huge casualty was reported. However, we could not find any such demonstrations in Nepal in the recent past when such a huge casualty was reported.
Newschecker further looked for the latest incidents of clashes between protestors and security personnel. We found a news report published in 'english.nepalpress.com' about tension in Janakpur in Madhes province of Nepal on Wednesday (January 26) when the police fired tear gas shells and charged batons to disperse the agitators.

On looking up the videos of the incident, we found a video posted by Mithila Daily on its Youtube Channel on January 27, 2022. The 1.19 minutes long video was indistinguishable from the viral video posted by Mithila Daily.
The video was from the recent protest in Janakpur after cadres of Janamat Party led by CK Raut staged a demonstration demanding the authority make arrangements for chemical fertilizer before the announcement of local elections.
Newschecker reached out to the Janakpur bureau chief of The Annapurna Post who reported on the incident, informed us that no one was killed in the incident but 4 policemen and 13 demonstrators were injured in the incident.
Conclusion:
The viral claim that 20 people died and 200 others injured in a violent protest is false and lacks the details. Footage from an aftermath of a clash that happened in Janakpur on January 26 was shared in a misleading manner.
Result: False and Misleading
Our Sources
Janamat Party cadres, police clash in Janakpur
Mithila Daily
The Annapurna Post
---
If you would like us to fact check a claim, give feedback or lodge a complaint, email us at checkthis@newschecker.co You can also visit the Contact Us page and fill the form.