A video allegedly showing a statement by Nepal's former King of Nepal Gyanendra Shah is circulating on video sharing platform TikTok. The quote attributed to Shah reads, "Nepal could become a prosperous country if people like Rabi Lamichhane take the leadership." Newscheker found the claim to be false.
Rastriya Swatantra Party (RSP) President Rabi Lamichhane had to resign from the posts of Deputy Prime Minister and Home Minister on January 28 after the Supreme Court declared his citizenship invalid and revoked his election to the House of Representatives from Chitwan-2. His party had emerged as the fourth largest political force in November 20 parliamentary elections only five months after the formation of the party.
TikTok user @jagadish10000 posted a video carrying images of former King Gyanedra Shah and Rastriya Swatantra Party President Rabi Lamichhane. Text superimposed the video reads, "Prosperous Nepal is possible if people like Rabi Lamichhane take the leadership: Former King Gyanendra Shah."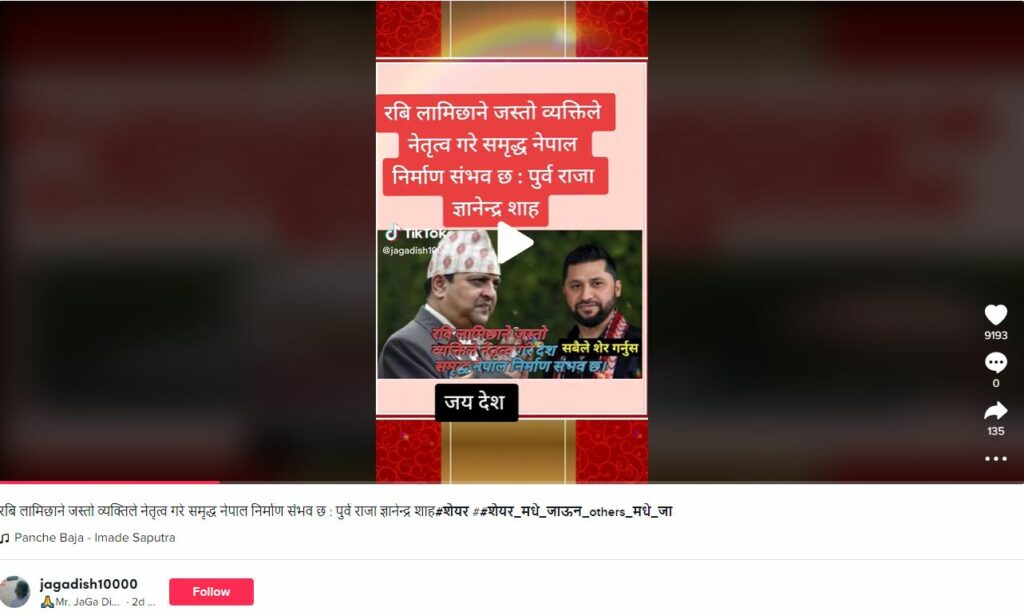 The 10-second video posted on February 14 has garnered 9165 likes, and 135 users have liked it until the time of publishing it.
Fact Check /Verification
To check the authenticity of the claim made in the viral video, Newschecker searched for news about former King Gyanendra Shah's statement about Rabi Lamichhane. However, we didn't find anything about
Then we reached out to the Media coordinator of Gyanendra Shah, Phani Raj Pathak, who said that the former monarch hasn't made any remarks about Rabi Lamichhane. "The former Monarch will issue his statement on the issue on the eve of Democracy Day February 18," said Pathak.
Our investigations indicated that the former King Gyanendra Shah has not made any statement or remarks about Rabi Lamichhane and the claim going viral on TikTok is made-up.
Conclusion
The video purportedly showing a statement by former King Gyanendra Shah in which he allegedly spoke about the leadership potential of Rabi Lamichhane for the country's prosperity is misleading.
Result: False
Sources
Direct Contact with Ex-King Shah's Press Coordinator

---
If you would like us to fact check a claim, give feedback or lodge a complaint, email us at checkthis@newschecker.co You can also visit the Contact Us page and fill the form.