Even as Nepal government faces a dilemma over how to conduct the census in Limpiyadhura-Kalapani-Lipulekh area, a disputed territory in the north-western corner of the country, many news portals carried a news item claiming that Foreign Minister Narayan Khadka said the Indian government should be asked before sending the enumerators to the region for census.
The news was widely covered in Nepali online media, portraying Minister Khadka's statement as "timid" before India. The government's position is viewed with interest as Nepal's Central Bureau of Statistics is conducting a nationwide census in November. The country conducts a population census every 10 years since 1911.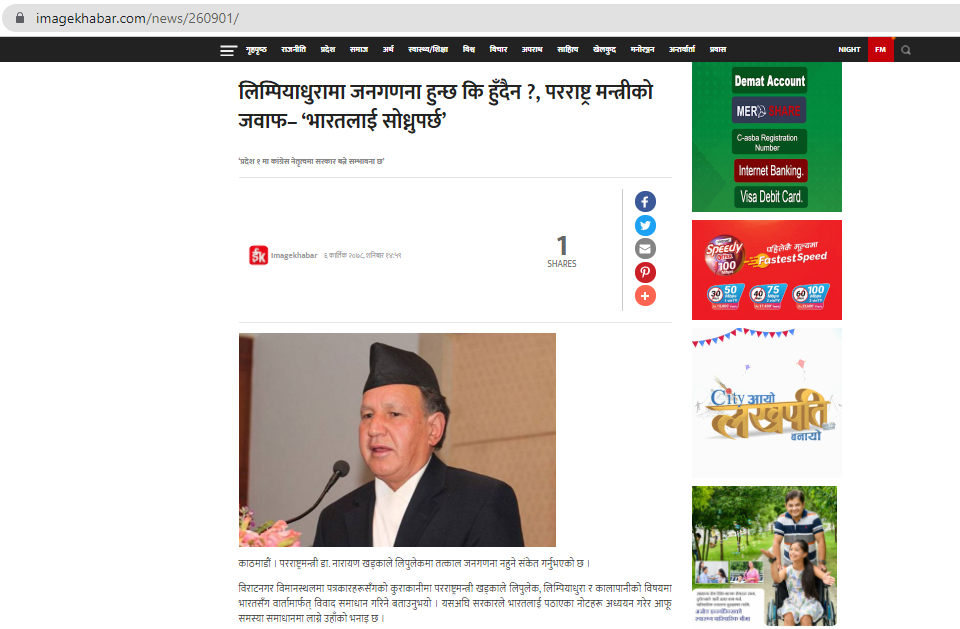 The border dispute in the region between Nepal and India poses a speedbump in Nepal's census operations as the Indian security personnel will not allow Nepali enumerators to enter the disputed land.
Bilateral relations between the two countries had hit a rock bottom in May 2020 after both the countries issued their own political maps incorporating the territory.
Last week, Nepal Central Bureau of Statistics (CBS) wrote to the Ministry of Foreign Affairs to take diplomatic initiatives with India for conducting population census in Kalapani, Limpiyadhura and Lipulekh. It is in this context that the purported statement by Khadka has drawn widespread criticism online.
Fact Check Verification:
On Saturday, Foreign Minister Khadka reached Biratnagar where he held a brief interaction with the press, where he was asked about Nepal's first census operation after the adoption of the new map that included Lipulekh, Kalapani and Limpiyadhura region in Nepal's territory.
Responding to the question, Minister Khadka said the dispute regarding Lipulekh, Kalapani and Limpiyadhura would be resolved through talks with India.
Newschecker found a video of the same interaction where the minister can be heard clarifying that the census would be carried out by "forming a mechanism". On listening to the whole interaction, we find that the minister has not made the statement attributed to him by the news portals.
Taking note of the misinformaiton, personal aide to Foreign Minister Khadka, Lila Bhattarai, said the minister was referring to the Bureau of Statistics not India as reported by the media.He told the newschecker that Kantipur daily corrected the news after he asked them to so. Some of the portals either edited or took down the news item, while some stuck to the false attribution.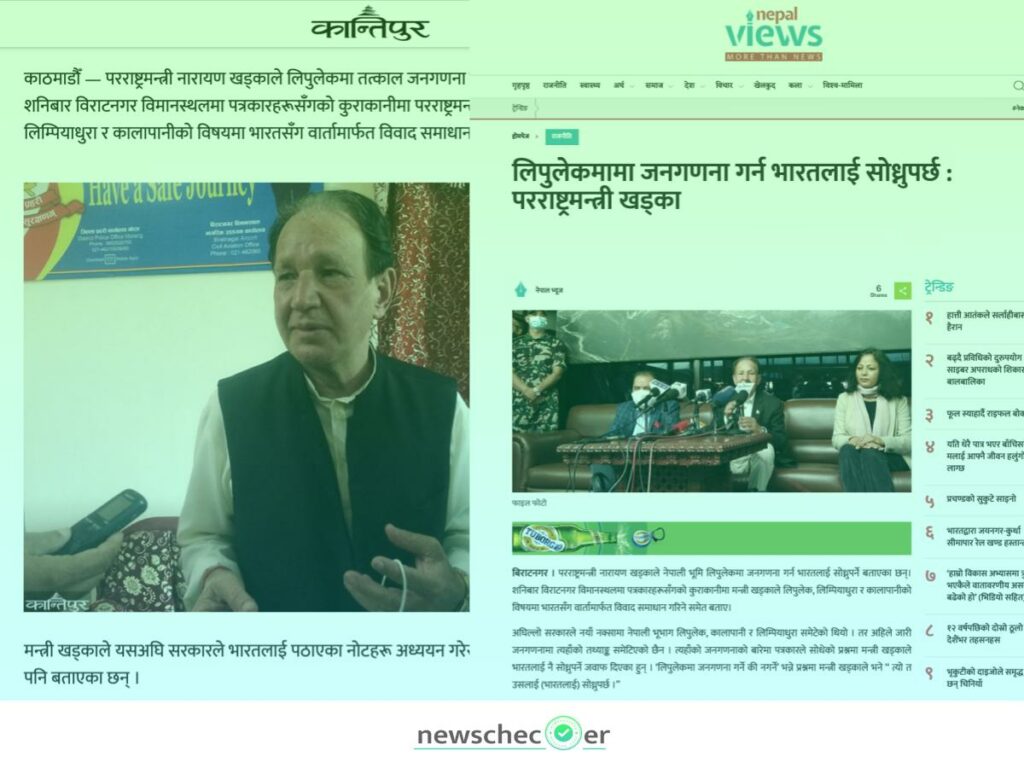 Conclusion:
Foreign Minister Narayan Khadka's statement regarding the government's position on census at Kalapani, Lipulekh and Limpiyadhura region was misinterpreted and widely reported by online news media.
Result:
Misleading
Sources:
---
---
If you would like us to fact check a claim, give feedback or lodge a complaint, email us at checkthis@newschecker.co  You can also visit the Contact Us page and fill the form.