A video claiming that Nepali singer Samikshya Adhikari has committed suicide allegedly after she learnt that cine artist Purna Bikram Shah, popularly known as Paul Shah, has been released from jail, is going viral on TikTok. Newschecker found the claim to be false.
Nepali cine artist Paul Shah has been taken into judicial custody at Tanahun Prison in Damauli after a minor artist lodged two complaints at—Tanahun and Nawalparasi (East) districts—against him in February last year. The minor artist had accused him of raping her.
The Tanahun District Court on January 17 had acquitted Shah of the charges lodged against him, while the District Court in Nawalparasi (East) on September 6, 2022 had sentenced him to two years and six months in jail and slapped a fine of Rs 25,000 on the charge of molesting a minor. The court had also ordered Shah to pay Rs1 million compensation to the victim.
Against this backdrop, TikTok user @parfect28 posted a video, showing a group of people apparently taking part in death rituals, with an image of singer Samikshya Adhikari attached below the video. Text superimposed on the video reads, "Why did you do this sister? She killed committed suicide after knowing that Paul Shah has been released from jail? Heartfelt condolences." The video implies that the death rituals are being carried out after singer Adhikari killed herself.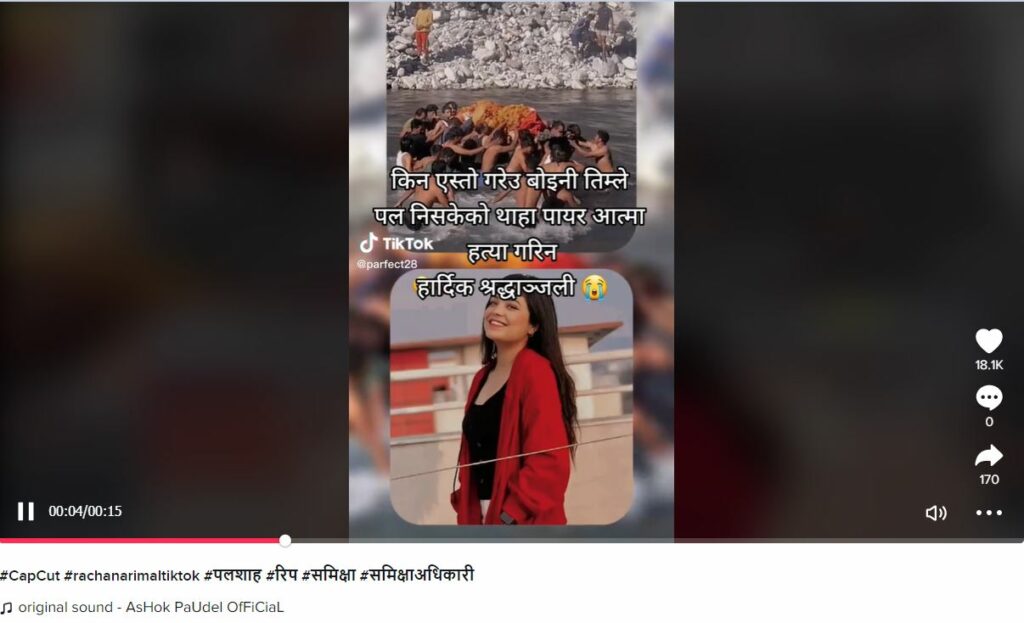 The video posted on January 20 has garnered 18.1k likes, and 170 people have shared it.
Fact Check /Verification
To check the veracity of the claim made in the viral video, Newschecker took a keyframe of the artist from the viral video and conducted a reverse image search on google which threw up several results. On checking a Facebook page named Samikshya Adhikari, we found that an image exactly matching the one used in the video posted on December 22, 2022.
Then, we checked the verified page of Samikshya Adhikari and found that she has posted a new picture of herself today. Further, we scrolled down the page and found another video posted on January 21, in which Samikshya can be seen feeding disabled and old people at a shelter house. As we thoroughly checked the posts in the page, we found an image matching the one from the viral video. The image was posted on the page on December 18, 2022.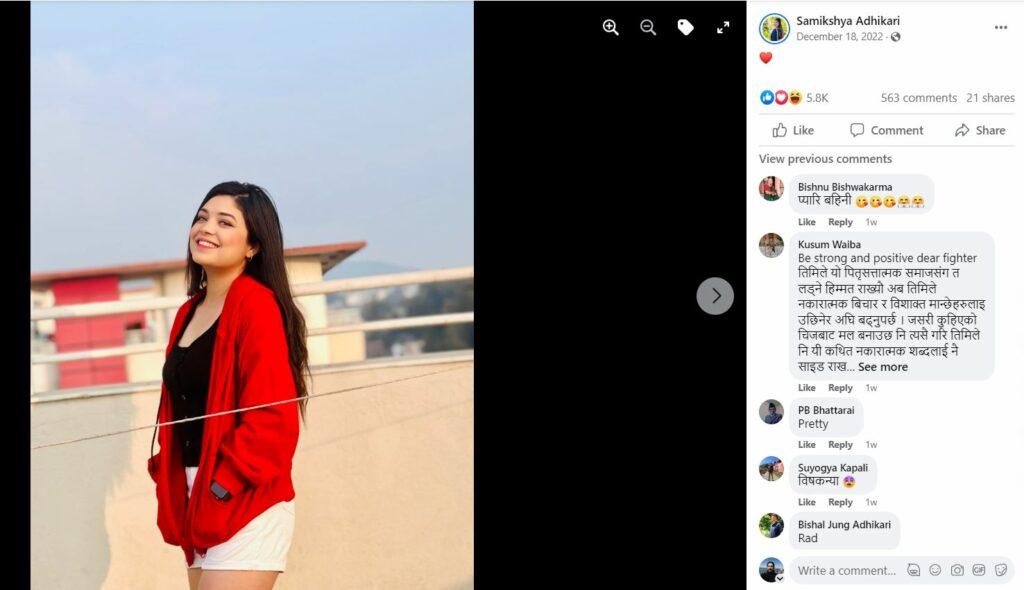 Our findings indicate that the video is edited to make the false claim that artist Samikshya Adhikari has committed suicide.
Conclusion
The video claiming that singer Samikshya Adhikari has committed suicide is edited, and thus false.
Result: Edited
---
If you would like us to fact check a claim, give feedback or lodge a complaint, email us at checkthis@newschecker.co You can also visit the Contact Us page and fill the form.