A video allegedly showing a group of thieves stealing goods from a clothing store in Balaju, Kathmandu is going viral on TikTok. Newschecker found the claim to be misleading.
Violence had erupted in Balaju area of Kathmandu on February 13 during the protest organised by transport workers and entrepreneurs. The protest turned violent after the demonstrators engaged in vandalism, arson and looting. The agitators also vandalised a Gongabu-based supermarket building and looted mobile sets and other goods from there.
Against this backdrop, TikTok user @samaya202 posted a video (Archive link) showing a group of shoplifters fleeing with goods from a store. Audio accompanying the video says, "Look at them. Is this a protest demonstration? See how the shop is being looted, who calls it a protest? This is a loot. Now we should act on our own against them rather than waiting for the administration." Text superimposed on the video reads, "Another incident of looting in Balaju [Kathmandu]."
The video posted on February 14 has garnered 33.3k likes, 1008 users have shared it and 458 people have commented on it until the last count.
Fact Check / Verification
To check the authenticity of the claim made in the viral video, Newschecker took a keyframe of the viral video and conducted a reverse search on google which threw up several results. Then we checked an article published on fox6now.com which carried an image of the clothes store being looted in the viral video. The image closely resembled the frames from the viral video. The article posted on 5 July 2019 was about the theft of a store in Pleasant Prairie Premium Outlets, a shopping mall based in Wisconsin state of the United States.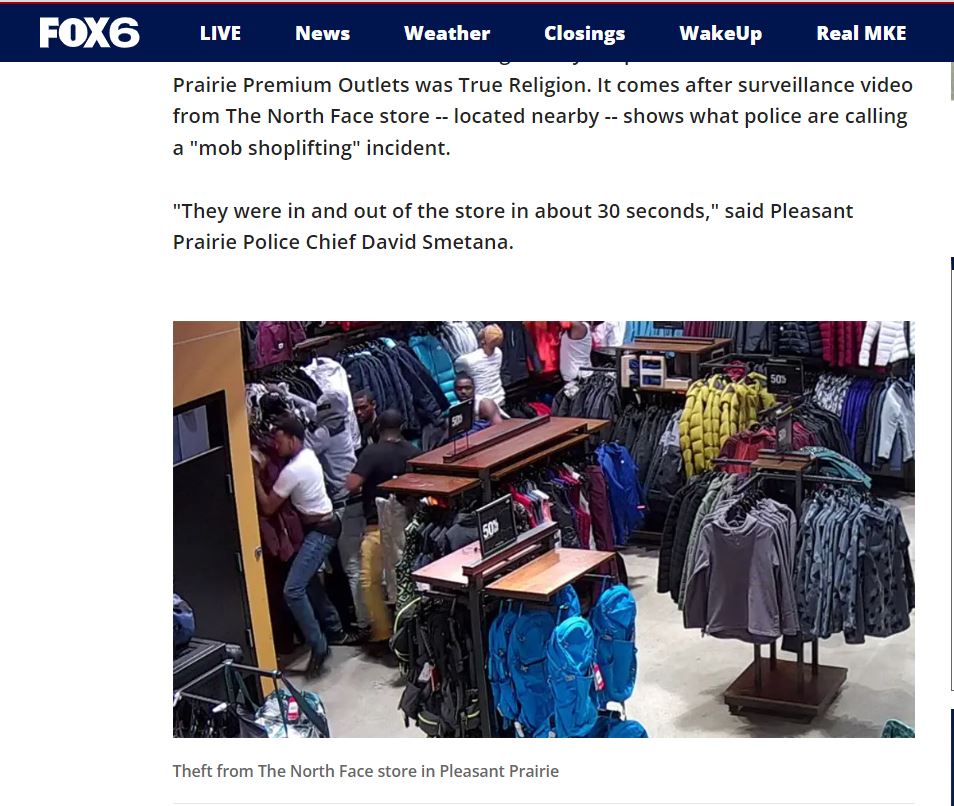 Taking it as a clue, we conducted a search on YouTube using the keyword 'pleasant-prairie-premium theft' which led us to a video posted on the YouTube channel of TMJ4 News whose frames from the 0.16-minute onwards exactly matched the viral video. The caption of the video posted on 4 July 2019 confirmed that a band of shoplifters rushed into a North Face store and decamped with merchandise worth $30,000.
Thus, our findings clearly indicate the video is from July 2019 and the footage shows the theft of a clothes store by flash mob in the United States.
Conclusion
The viral video allegedly showing the looting incident in Balaju of Kathmandu during recent agitation by transport workers is actually an old incident from Wisconsin.
Result: False
---
If you would like us to fact check a claim, give feedback or lodge a complaint, email us at checkthis@newschecker.co You can also visit the Contact Us page and fill the form.