A video purporting to show Bollywood superstar Shah Rukh Khan holding a placard that reads, "Kalapani, Lipulekh and Limpiyadhura belong to Nepal," is going viral on TikTok. Newschecker fact check found the image to be edited.
The Limpiyadhura-Kalapani-Lipulekh area on the north-western frontier of Nepal is a disputed territory between Nepal and India. The territorial dispute over 70-square-kilometer strip in Kalapani region came to the fore back in 2020 after both India and Nepal laid claim to the region as integral part of their territory—India has been saying that it is part of Uttarakhand's Pithoragarh district while Nepal has been calling it as a part of Darchula district.
TikTok user @gautamrawat272gmail posted a video (Archive link) showing an image of Shah Rukh Khan holding a placard. The placard reads, "Kalapani, Lipulekh and Limpiyadhura belong to Nepal. Our government is not doing good by having territorial disputes with every neighbour. Gurkha soldiers are protecting our country but India's government is forgetting it."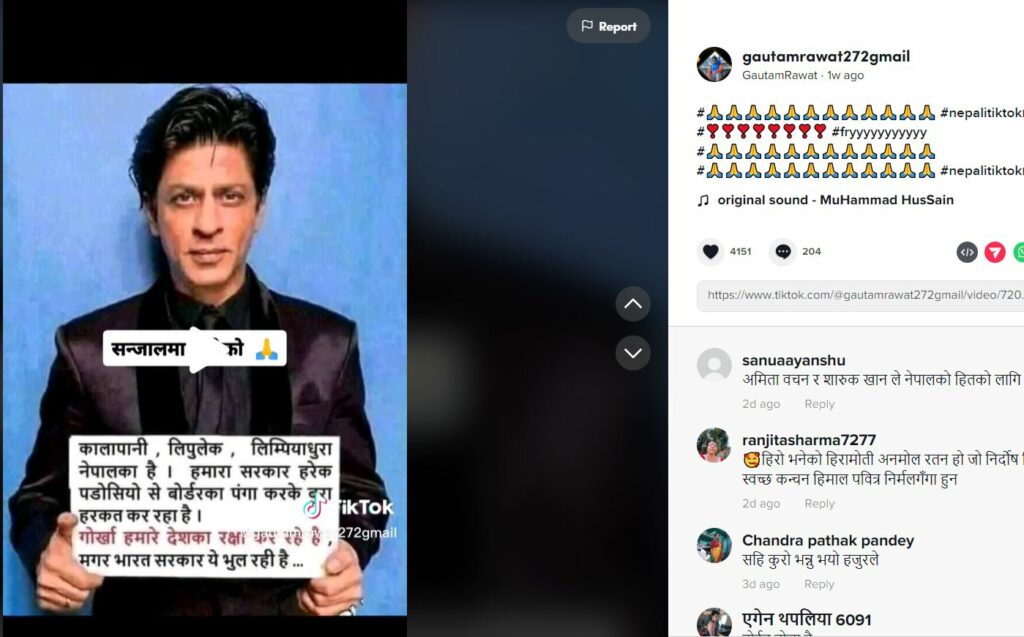 The video posted on February 20 has garnered 4152 likes, 220 users have shared it and 204 people have commented on it until the time of publishing this article.
Fact Check /Verification
To check the authenticity of the claim made in the viral video, Newschecker took a keyframe from the viral video and conducted a reverse image search and found an article carrying an image closely resembling the viral video. However, the image carried on an article published in the dailymail.co.uk on 10 October 2012 was slightly different in that the text on the placard held by SR Khan read, "Read Men Don't Hit Woman."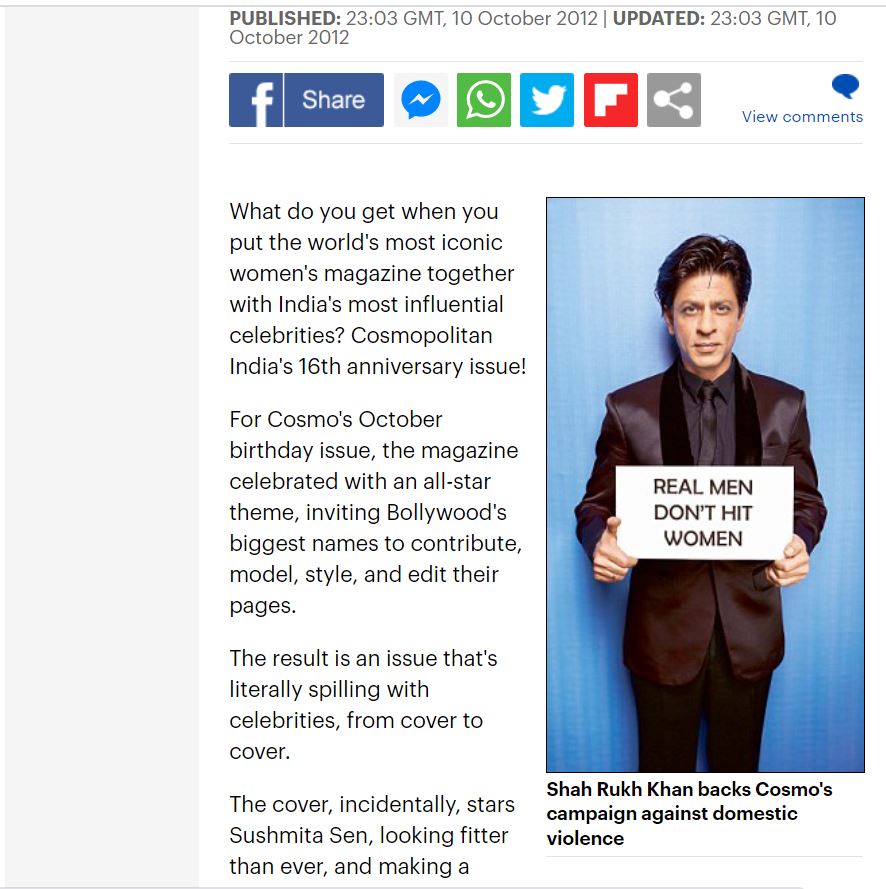 On reading the article, we found that SR Khan held the placard expressing his solidarity with the cosmos' campaign against domestic violence.
Further, we also found the same image carried by an article published on 14 October 2012. The article also noted the important stance taken by Cosmopolitan India's 16th anniversary edition against domestic violence.
We also checked if Shah Rukh Khan had ever made any remark about India's territorial dispute with Nepal. But we didn't find any relevant result, thus indicating the image carried by the viral video is edited.
Conclusion
The viral video purportedly showing Shah Rukh Khan holding a placard reading "Kalapani, Lipulekh and Limpiyadhura belong to Nepal" is edited, and is thus false.
Result: False
---
If you would like us to fact check a claim, give feedback or lodge a complaint, email us at checkthis@newschecker.co  You can also visit the Contact Us page and fill the form.