At a time when United States' aid under the Millennium Challenge Corporation (MCC) Compact is facing controversy in Nepal, many fabricated videos are being widely shared on social media claiming that China has offered US $85 billion (NRs 1 trillion) aid to Nepal if the MCC was revoked.
The US aid agency and the government of Nepal signed the MCC compact in September 2017 to build electricity transmission lines and road infrastructure. As part of the deal, the MCC has pledged US $500 million and Nepal will chip in another US$130 million for the infrastructure project.
In 2017, Nepal also signed a framework agreement with Beijing, on China's Belt and Road Initiative (BRI), an ambitious plan to revive the ancient Silk Road trade routes to connect Asia with Africa and Europe via land and maritime networks.
Nepal and China are working on a draft implementation plan for the projects under BRI.
Against this backdrop, a TikTok video, depicting Chinese President Xi Jinping addressing a gathering of Nepali citizens has gone viral. The voice over in the viral video can be heard saying that the northern neighbour would provide US $85 billion (NRs 1 trillion ) in addition to US $500 million (NRs 60 billion) as part of its Belt and Road Initiatives (BRI), for Nepal's development, especially on roadways and transmission lines.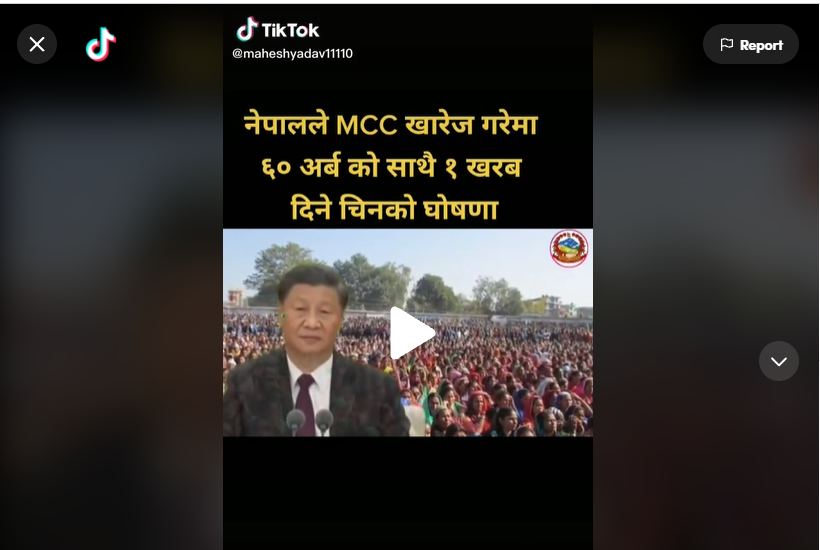 Nine projects including upgrading electricity transmission lines, hydroelectricity projects and road constructions have been identified to be executed under the BRI framework. However, officials familiar with the BRI say the projects under BRI have not gained momentum due to lack of clarity on financing modality.
Another TikTok video claimed that China's Ambassador to Nepal, Hou Yanqi asked Nepal to reject the MCC. "China also extends billions of rupees in aid to many developing countries around the world but it never puts pressure like the US," Hou allegedly said. "There is a secret behind the US's insistence on approving the aid. The main reason is that China is emerging as a powerful nation in the world and the European Union and US don't like it. That's why they are using a least developed country like Nepal on the pretext of aid and drain the country of its resources, as a part of a bigger game to lay siege to China and separate Tibet from China," the narration further says, quoting Hou as saying.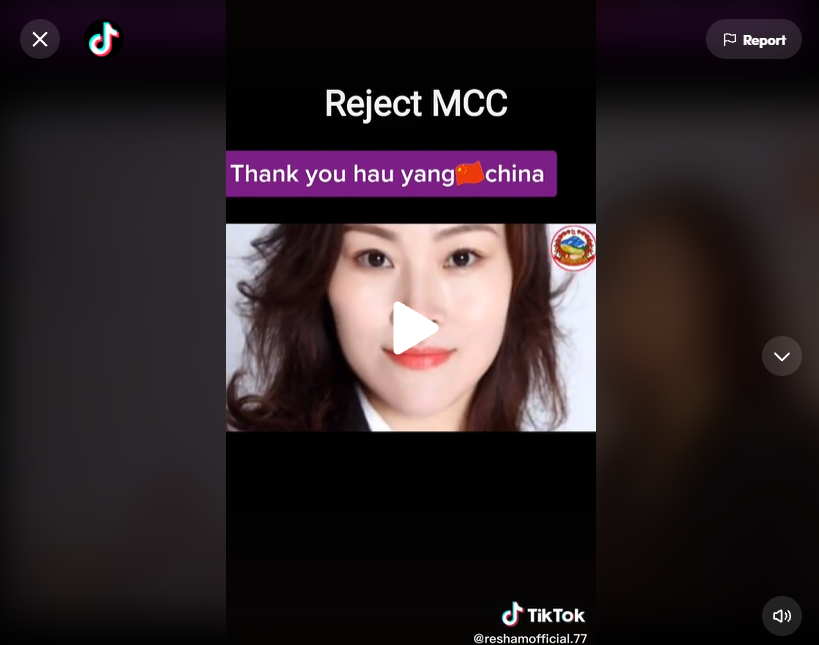 The audio further quotes Hou that people in both Nepal and China understand this ploy and urges everyone to work in unison. "The Chinese Embassy won't speak further on the matter. China won't interfere in the internal affairs of other countries. And it is up to the Nepali people whether or not to accept MCC," the audio further quotes the Chinese Ambassador.
Fact Check /Verification
We came across videos with similar claims shortly after Fatema Z Sumar, Vice President of Department of Compact Operations at the US Millennium Challenge Corporation (MCC), and her deputy visited Nepal in the second week of September.

The voices in three separate TikTok videos examined by Newschecker are of the same person. But no Chinese leader or Chinese ambassador has ever made such statements in public regarding the MCC and BRI projects. Rather the Chinese ambassador had publicly said that China welcomes any foreign aid to Nepal, and would like to see the ratification of MCC.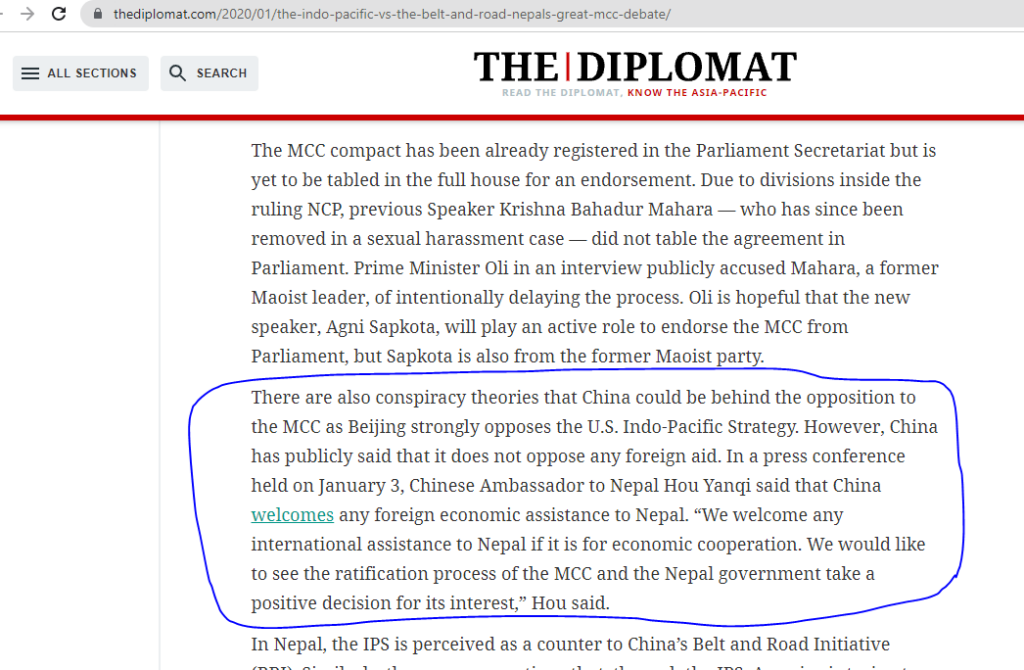 Conclusion:

The videosclaiming that China has announced NRs 1 trillion (US $85 billion ) as a reward for scrapping the MCC is misleading.
Result:
False
Our Sources:
. The Indo-Pacific Vs. the Belt and Road: Nepal's Great MCC Debate
. With new dispensation in Kathmandu, talks resume on projects under BRI
. An interview with Chinese Ambassador to Nepal Hou Yanqi
---
If you would like us to fact check a claim, give feedback or lodge a complaint, email us at checkthis@newschecker.co You can also visit the Contact Us page and fill the form.