At a time when the arrest of Nepali cine artist and model Paul Shah for allegedly having sexual relations with a minor colleague has grabbed headlines, two videos claiming Shah's release from jail are going viral among Nepali TikTok users. Newschecker found the videos to be old and shared in a false context.
Shah, currently in judicial custody was arrested on February 27 after a 17-year-old singer lodged a complaint with the police accusing him of raping her on a false promise of marrying her.
Shah and the singer had worked together in several music videos. On March 24, Tanahun District Court ordered Shah to remain in custody until the final verdict.
According to Nepal's Act Relating to Children 2018, those below the age of 18 are deemed as minors, and the complaint against Shah is related to rape and abuse of minors.
In this context, one TikTok user @pabi22p shared a video, which shows visuals of people welcoming artist Paul Shah and Nepal police personnel. Text superimposed on the video reads, "Paul Shah has been released on bail on Friday at 2:30. He has been welcomed."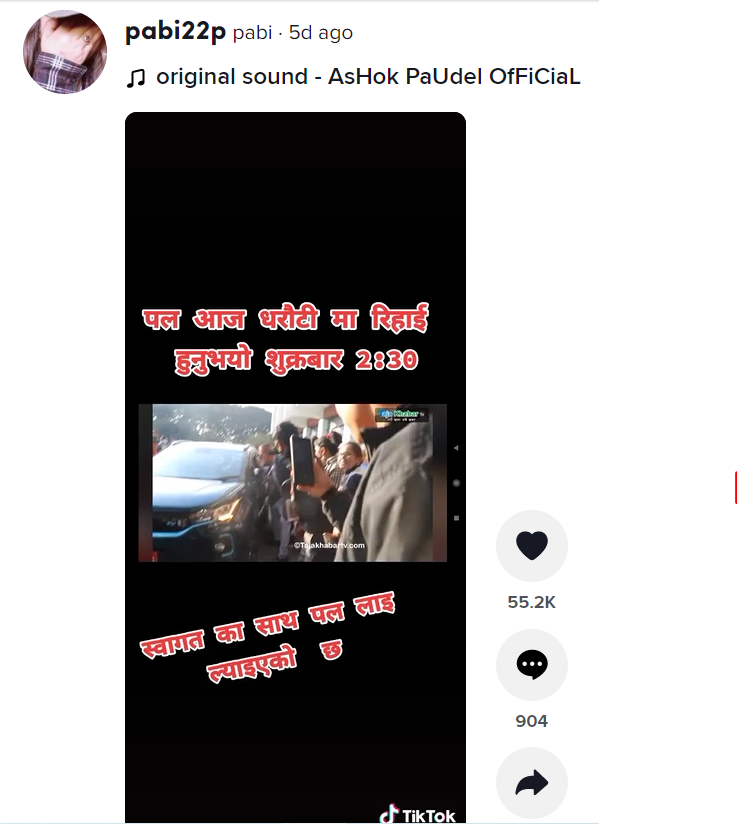 Posted on April 1, the video had garnered 55.1 likes, 136 shares at last count with 904 people commenting on it- indicating that the video has reached many users.
Another TikTok user @meowmeow.c0m posted another video on April 4 with a similar claim that actor Shah has been freed from custody. This video shows people honouring Shah and the caption posted with the video claims that artist Shah has been released from jail. Text superimposed on the video reads, "Shah has been released from jail and is being honoured after his release."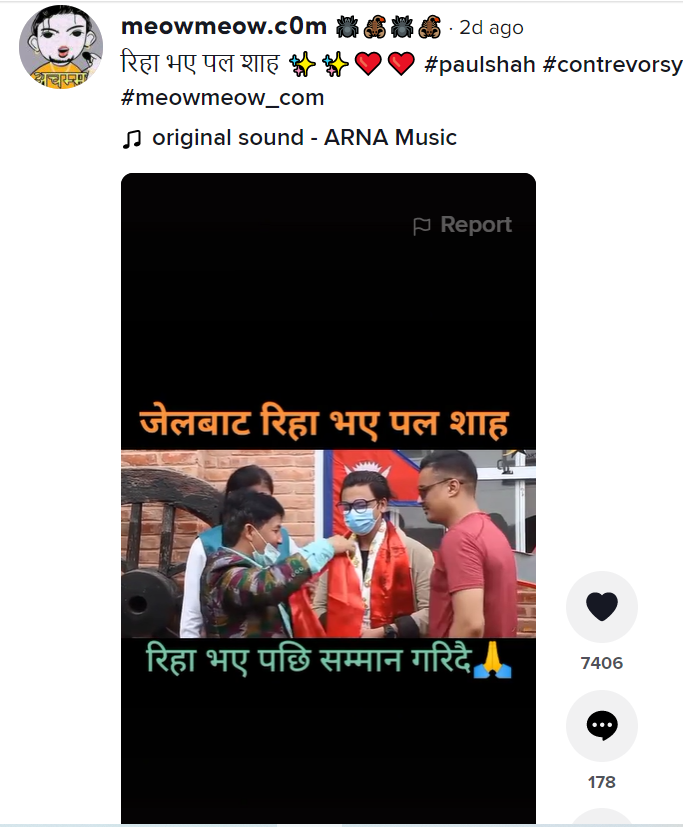 This second video is also being shared widely and has received 7,835 likes, 46 shares and 176 comments until the last count.
Fact Check /Verification
To check the veracity of the claims made in both videos, Newschecker searched for news reports regarding the latest status of Shah's custody. We found the latest report about Shah's incarceration status published in the online news portal Barhakhari.com. The report published on April 5 stated that Shah, who was being held in Tanahun district prison in a rape case, has been taken to Nawalpur District Court for bail hearing.
Newschecker reached out to Nawalpur District Court Information Lal Bahadur Chhetri to get the latest information regarding actor Shah. Chhetri said that Shah was brought to Nawalpur on Tuesday for bail hearing and the attorneys from both sides—plaintiff and defendant—put forth their arguments on Wednesday. "After the bail hearing, the court decided to extend the judicial remand of Shah until April 20 and present him before the court on the same day," he said, adding that Shah has been sent back to Tanahu district prison.
Our findings made it clear that Shah has not been released from judicial custody as is being claimed in the viral videos.
On analysing the first video further, we spotted a logo of Taja Khabar YouTube Channel. Taking it as a clue, we sieved through the channel and found a video, which contained visuals bearing close resemblance to the first viral video. The video was posted on December 1, 2021.
Newschecker also analysed the second video thoroughly, and noticed the logo of Cinepati TV on the screen of the second viral video. We searched the YouTube channel and came across a video, which carried similar footage from the 10.20-minute timestamp that was indistinguishable from the viral video. The original video was posted on June 29, 2021.
Conclusion
The viral videos claiming to show the release of Nepali cine artist Paul Shah who has been accused of raping a minor are old and are being used to peddle false information regarding the status of an ongoing legal trial.
Result: False Context /False
Sources
---
If you would like us to fact check a claim, give feedback or lodge a complaint, email us at checkthis@newschecker.co You can also visit the Contact Us page and fill the form.