As Sri Lanka battles its worst economic downturn since independence from Britain in 1948, reports of sporadic violence and clashes from across the island nation found its way to the social media. In this context, a dramatic moment captured on photograph, showing a man attacking another with an iron rod as a police officer attempts to break up the fight, is going viral on social media. Users sharing the image claimed that the image showed an angry public dragging out and thrashing a Sri Lankan lawmaker. Newschecker found the claim to be false.
The unprecedented economic crisis and subsequent protests plunged the country into political unrest and violence since April. President Gotabaya Rajapaksa on May 12 appointed Ranil Wickremesinghe as the new Prime Minister to restore stability in the island nation after protesters blamed the powerful Rajapaksa family for the country's crippling economic conditions that have fueled inflation, leading to acute shortages of essential commodities such as food, fuel and electricity supply.
The Sri Lankan government has been appealing for international help to bail out the government that has almost run out of foreign currency reserves.
One among those sharing the image on Facebook was Nepali cine artist Aashika Tamang, who is popular among Nepali social media users. She has uploaded a Facebook post with the image. "The people of Sri Lanka have dragged the lawmakers from their homes and beaten them satiating their frustration after the cash-strapped government yesterday declared the economy completely collapsed," reads the post. Tamang is also a social activist.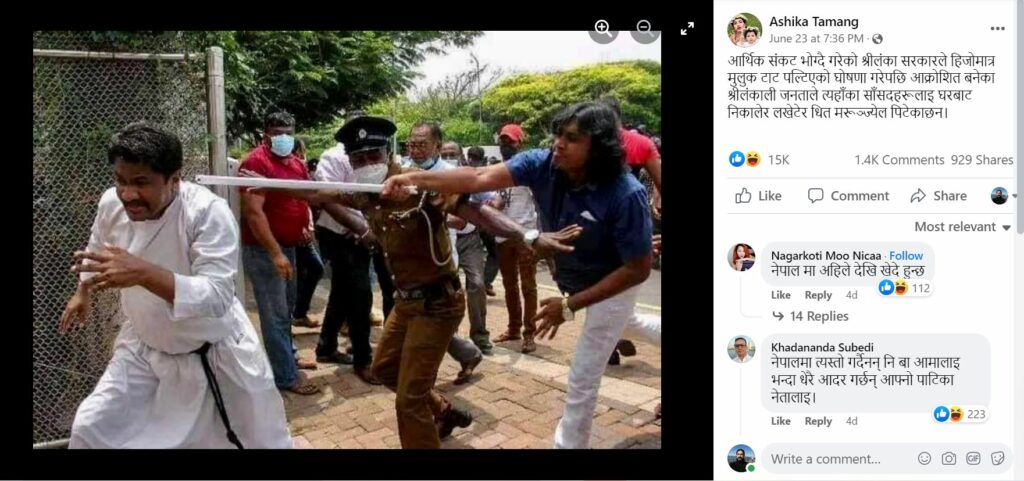 The image posted on June 23 has garnered 15k reactions, 923 users have shared it, while 1.4k people have commented on it until the time of publishing this article. 
Fact Check /Verification
To verify if the viral image is from Sri Lanka and showed protesters assaulting lawmakers, Newschecker conducted a reverse image search on google which showed several results. We came across several articles using the viral image that indicated that the photograph was taken during a clash between supporters of former Prime Minister Mahinda Rajapaksa and anti-government protestors in Colombo on May 9.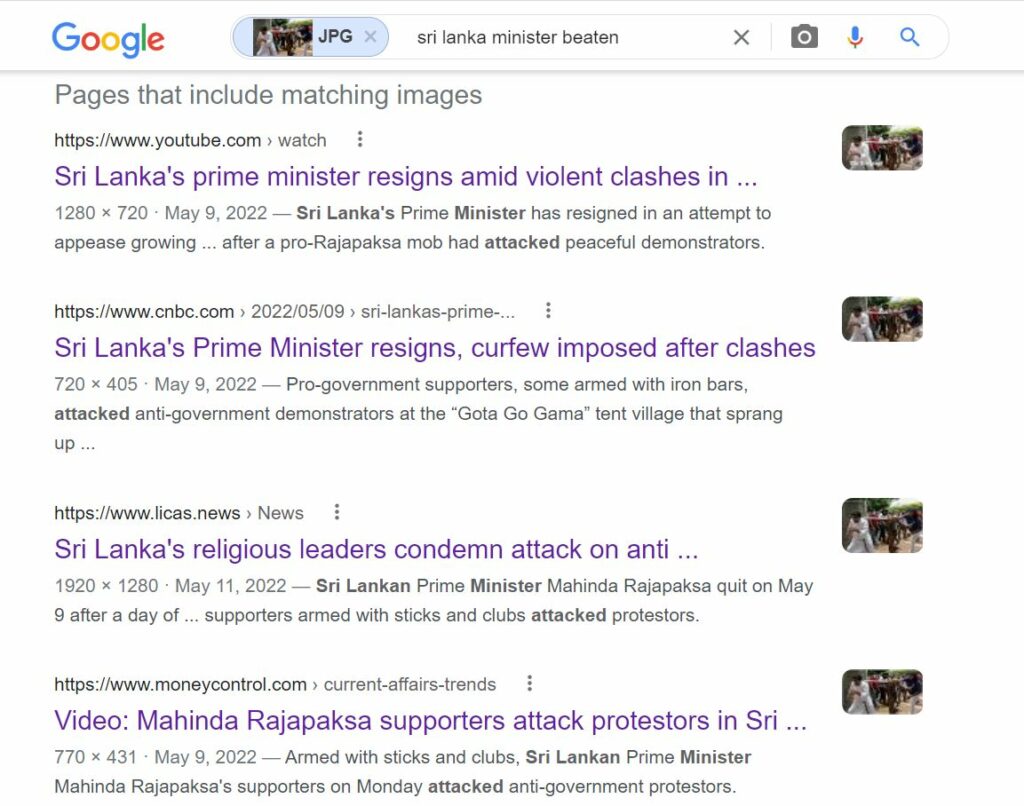 The article was titled 'Sri Lanka's religious leaders condemn attack on anti-government protestors' and was published on a Christian religious website lucas.news. The original caption of the viral image captured by AFP News agency reads, "A government supporter tries to hit a priest who joined the demonstrations outside the president's office in Colombo on May 9, 2022."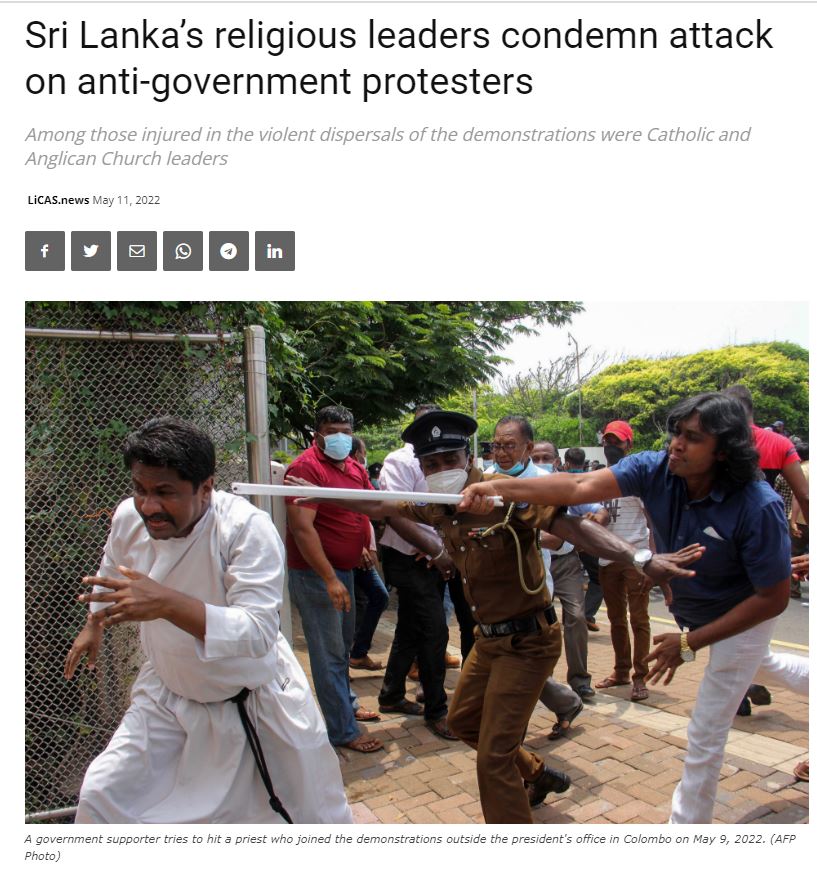 We also found a video posted on the YouTube channel of South China Morning Post capturing the deadly violence that took place in Colombo on May 9, hours before Rajapaksa stepped down. On analysing the video closely, we saw that Rajapaksa's supporters, some of them armed with iron bars, assaulted anti-government protestors including Christian priests.
Another article published in colombogazette which carried the same image, relayed the same information. Two Christian priests were among those assaulted by supporters of the Sri Lanka Podujana Peramuna (SLPP) yesterday, the article revealed.
Newschecker found the same image on Twitter, posted by a handle @mdlucias. Text of the post reads, "The reverend father of St. Thomas' Prep was assaulted by SLPP supporters today. He is currently receiving treatment in hospital." 
Conclusion
The viral image purportedly showing Sri Lankan protestors assaulting a lawmaker is from May 9, 2022, and shows a Christian priest attacked by pro-government supporters.
Result: Misleading Content /Partly False
Sources
---
If you would like us to fact check a claim, give feedback or lodge a complaint, email us at checkthis@newschecker.co You can also visit the Contact Us page and fill the form.