At a time when Nepal has been conducting exploration of petroleum products with the support of the Chinese government, a video claiming that Nepal has started producing oil is going viral on TikTok. Newschecker found the claim to be false.
TikTok user @rohitoli_3_official posted a video showing an oil drilling machine being operated. Text superimposed on the video reads, "Oil production has begun in Nepal." Audio accompanying the video claims, "See here friends, a petrol producing machine has been installed here in Nepal with the support of China. Petrol has been produced for the first time in Nepal."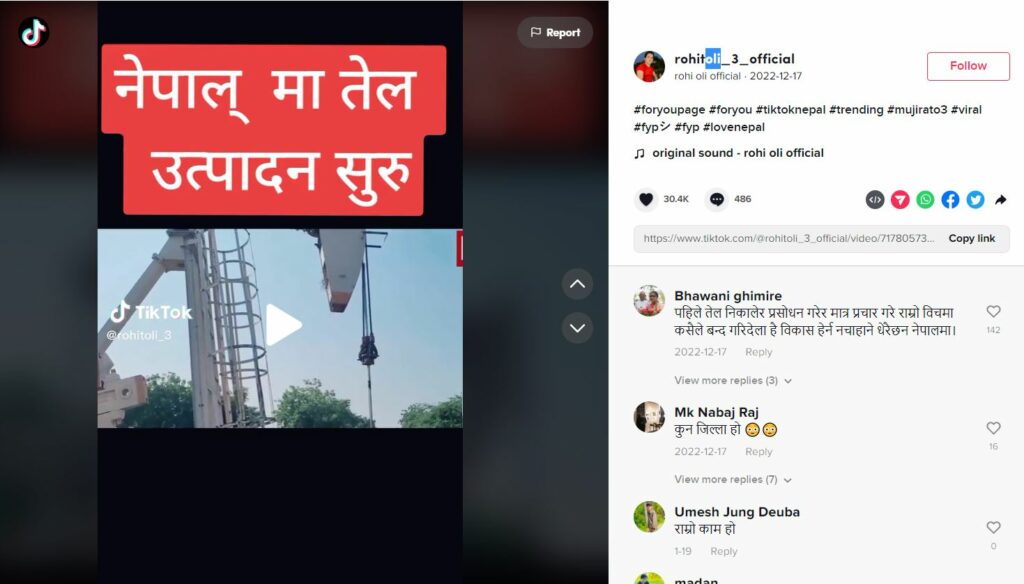 The video posted on December 17 has garnered 30.4k likes, and 298 shares and 486 people have commented on it.
Fact Check /Verification
To check the authenticity of the claim made in the viral video, Newschecker searched the status of oil exploration in Nepal by using relevant keywords and found the website of Nepal Petroleum Exploration Promotion Project. According to the website, Nepal and the People's Republic of China agreed to sign "Implementation Agreement of China-Aid on Oil and Gas Resources Survey Project in NEPAL on February 28, 2019.
We also found that the first phase work of Geological Mapping, Geochemical Sampling, Magnetotelluric Survey and Seismic Survey have been completed in the Dailekh district. However, we didn't find any updates or reports confirming that any reserve of petroleum products has been found in Nepal.
Further, Newschecker reached out to Chief of Nepal Petroleum Exploration Promotion Project, Dinesh Napit, who told Newschecker that they are still in the exploration phase in Dailekh. "It is only on the surface that we have come across some petroleum gases but we haven't found its source. We need to drill that area up to four kilometres and find the source before we can confirm that we have found mineral oil," Napit said.
Our findings indicated that Nepal has not yet found or produced petrol in Nepal.
Conclusion
The viral video claiming that Nepal has started extracting or producing petroleum oil is false as Nepal is still in the stage of exploration of petroleum resources.
Result: False
---
If you would like us to fact check a claim, give feedback or lodge a complaint, email us at checkthis@newschecker.co You can also visit the Contact Us page and fill the form.