A video purporting to depict a road damaged by a high magnitude earthquake in Dolakha district is going viral on TikTok. Newschecker found that the image carried in the video is shared in a false context.
TikTok user @maheshyadav111111 posted a video, which shows an image of a collapsed road with a crowd of people gathered near the edge. The caption reads, "A big earthquake jolts Dolakha." Audio accompanying the video presented in a news bulletin-style says, "A high-magnitude earthquake has struck Dolakha district of Nepal. The quake caused a huge loss, people screamed and ran helter-skelter. The quake's epicenter is Dolakha."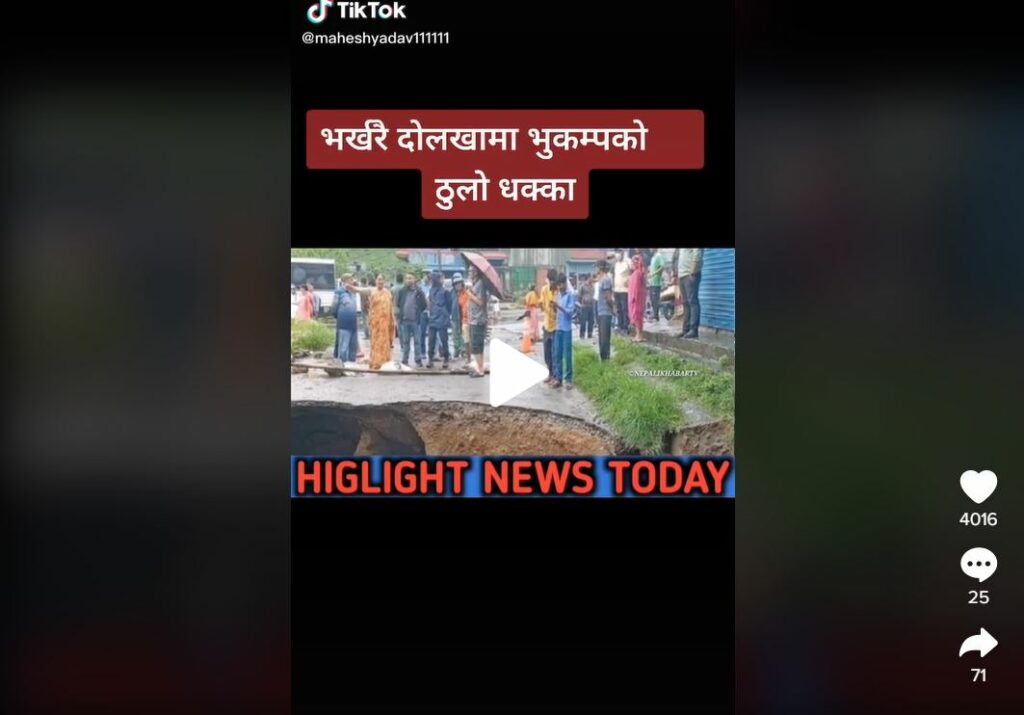 The video posted on July 5 has been liked 4,016 times, shared by 71 users while 25 people have commented until the last count. Five other users have used the audio to create new videos.
Fact Check /Verification
To check the authenticity of the claim made in the viral video, Newschecker took a keyframe of the image carried in the video and conducted a reverse image search on Google. The search threw up several results carrying the same image.
On checking a news article published by Annapurna Post online on June 26, we found that the image depicts the collapsed road connecting Gaurapatan to Baglung bus park in Pokhara. The news also reported that the road and a nearby resident building were damaged by floods triggered by incessant rains.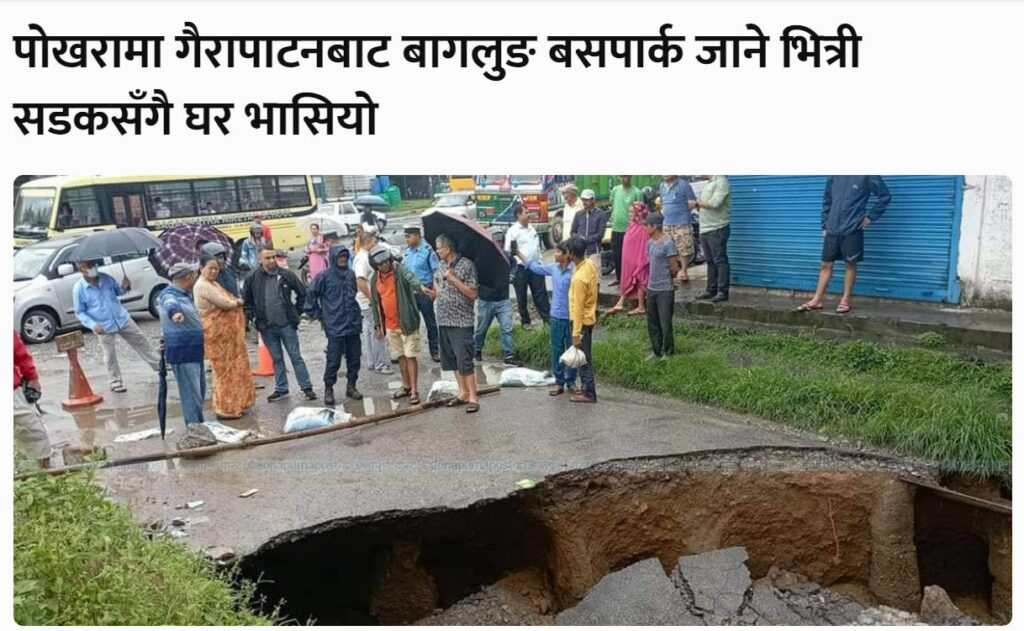 Further, we checked another article published in setopati.com which also confirmed that the photo shows the collapsed road in Pokhara. The article, however, attributed the photo credit to the Facebook page of Dipendra Bahadur Chhetri.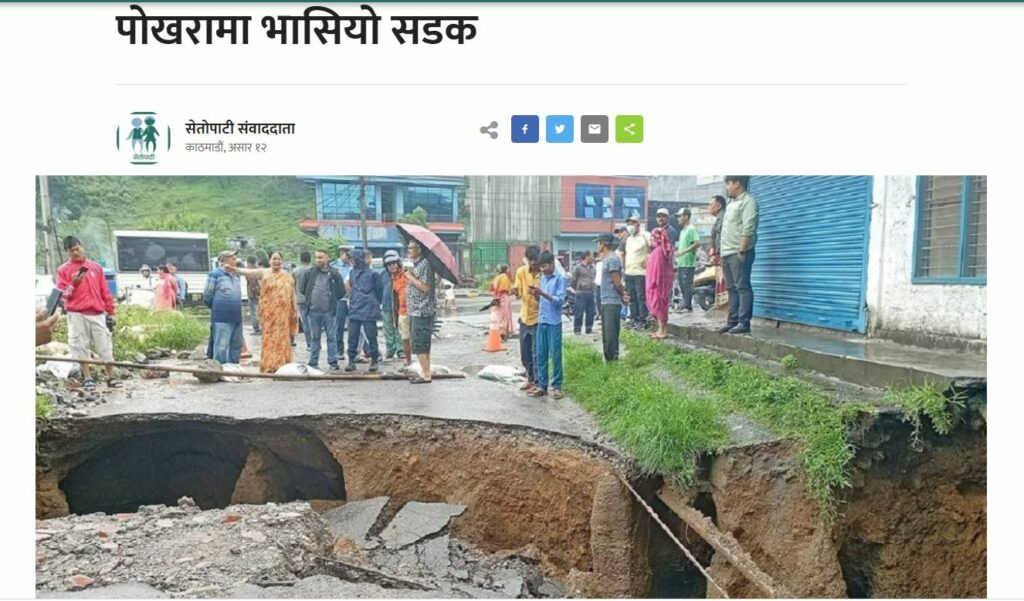 Monsoon rains have been lashing the country with reports of floods and landslides from different parts of the country.
We also checked the website of the Nepal Earthquake Monitoring and Research Centre. The site confirmed that an earthquake measuring 4.1-magnitude on the Richter Scale had struck Dolakha on July 2, 2022. However, the quake had not caused any major damage in the district.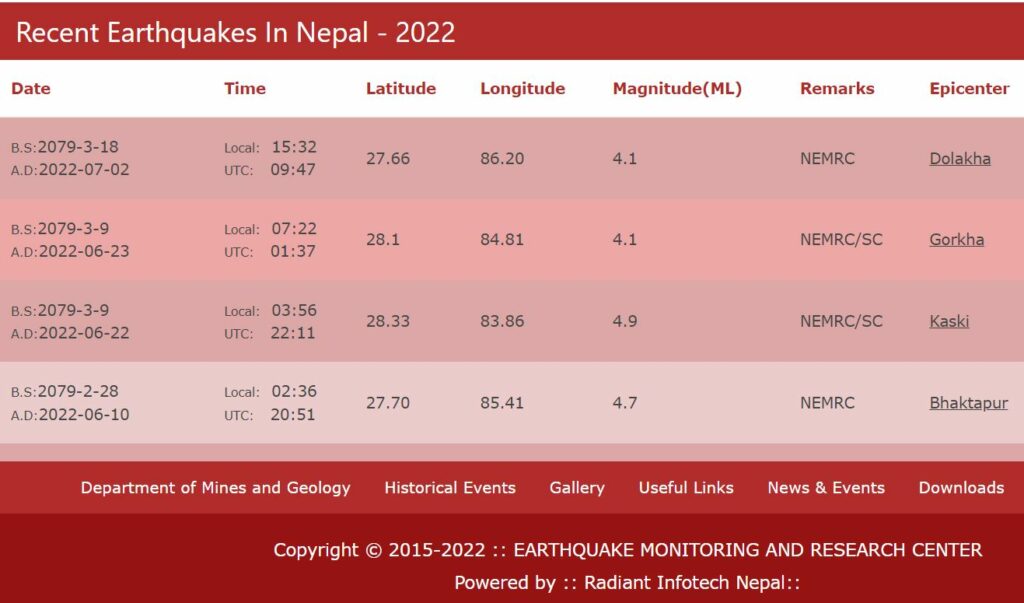 Thus, our findings clearly indicate that the image shows a road caved in due to monsoon-triggered floods in western district of Pokhara and not from Dolakha as claimed by the viral video.
Conclusion
A video purporting to show the road damaged by recent earthquake in Dolakha is shared with a false context, and the image actually shows the flood-destroyed road in Pokhara.
Result: False Context/False
Sources
Nepal Earthquake Monitoring and Research Centre
---
If you would like us to fact check a claim, give feedback or lodge a complaint, email us at checkthis@newschecker.co You can also visit the Contact Us page and fill the form.