Fatema Z Sumar, the Vice President of Department of Compact Operations at the US Millennium Challenge Corporation (MCC), and Jonathan Brooks, the Deputy Vice President arrived in Nepal on September 9 to assuage the growing concerns in Nepal over the MCC Nepal Compact.
The MCC is a $500million grant for a specific project to upgrade Nepal's electricity transmission grid and road networks. The US officials visited the Himalayan republic after the US programme drew controversy and became one of the most widely and hotly debated issues in Nepal.

The US aid project has sharply divided the general public and political leaders alike with its detractors arguing that the MCC is against Nepal's national interests and part of the US's Indo-pacific strategy. While those who support the aid claim that it is the single largest aid project for Nepal and there is no harm in ratifying the compact from the parliament.
In the wake of the US officials' visit, Nepali social media, especially Tiktok, was awash with fabricated videos and fake claims such as Sumar was born in Nepal. There were also claims of Sumar briefing the US media, that China has paid money to Nepali youth to allure them into anti-America activities.
One such Tiktok video showed Fatema Z. Sumar, speaking at a press conference, where she is heard saying, "I was born and raised in Nepal, a small but developing country." Closer inspection of the video proves it is fabricated by using an audio of one Jolly Amatya's speech at United Nations Youth Assembly.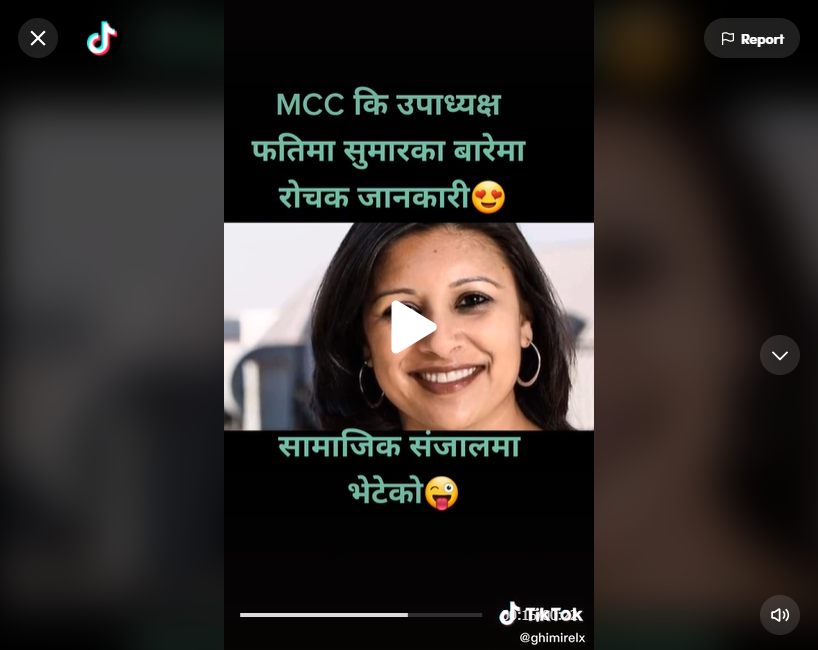 Fact Check Verification
Our internet research revealed that the audio of the speech by Jolly Amatya at United Nations Youth Assembly in 2017, was superimposed on the video of an old radio interview Fatima gave as a Vice President of Global Programs for Oxfam America.
Texts on the video claim "it seems that MCC Vice President Fatima did not ratify the treaty because she was born in Nepal." The texts further read that "a native of Argakhanchi district in Nepal, Fatima reached the United States of America when she was six months old."
Similarly, another Tiktok video displays a picture of Fatema Z. Sumar with an audio clip making a similar false claim,"Fatema Sumar is a native Nepali and was born in Argakhanchi district of Nepal, and her mother was from Gulmi district. Her parents took her to the United States of America when she was six months old. She was named Pratima Sunar during her naming ceremony. But upon reaching the US, her parents changed her name as Fatima Sumar."
Texts on the video states, "Fascinating information about MCC Vice President Sumar. Found on social media."
However, we found that Sumar Malaysian-Indian descent and was born in Malaysia.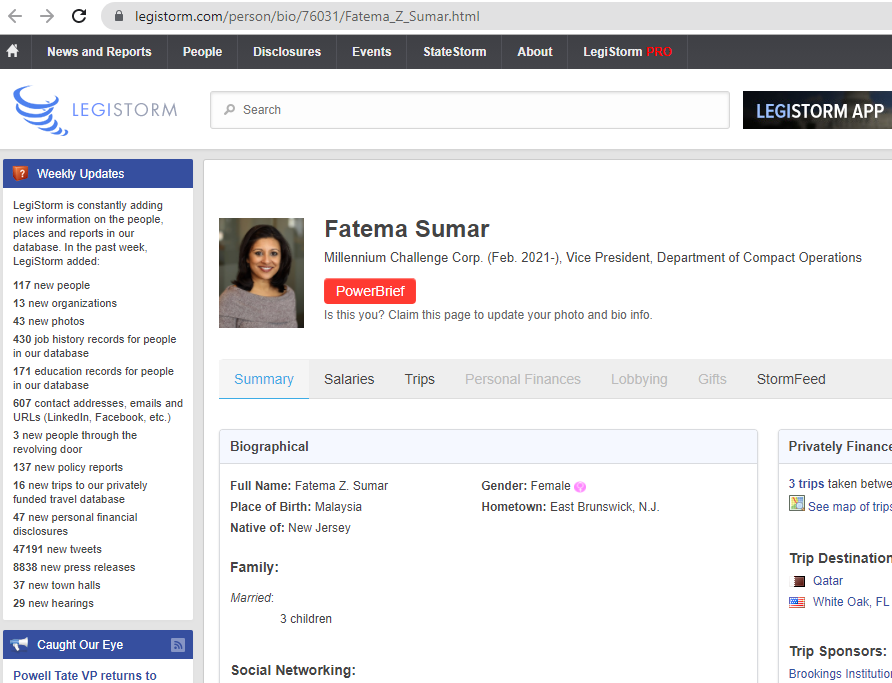 Sumar and her Deputy Jonathan Bronks had recently visited Nepal to assess the status of an MCC aid project that has courted controversy in Nepal. The doctored video tries to give the impression that she spoke at a news conference in Kathmandu.
In another fabricated video, an audio clip is played against the video claiming that of Sumar, while informing the media about her Nepal visit upon reaching home, made serious allegations that China has distributed money to poor youth of Nepal to entice them into anti-American activities and as a result the youth and the media have been engaging in activities against the US.
Texts in the video reads "Fatema accuses China of offering money to turn Nepali youth and media against America."
The pictures used in the video is from a program attended by Sumar in February 2016 at San Diego State University Georgia.
Conclusion:
All the claims made in the TikTok videos that Fatema was born in Nepal and that she accused China of offering money to Nepali youth to induce them into anti-American activities were fabricated social media contents.
Result: False
Our sources
---
If you would like us to fact check a claim, give feedback or lodge a complaint, email us at checkthis@newschecker.co You can also visit the Contact Us page and fill the form.