Two videos allegedly claiming to show India's Prime Minister Narendra Modi issuing warnings to three countries—including Nepal—during the Republic day of India have gone viral on TikTok. Newschecker found that the videos are actually from a 2019 video clip when Prime Minister Modi lashed out at the perpetrators of the Pulwama terror attack in Jammu and Kashmir.
TikTok user itsmelucky050 posted a video claiming that India's Prime Minister Narendra Modi has issued warning to three countries during the republic day of India on January 26. Text superimposed on the video read, "On the Republic Day, Modi warned three countries. PM Narendra Modi to Nepal." The video shows PM Modi speaking. Audio accompanying the video says, "Those who are behind the attack, will have to pay a huge price."
The video has garnered 3072 likes and 9 shares, and 82 have people have commented on the post until the time of publishing this article.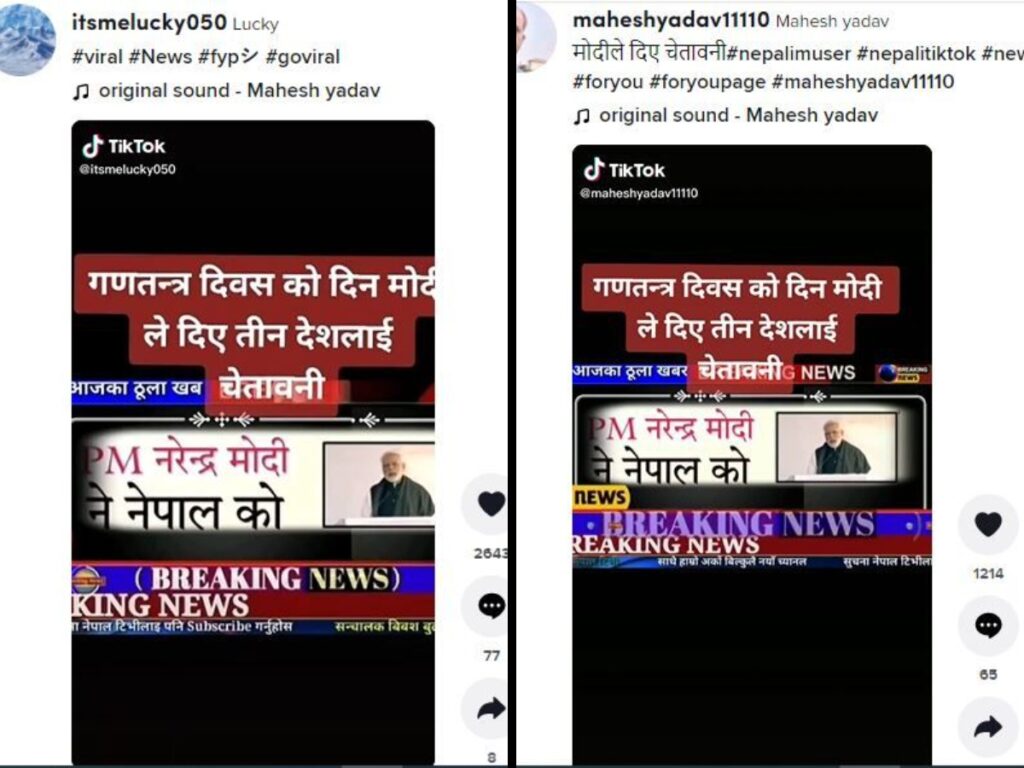 Another TikTok user maheshyadav11110 has also posted the same video which has been liked 1194 times and 74 people have shared it.
Fact Check /Verification
To check the authenticity of the claim made in the video, Newschecker began by searching for the speech of Prime Minister Modi during the 73rd republic day of India on January 26. However, we couldn't find any speeches by PM Modi on the occasion, and only found his visit to War Memorial India gate.
Further, Newschecker conducted a keyword search for 'PM Modi warning' which led us to a video posted on the YouTube Channel of Economic Times posted on February 15, 2019. On listening to the Economic Times' video we found the portion from the 2.39 minute timestamp to be identical to the viral video posted by itsmelucky050.  
We also found several articles on the Indian Prime Minister's reaction after the attacks, which confirm that the video is from 2019.
The Pulwama attack happened on February 14, 2019, when a suicide bomber rammed a vehicle carrying over 100 kg of explosives into a convoy of the security forces in Pulwama district, killing 40 Central Reserve Police Force (CRPF) personnel.
Our findings made it clear that the viral video was made up by taking the video of PM Narendra's Modi's speech following the terror attack in Pulwama in Jammu and Kashimir in February 2019.
Conclusion:
The TikTok videos, claiming that India's Prime Minister Narendra Modi issued a warning to three countries including Nepal, are  misleading. The video clips are actually from 2019.
Result: Fabricated
Our Sources
---
If you would like us to fact check a claim, give feedback or lodge a complaint, email us at checkthis@newschecker.co You can also visit the Contact Us page and fill the form.