With the November 20 elections nearing, many unverified videos linked with Nepali politicians are doing the rounds on Nepali social media. In this context, a video purportedly showing Communist Party of Nepal (Maoist Centre) Chairman Pushpa Kamal Dahal being safely escorted to a vehicle after he was attacked by the cadres of his own party in Gorkha district has gone viral. Newschecker found the claim to be false.
Chairman Dahal, who is also known by his nom de guerre 'Prachanda' has already served as Prime Minister Nepal twice, is contesting the election for a seat in the federal House of Representatives from Gorkha district constituency-2.
Against this backdrop, many social media users are sharing a video, which shows CPN (Maoist Centre) Chairman Dahal being escorted frantically to a vehicle by security personnel.
A Facebook page named 'Man Thiyena Mari Meti Dhan Kamauna' posted a video showing Dahal being escorted into a vehicle. Text superimposed on it reads, "Pushpa Kamal Dahal Prachanda narrowly survived today in Gorkha. People hurled stones, shoes and batons on him. Let's wipe out Prachanda from Gorkha from where he launched his people's war. Jaya Gorkha, my salute to the people of Gorkha."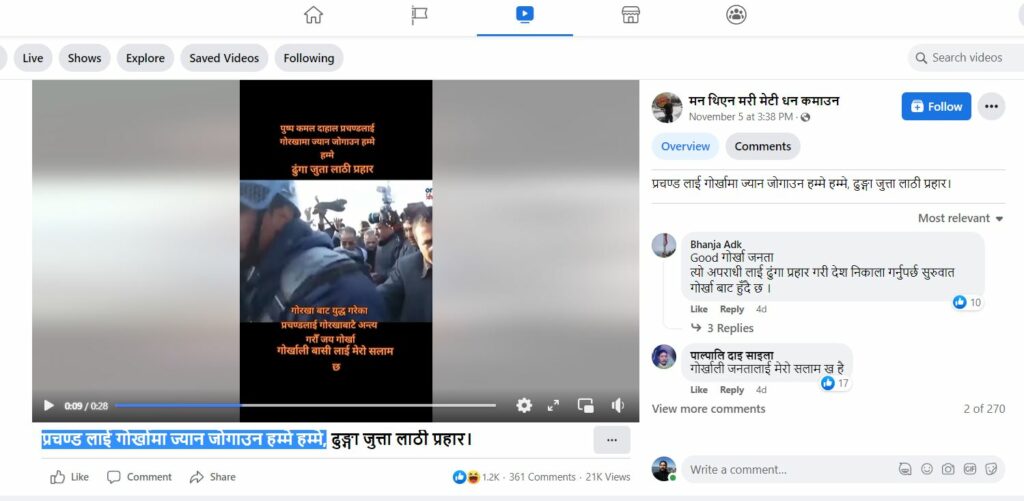 The video posted on November 4 has been viewed 21k times, shared by 263 users and 361 people have commented on it.
Likewise, a Facebook page named Rastriya Swatantra Party (RSP) posted the video on November 4. The text superimposed on the video reads, "Prachanda [Dahal] was manhandled in Gorkha today. Prachanda was attacked with batons by his own party cadres in Gorkha today."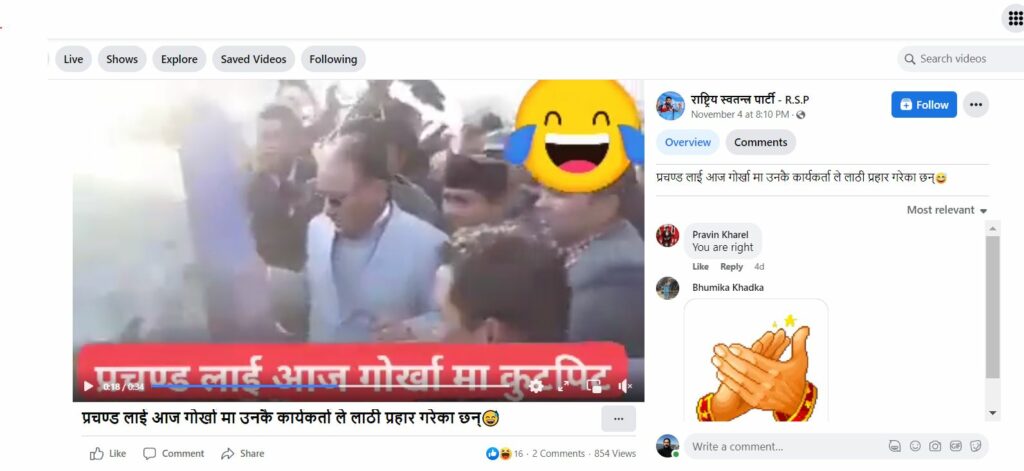 The video has been viewed 845 times, shared by 34 users and two people have commented on it. The video shared by other Facebook users can be seen here, here and here.
Similarly, TikTok user @nepali_mato posted the same video, showing Maoist leader Dahal being escorted to a vehicle amid a commotion. Text superimposed on it reads, "People attacked Prachanda in Gorkha, calling him a murderer. Dahal ran to save his life after people hurled stones at him."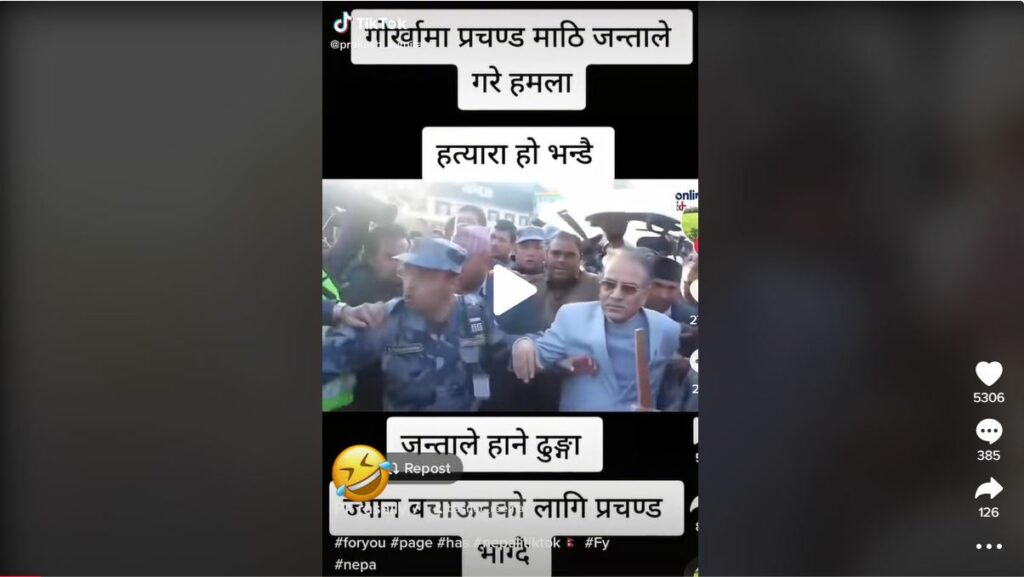 The video shared on November 7 has garnered 5306 likes, 126 users have shared it and 385 people have commented on it.
Fact Check /Verification
To check the veracity of the claim made in the viral video, Newschecker conducted a google search to check if there had been any incidents in Gorkha district involving Prachanda, who is campaigning election in Gorkha. However, our search didn't yield any relevant result.
So we conducted a search on YouTube using different keywords. While conducting a search by using keyword 'Prachanda security', we found a video whose frames from a 0.17-minute timestamp exactly matched the viral video. The video was posted on the YouTube channel of online Khabar on January 20, 2015. On watching the video, we learnt that the footage showed the moment when Maoist Chairman Dahal was rescued to a security van after the Banda (general strike) enforcers attacked security guards of Dahal in Kathmandu.
Further, we searched for news reports about the incident using Nepali keywords and found a news article published on the portal of onlinekhabar. On reading the article titled 'Prachanda's security personnel beaten by strike enforces, police rescue Dahal', we found that Dahal's security personnel were attacked when he was on his way to Bijuli Bazaar from the Constituent Assembly in Naya Baneshwor to address his party cadres. After the incident, Dahal was safely moved to a police van.
Conclusion
No, Pushpa Kamal Dahal 'Prachanda' was not attacked by stones and batons and chased away by his own party cadres in Gorkha, the viral video is seven years old and from Kathmandu.
Result: False
Sources
---
If you would like us to fact check a claim, give feedback or lodge a complaint, email us at checkthis@newschecker.co You can also visit the Contact Us page and fill the form.