Even though Nepal bade farewell to the centuries-old institution of monarchy back in 2008 and became a new republic, the call for restoration of monarchy has not died down completely. In this context, a video claiming that Nepal's deposed King Gyanendra Shah flew into rage and ordered immediate revoking of the US Millennium Challenge Corporation aid has gone viral among Nepali TikTok users. The video further claims that the former monarch's move has terrified Prime Minister Sher Bahadur Deuba and CPN (Maoist Centre) Chairman Pushpa Kamal Dahal. Newschecker found that the video was fabricated by using false voice-over and old images.
Gyanendra Shah has been living as a commoner in Nagarjun palace, a forest retreat on the outskirts of Kathmandu, after the first meeting of the 601-member Constituent Assembly voted to abolish the monarchy. Perhaps disillusioned by the conduct of the mainstream political parties over the past decade, an increasing number of people are seen participating in pro-monarchy rallies organized every now and then on the streets of Nepal.
Against this backdrop, TikTok user @rishavmissra posted a video, which shows images of deposed King Gyanendra and Prime Minister and Nepali Congress party President Sher Bahadur Deuba. Text superimposed on the video reads, "Call back the King to save the country. Long live monarchy." A voice-over accompanying the video says, "Former King Gyanedra Shah has suddenly become enraged. He made such a huge announcement, creating commotion in Baluwater [Prime Minister's official residence]. Prime Minister Sher Bahadur Deuba and CPN (Maoist Centre) Chairman Pushpa Kamal Dahal have been terrified. Called to immediately revoke MCC [US grant under Millennium Challenge Corporation."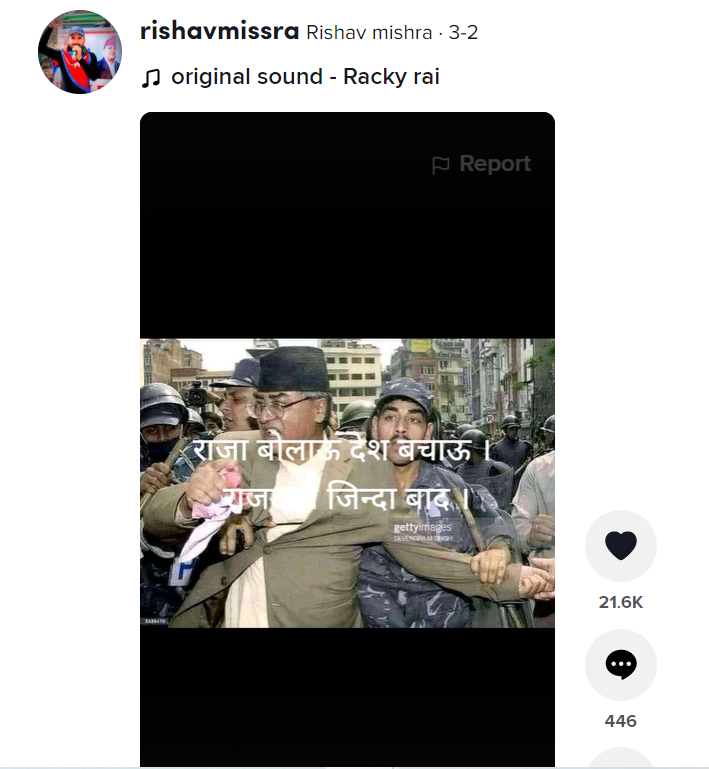 The video posted on March 3 has garnered 21.6k likes, 179 shares, and 446 people have commented on it until the time of publishing this article.
Fact Check /Verification
To check the veracity of the claim, Newschecker conducted google reverse image search by taking key-frames of the images used in the video and found the original images used in the video.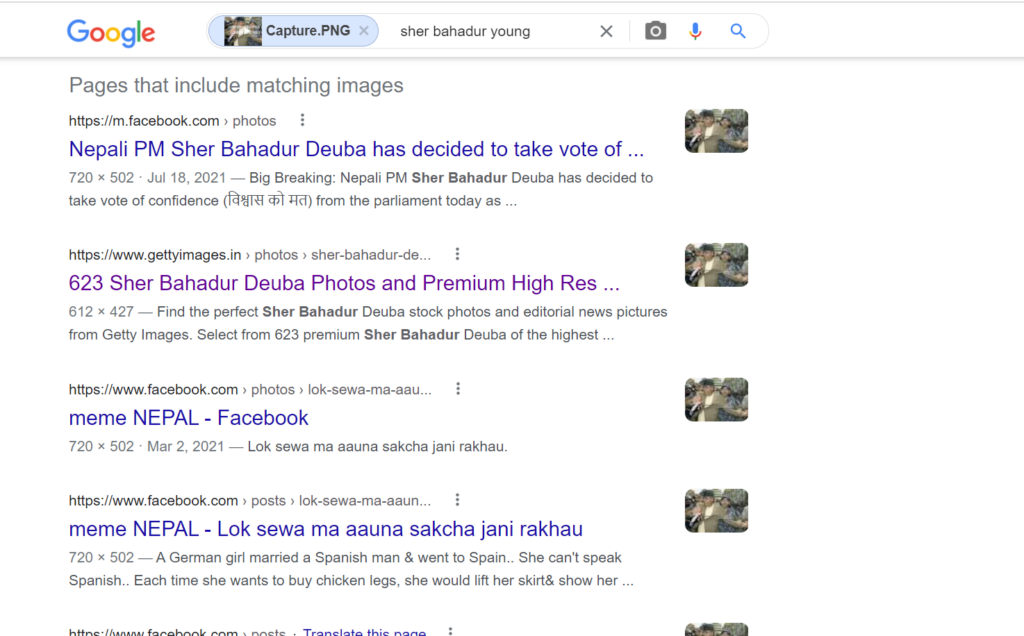 We found that one of the images was from 2004 when Deuba was arrested by riot police during a demonstration in Kathmandu against the then royalist government under former King Gyanendra Shah. While the other image was from the 60th birthday celebrations of the then King Gyanendra Shah at Narayanhiti Royal Palace in Kathmandu on July 7, 2007. That was the last birthday celebration of Gyanendra Shah at Narayanhiti Palace.
Further, we conducted a search on google using keywords such as 'Gyanendra Shah', 'MCC', and 'Former King on MCC' to check if there are any statements by Gyanendra Shah regarding the $500 million US grant that courted controversy over its ratification from Nepal's parliament. But we did not find any reports about the former king's statement regarding the MCC and orders that terrified Prime Minister Deuba and Maoist Centre Chairman Dahal.
Conclusion
The claims that former King Gyanendra Shah became incensed and issued orders to revoke the MCC, leaving Prime Minister Deuba and Maoist Centre Chairman Dahal terrified, is fabricated.
Sources
---
If you would like us to fact check a claim, give feedback or lodge a complaint, email us at checkthis@newschecker.co You can also visit the Contact Us page and fill the form.