As the country is gearing up for elections to the federal House of Representatives and Provincial Assemblies, slated for November 20, old videos of Nepali politicians are resurfacing with false claims. In this context, a video of Nepali Congress leader Sujata Koirala allegedly saying that Kalapani, a disputed territory along Nepal-India border, belongs to India and should be ceded to the latter, is being widely shared online. Newschecker found the claim to be false.
A Facebook user Khil Bahadur Khadka shared a video of Nepali Congress central committee member Sujata Koirala putting forth her opinion on the issue of Kalapani. Nepali text superimposed on the video reads, "Nepali Congress party's position is that Kalapani should be relinquished to India. Nepali Congress Morang-2 candidate and late leader Girija Prasad Koirala's daughter Sujata's opinion about Kalapani."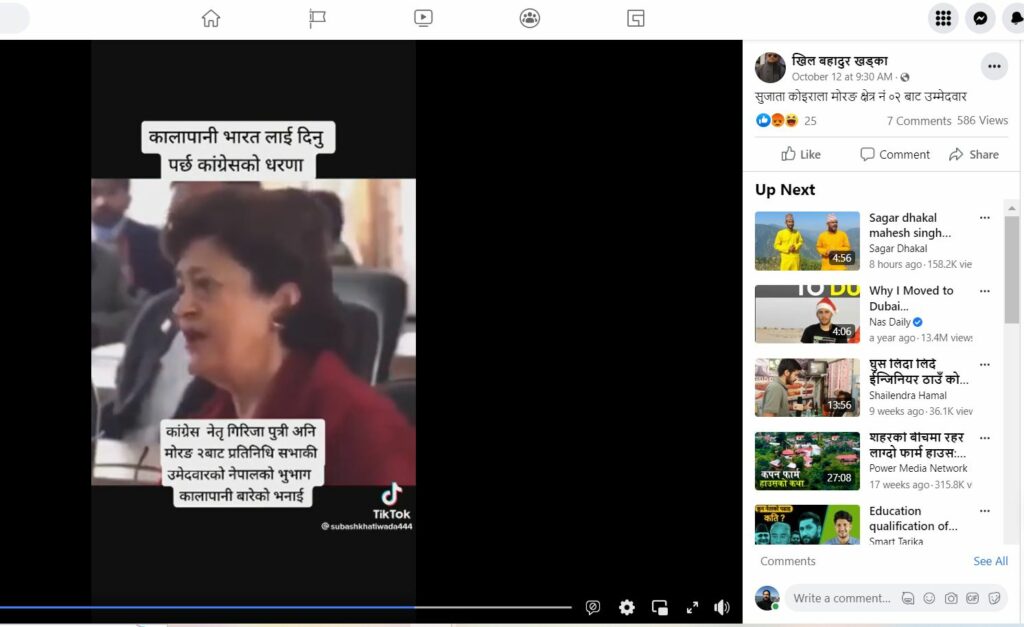 The post shared on October 12 has been viewed by 586 users, and seven people have commented on the post.
In the viral video, Koirala reads out something from a document, "Kalapani belongs to India and it should be ceded to India. It [Kalapani] can be leased out to India. We are not capable of building roads there [Kalapani]. The region is not accessible to our government. But we can lease it [Kalapani] out. I don't mean to say let's sell the country when I am talking about leasing out the territory."
Sharing the same video on October 15, another user Harry Bhattarai wrote, "Nepali people please listen carefully. This is the official position of Nepali congress on Kalapani and Limpidhura. Why should Nepali Congress and Sujata Koirala be voted?" The post has been viewed 86 times and reacted by three users.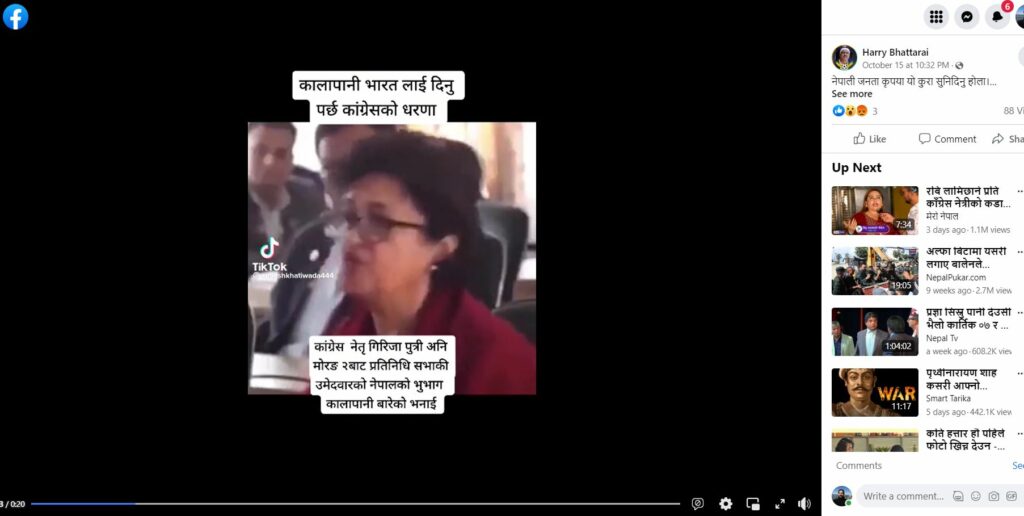 Nepali Congress leader Sujata Koirala is contesting for a seat in the federal House of Representatives from Morang-2. She had earlier served as foreign minister and deputy prime minister.
Fact Check /Verification
To check the authenticity of the claim, we observed the video carefully and found inconsistency between NC leader Koirala's statement and the claim made in the viral video. Taking it as a clue, we conducted a search on Facebook using Nepali keyword 'Sujata Koirala' and found a video posted on the Facebook page and YouTube Channel of setopati.com in May 2020. The video is titled 'Give me the leadership of talks with India regarding border dispute at Kalapani region: Sujata Koirala'.
In the 5.44-minute video Koirala is heard saying, "I just read a news article about myself. It had been published six months earlier. Its headline goes like this, 'The territory of Kalapani belongs to India and it should be given to India.' How can I ever say such a thing [against my country]? I have always lagged behind in politics because of my stand in favour of the country. Everyone should understand this." She goes on to say that Kalapani can be leased out to India for 5 or 10 years. Koirala further says that she only offered a solution to the border dispute issue as a Nepali citizen and it is not that what she said should be followed.
On checking a news report published on the English edition of setopati.com, we found that Koirala was speaking in the International Relations Committee of the parliament in May 2020 when the issue of Nepal-India border row in the Kalapani region had flared up.
In May 2020, Nepal had issued a new administrative map of the country putting Limpiyadhura, Lipulekh and Kalapani, all territories disputed with India, within Nepal's borders on its western frontiers. Nepal's move came on the heels of inauguration of a road connecting the Lipulekh pass with Uttarakhand by India's Defence Minister Raj Nath Singh.
Further, we found a news report titled 'Kalapani, Lipulekh, and Limpidhura, should be leased out to India: Sujata' published in Reporters Nepal on January 5, 2020.
Our findings led us to the fact that neither Nepali Congress nor the party's leader Sujata Koirala ever said that Kalapani should be ceded to India.
Conclusion
The viral video claiming that Nepali Congress leader Sujata Koirala said that Kalapani should be given to India is false. Old video of Koirala speaking at parliament's international relations committee has resurfaced with a misleading claim.
Result: False
Sources
YouTube Channel of Setopati.com online
---
If you would like us to fact check a claim, give feedback or lodge a complaint, email us at checkthis@newschecker.co You can also visit the Contact Us page and fill the form.