Claim
Chitwan National Park's notorious elephant 'Dhurbe' filmed breaking a tree
Fact
An elephant pushes down a tree and blocks road in South Africa
A one-minute-11-second video allegedly showing a notorious rogue elephant 'Dhurbe', which had been wreaking havoc in Chitwan for the past few years, breaking a tree has gone viral on TikTok. The video narration goes on to claim that it is the first time the wild tusker is captured on camera for the longest duration. Newschecker found the claim to be false.
The notorious wild tusker 'Dhurbe' has killed 15 people in a span of four years in the neighbouring human settlements of Chitwan National Park. The elephant had reappeared in 2018 after being out of sight since 2013. It was fitted with satellite radio-collar in April 2020 to track its movement.
Against this backdrop, TikTok user @janjeer22 posted a video showing a tusker pushing down a tree and blocking a nearby road. Text superimposed on the video reads, "See the power of Dhurbe elephant. Friends, do you think this tusker can push down the tree?" Audio accompanying the video says, "This is 'Dhurbe' or the king of Chitwan National Park. It has been ruling the roost of Chitwan National Park and the nearby area. This is the first time Dhurbe elephant is being captured for the longest duration on camera. It has already killed 23 people. Nepal Army personnel deployed for national park security, general public and jungle safari guides are used to entering the forest wishing that they won't have to encounter Dhurbe elephant.Dhurbe has been roaming around with more than 100 bullets on its bodies. The security personnel even tried to kill Dhurbe back in 2013. The government had then spent 1.6 million rupees to kill it but it survived." The archived version of the TikTok video can be seen here.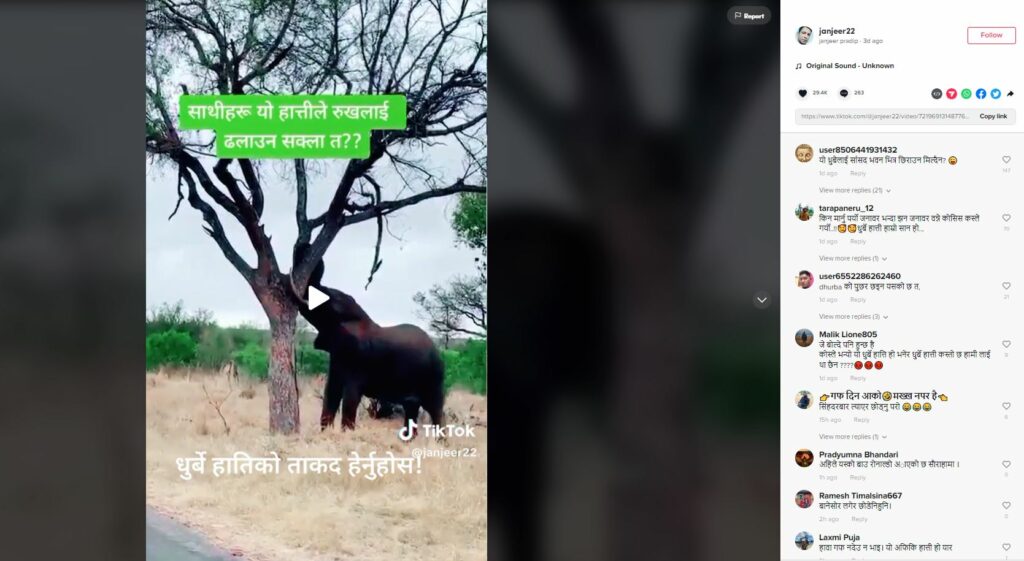 The video posted on April 9 has garnered 23.1k likes, 594 users have shared it and 194 people have commented on it.
Fact Check /Verification
To check the authenticity of the claim made in the viral video, Newschecker took several keyframes from the viral video and conducted a reverse image search on them which threw up several results matching a viral video. On checking a video posted on a Russian Channel named 'Don't Cry', we found that its frame exactly matched the viral video. The video was posted on 4 September, 2021. We checked the video caption with the help of google translate which read, ' An elephant breaks a tree in Africa. Now, the road is blocked."
Further, we conducted a search on YouTube using keywords 'elephant blocks road by breaking a tree' and found a video posted on the YouTube channel named iReport South Africa. The frames of the video posted on 18 August, 2021 exactly matched the viral video. We found that the video was from South Africa. The video title reads, "Elephant Bull Pushing Down A Massive Tree to Block the Road. Amazing. | South Africa."
Our findings clearly show that the video showing an elephant breaking down a tree is from South Africa.
Conclusion
The viral video purporting to show Chitwan National Park's notorious elephant 'Dhurbe' is false, the video actually shows a 2021 video of an elephant breaking a tree in South Africa.
Result: False
Sources
iReport South Africa, 18 August 2021
Don't Cry!, 4 September 2021

---
If you would like us to fact check a claim, give feedback or lodge a complaint, email us at checkthis@newschecker.co You can also visit the Contact Us page and fill the form.