Claim
Prime Minister Dahal has surrendered to police
Fact
No, Prime Minister Dahal has not surrendered

A video claiming that Prime Minister and the head of Communist Party of Nepal (Maoist Centre) Pushpa Kamal Dahal has surrendered to the police and that he will be sent to jail after an arrest warrant is issued, is going viral on TikTok. Newschecker found the claim to be false.
Many unverified claims and videos linked with Prime Minister Dahal, better known by his nom de guerre 'Prachanda', are being passed off among social media users after two petitions were lodged against him on Tuesday, seeking to arrest and punish him for saying that he could take responsibility for 5,000 of an estimated 17,000 deaths that happened during a decade-long Maoist insurgency.
Against this backdrop, TikTok user @surya_a_brand posted a video showing images of Prime Minister Dahal, Rastriya Swatantra Party leader Rabi Lamichhane and a Nepal Police officer. Text superimposed on the video reads, "The murderer [Pushpa Kamal Dahal] has become clever by surrendering before arrest but he shouldn't be spared." Further, another text on the video screen reads, "Rabi [Rastriya Swatantra Party leader] compelled Prachanda to surrender before the police. Good news! Rabi has broken the pride of Prachanda. Prachanda to be sent to jail after arrest warrant." The archived version of the TikTok video can be seen here.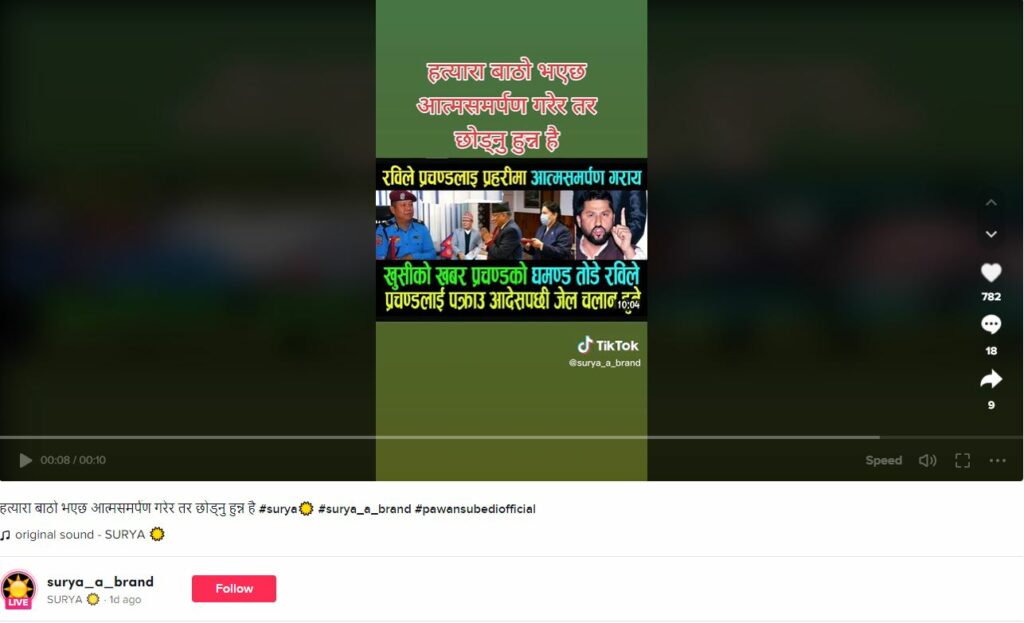 Fact Check /Verification
To check the authenticity of the claim made in the viral video, Newschecker looked up for the latest news regarding the writ petitions filed against Prime Minister Pushpa Kamal Dahal by using relevant keywords. We found a news article published on The Kathmandu Post online on March 10 itself. On reading the article, we found a single bench of Justice Ishwor Prasad Khatiwada refused to issue an interim order on the writ as sought by the petitioners. The article confirmed that the apex court on Friday issued a show-cause notice to Prime Minister Pushpa Kamal Dahal after conducting a hearing on the case.
Another article published on My Republica online stated that Justice Khatiwada refused to recuse himself from hearing the petition filed against Prime Minister Dahal though advocate Chandeshwar Shrestha and former Attorney Gneeral Mukti Pradhan, who argued on behalf of Dahal, today asked him to leave the bench.
Further, on checking the verified twitter handle of Prime Minister Dahal, we saw that Dahal posted an image of him hugging the newly elected President Ram Chandra Poudel on Thursday. We also found his March 10 post which carried an image of his meeting with visiting UK Minister of State Anne-Marie Trevelyan.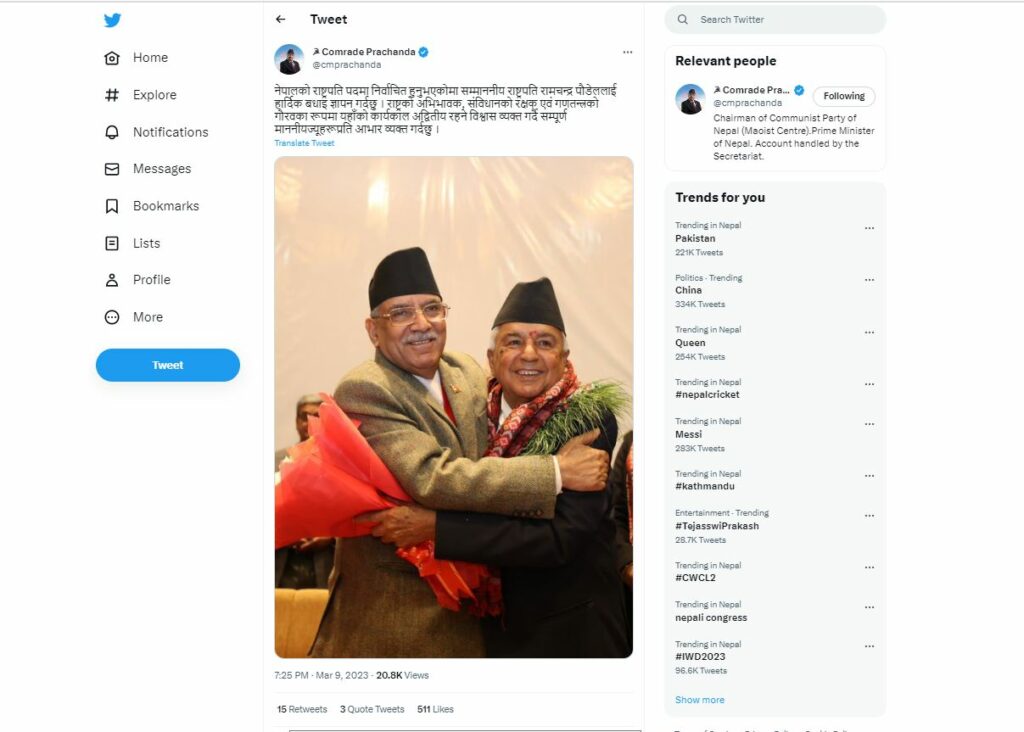 Thus, our investigations indicate that Dahal has not surrendered to the police.
Conclusion
Viral video claiming that Dahal has surrendered before the police is misleading as the Supreme Court has refused to issue an interim order as demanded by the petitioners on the writ lodged against him.
Result: False
---
If you would like us to fact check a claim, give feedback or lodge a complaint, email us at checkthis@newschecker.co You can also visit the Contact Us page and fill the form.