As results of the federal and provincial elections trickle in from across the country, the initial trends indicate that the newly formed Rastriya Swatantra Party headed by famous TV journalist Rabi Lamichhane is set to become a national phenomenon. Though big old parties Nepali Congress and CPN-UML seem likely to retain their dominance in the 275-member federal parliament, none of them is expected to win a clear majority. The election for the federal parliament and seven provincial assemblies were held on November 20.
In this context, a Facebook page named Sagar Dhakal Samarthak (supporter) posted a video depicting the image of Prime Minister and Nepali Congress President Sher Bahadur Deuba. Nepali text superimposed on the video reads, "You thief old man. Rip Rip may your mother's soul rest in peace. Heartfelt condolence!" The Facebook post's poorly written caption reads, "Heartfelt condolence, Sher Bahadur took up the challenge and got murdered." The video plays a song with melancholic lyrics about the demise of a friend by Nepali folk singer Puskal Sharma.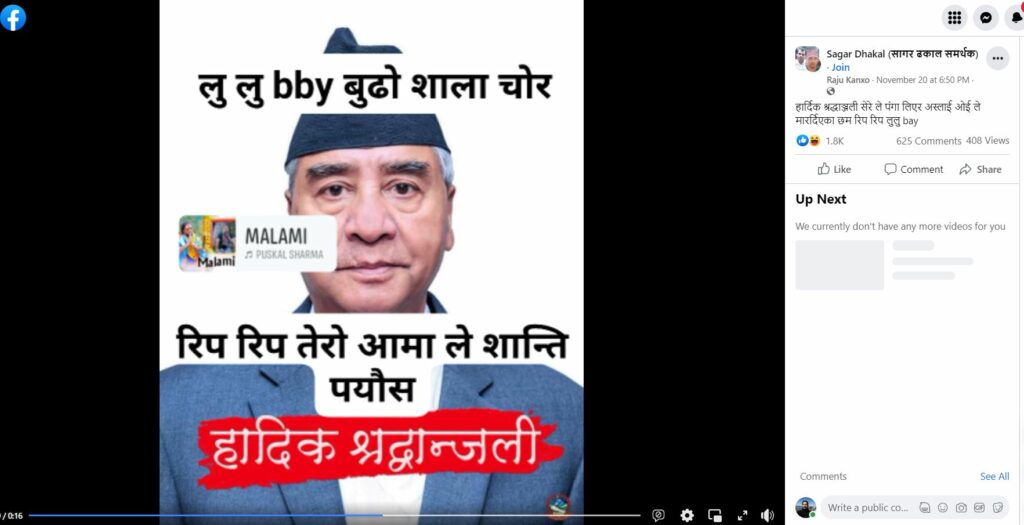 The video posted on the page by a user named Raju Kanxo on November 20 has been reacted by 1.7 k users, shared 177 times and 579 people have commented on it.
Sagar Dhakal, a young Oxford scholar trained as engineer, ran as an independent candidate for the House of Representatives against Prime Minister Sher Bahadur Deuba from the only constituency of Dadeldhura district. Deuba had won the elections six times in the past from the same constituency. Dhakal shot to fame after his question in a public debate programme incensed then Prime Minister Sher Bahadur Deuba back in July 2017. The clips of heated exchange between Dhakal and Deuba in the interactive public programme hosted by BBC had gone viral.
Fact Check /Verification
To check the authenticity of the claim made in the viral video, Newschecker searched the verified twitter handle of Prime Minister Sher Bahadur Deuba. On checking Deuba's handle, we found that Deuba has thanked and expressed his gratitude to the people of Dadeldhura for making him victorious in the Parliamentary elections. We also scrolled down his twitter feed and found that he has been posting congratulatory messages to the leaders who have been emerging victorious in their respective constituencies.
Further, we searched for the latest news regarding Sher Bahadur Deuba on Google and found several freshly published news regarding Deuba's seventh time victory in the national and international media. On checking a news article published in the Hindu online, we learnt that Deuba, 76, secured 25, 534 votes against his nearest rival Sagar Dhakal, 31, who received 13042 votes.
We didn't find any news about Prime Minister Deuba's health or his demise as claimed in the viral video. Had it been true this would have hit the headlines of the international media.
Conclusion
The video with a condolence message on the demise of Sher Bahadur Deuba being shared on Facebook is false.
Result: False
Sources
BBC Sajha Sawal
Sher Bahadur Deuba Twitter
The Hindu
---
If you would like us to fact check a claim, give feedback or lodge a complaint, email us at checkthis@newschecker.co You can also visit the Contact Us page and fill the form.