Nepal's political parties have launched their full-fledged election campaigns for November 20 elections to the federal House of Representatives and Provincial Assemblies. Earlier in August, the Election Commission (EC) had published its code of conduct stipulating that election candidates can begin their campaigns only 17 days prior to the voting date. Against this backdrop, a video purporting to depict CPN (Maoist Centre) Chairman Pushpa Kamal Dahal addressing a huge mass gathering in Gorkha district from where he is contesting the upcoming elections, is going viral. Newschecker found the claim to be false.
Maoist leader Dahal, who is better known by his nom de guerre 'Prachanda', is running for a seat in the House of Representatives from Gorkha constituency-2 in the upcoming elections. In the 2017 elections, Dahal had been elected as a member of the House of Representatives from Chitwan constituency-3.
TikTok user @ishworrijal30 posted a 10-minute-long video, which shows CPN (Maoist Centre) Chairman Pushpa Kamal Dahal addressing a huge mass gathering. Text superimposed on the video reads, "Prachanda in Gorkha." In the video, Prachanda can be heard addressing the mass from what he describes as 'friends from the alliance of 30 political parties'.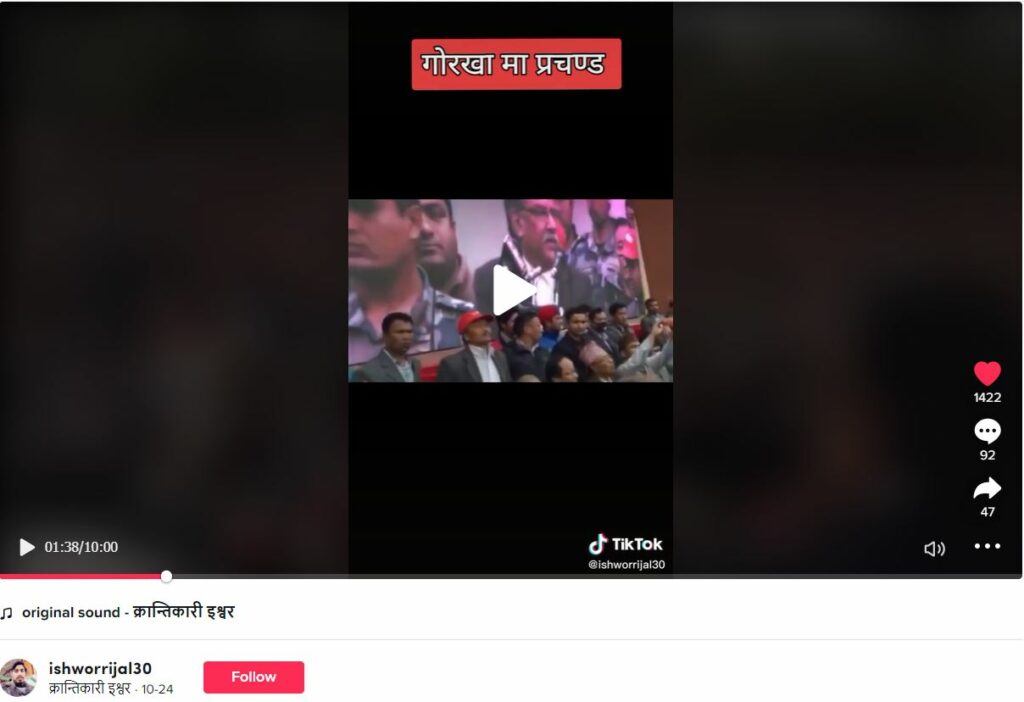 The video posted on October 24 has garnered 1422 likes, 47 users have shared and 92 people have commented on it
Fact Check /Verification
To check the veracity of the claim, Newschecker conducted a search to see if Dahal had addressed any mass gatherings recently in Gorkha district. However, we couldn't find any relevant results.
Then we listened to the speech of Dahal in the viral video and heard that he was addressing an alliance of 30 political parties. Taking it as a clue, we google searched the keywords 'Pushpa Kamal Dahal and alliance of 30 political parties' and found a news article about the protest in Kathmandu by the alliance of 30 political parties, including the Prachanda-led CPN (Maoist Centre), published in Aljazeera on February 28, 2015. The article was about a mass gathering by the opposition party demanding that the constitution draft be endorsed by a national consensus.
Further, we searched on YouTube using Nepali keywords '30-party alliance' which threw up several results. On checking a video titled 'Pushpa Kamal Dahal Speech Khullamanch' published by one Madhukar Adhikari, we found that the video frame and Dahal's speech exactly matched the viral video. The video was published on February 28, 2015. We found the same video published on the same date in a YouTube channel named a1nepalTV.
Our findings make it clear that the video shows Dahal's address to a mass gathering was from 2015 February when the alliance of then opposition parties had organised a mass assembly in Kathmandu to pressure the then government.
Conclusion
The viral video allegedly showing CPN (Maoist Centre) Chairman Pushpa Kamal Dahal aka 'Prachanda' addressing a mass gathering is not from Gorkha, and the video is seven years old and actually shows Dahal addressing a rally in Kathmandu.
Result: False
Sources
Aljazeera
Madhukar Adhikari /YouTube
A1nepalTV /YouTube
---
If you would like us to fact check a claim, give feedback or lodge a complaint, email us at checkthis@newschecker.co You can also visit the Contact Us page and fill the form.