A five-second video purporting to show Communist Party of Nepal (Maoist Centre) Chairman Pushpa Kamal Dahal allegedly speaking about FIFA World Cup 2022, is going viral on TikTok. Newschecker found the claim to be false.
TikTok user @shambhurajpaudel63 posted a video showing former Prime Minister and Maoist Chairman Pushpa Kamal Dahal aka 'Prachanda'. Text superimposed on the video reads, "Comrade Prachanda on World Cup 2022. Don't think it's that easy, let nobody think it's easy." In the video, Prachanda can be heard saying fervently, "Don't think it's that easy, let nobody think it's easy."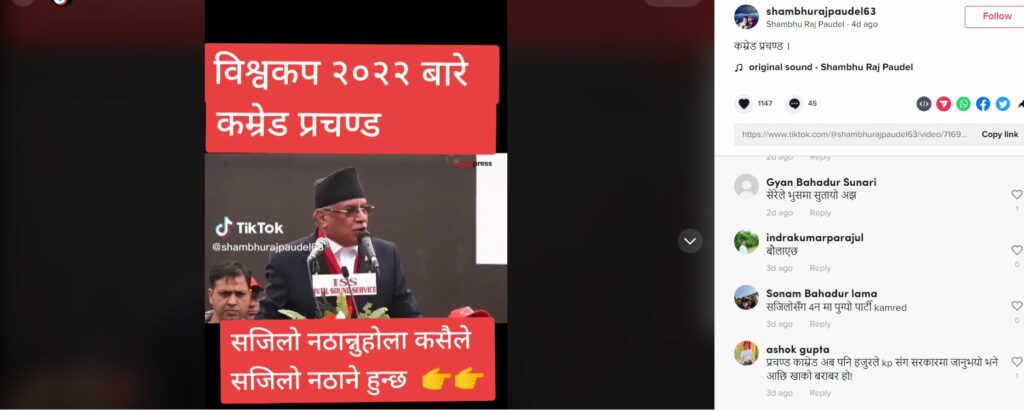 The video posted on November 24 has garnered 1147 likes, 11 shares and 45 people have commented on it.
Fact Check /Verification
To check the authenticity of the claim made in the viral video, Newschecker conducted a search on YouTube using keyword 'Pushpa Kamal Dahal speech' and found a video whose frames and Prachanda's speech from 0.41minute exactly matched the viral video. The video was published in the YouTube Channel of TV Today HD on February 10, 2021.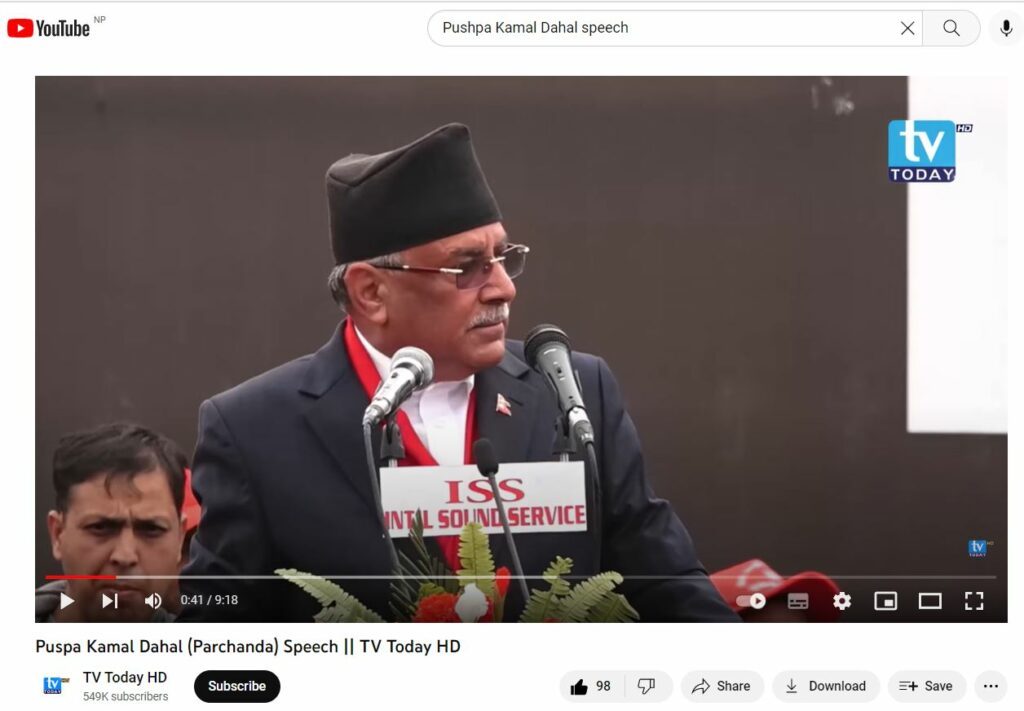 On listening to the speech of Dahal, we found that the footage was part of the speech Dahal made expressing his disappointment with the election commission after his fall-out with Communist Party of Nepal-Unified Marxist Leninist (CPN-UML) Chairman KP Sharma Oli.  Back in 2021, the Nepal Communist Party, formed in May 2018 by unifying two leftist parties—CPN (Maoist Centre) and CPN-UML, came on the verge of split after the strain in relations among the party leaders including Dahal, Oli and Madhav Kumar Nepal.
Both factions of the Nepal Communist Party—one including Dahal and Madhav Kumar Nepal—another led by KP Sharma Oli were vying for the election symbol sun and party's name.
Our findings indicated that the Dahal is not speaking about the ongoing FIFA World Cup but the video showing Dahal delivering a fervent speech is from February 2021.
Conclusion
The viral footage claiming to show Maoist leader Pushpa Kamal Dahal speaking about FIFA World Cup Football 2022 is false, the video actually shows an old political speech of Dahal from 2021.
Result: False
Sources
---
If you would like us to fact check a claim, give feedback or lodge a complaint, email us at checkthis@newschecker.co You can also visit the Contact Us page and fill the form.