A video claiming to show former Prime Minister and Communist Party of Nepal (Unified Socialist) Chairman Madhav Kumar Nepal being chased by youth from his home district, Rautahat, is being widely shared in Nepali social media. Those sharing the post claim it to be a recent video. Newschecker found that the video captured in May 2022 is misleading.
Lenin Bista, a former Maoist combatant who has now turned into a campaigner for the rights of child soldiers posted the video on July 27 adding a caption saying youths from all districts should be aware of the incident. The video shows an irate mob chasing a vehicle while chanting slogans against Madhav Kumar Nepal even as security personnel try to stop them from pelting stones.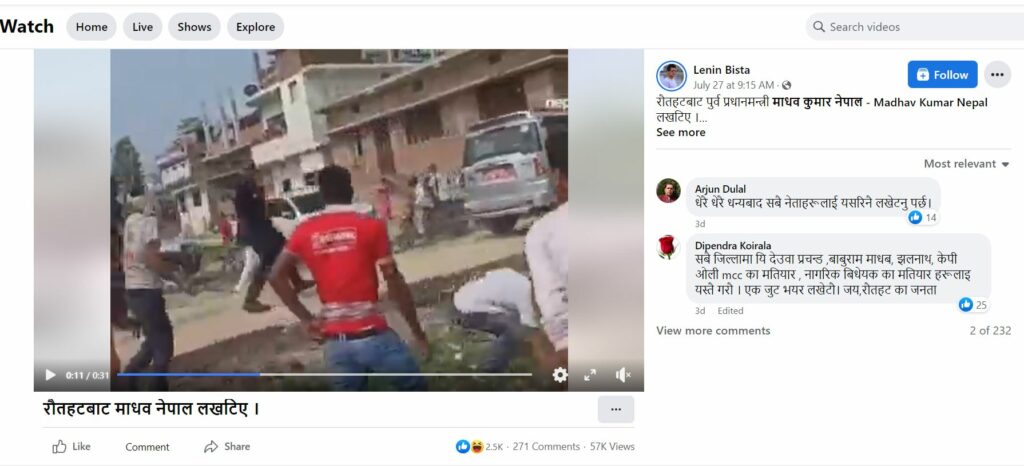 Bista was recruited at the age of 11 by Nepal's Maoist guerilla in 2002 and was among 2,972 former Maoist guerillas disqualified for being 'minors' from being integrated into Nepal Army as part of the 2006 peace deal. The United Nations Mission in Nepal was set up to oversee, monitor and rehabilitate the Maoist combatants after the former underground rebel Maoists party decided to join the peace process.
Bista's post saw huge engagement on Facebook with over 400 users sharing the video, 269 people commenting and 2.4k people reacting to it until last count.
The video is also being widely shared on TikTok. TikTok user @kingbirendrfan5 posted the same video with text superimposed on it reading, "People have chased Madhav Kumar Nepal from Rautahat. After a few days, people will attack the houses of senior leaders of the political parties."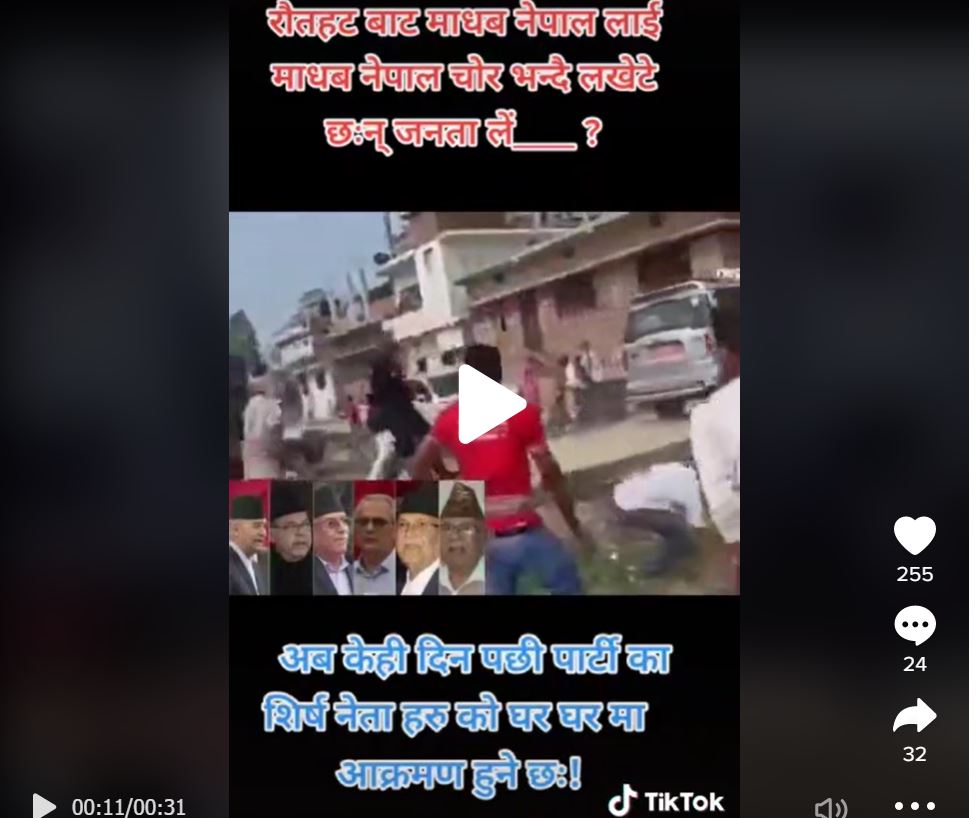 The video posted on July 27 has garnered 255 likes, 32 shares and 24 comments.
Fact Check /Verification
To check the authenticity of the claim made in the viral video, Newschecker conducted a search on Google using keywords 'Madhav Kumar Nepal chased' and found a report published in People's Review online.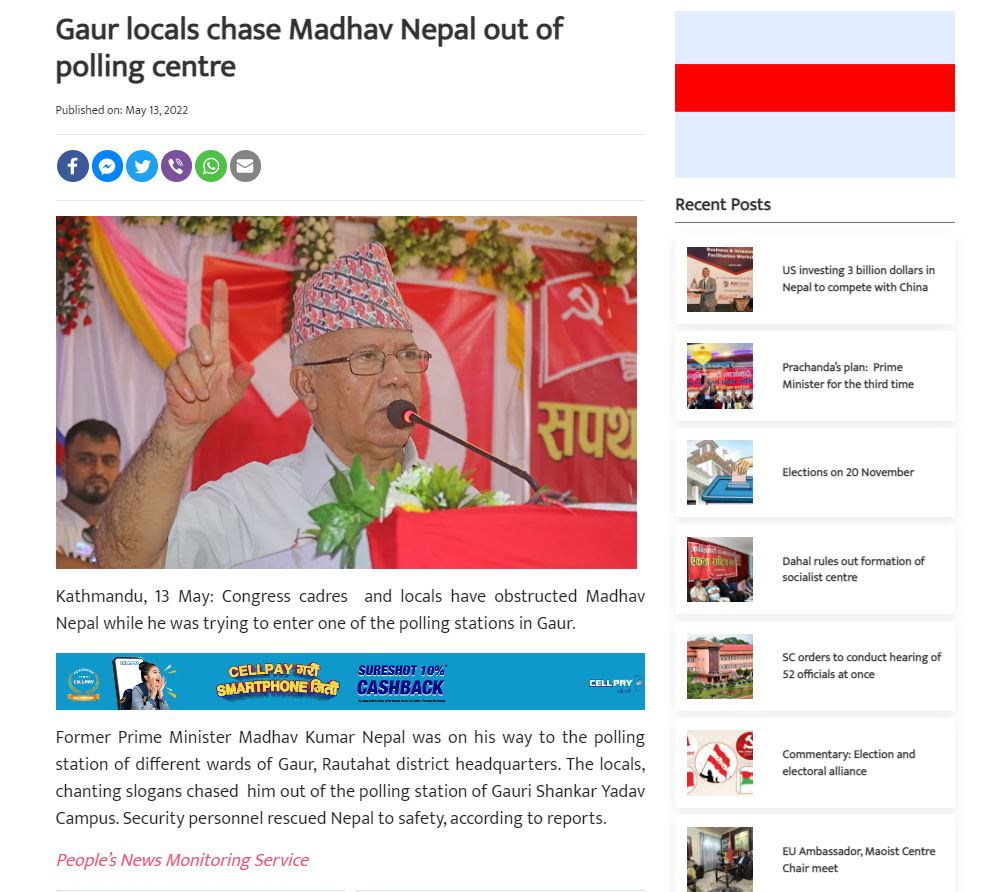 Published on May 13- the day Nepal conducted local body elections across the country- it reports that locals and cadres of the Nepal Congress party obstructed Madhav Nepal from entering a polling centre in Rautahat's Gaur.
Taking it as a clue, we searched YouTube using Nepali keywords 'slogans against Madhav Kumar Nepal' and found a video matching the key frames of the viral video exactly. The video was published on the YouTube channel of Nepal Khabar online on May 13. The video caption reads, "People chant slogans against Madhav Kumar Nepal at Gaurishankar polling centre in Gaur Municipality."
According to a report  in Naya Patrika daily online on May 13, 2022, cadres of other political parties chanted slogans against Nepal when he visited the polling centre at Gaurishankar Campus after casting his votes. The online quoted Loktantrik Samajbadi Party's Mayoral candidate Ajaya Gupta of accusing Nepal of visiting different polling centres to influence voters.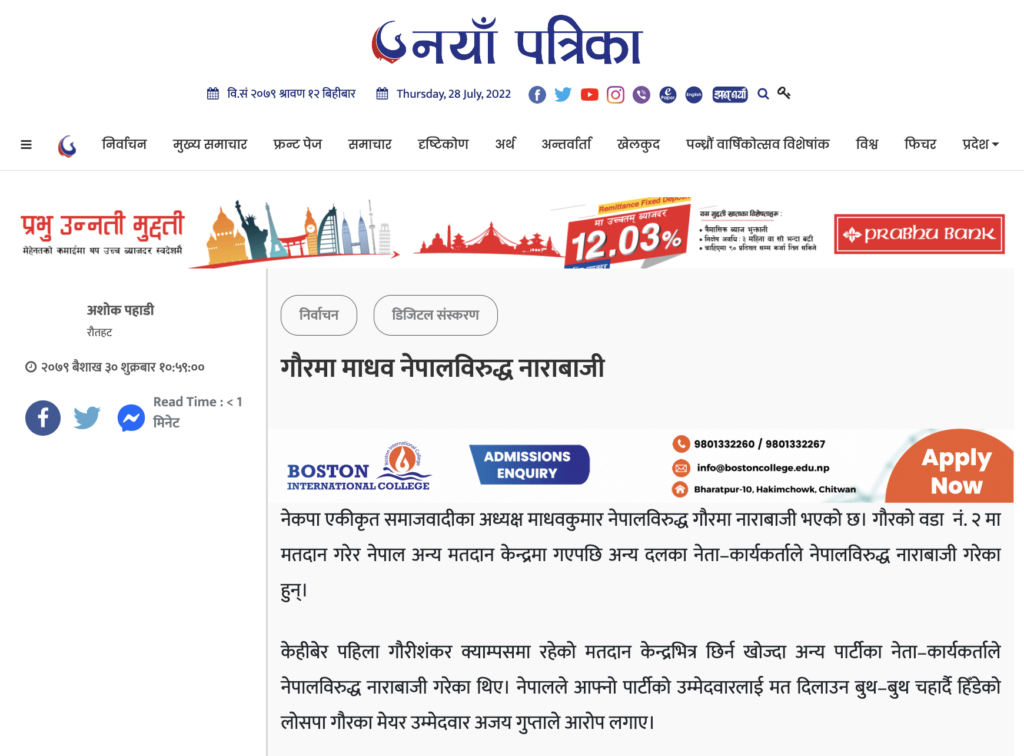 Our findings demonstrate that the viral video does show people chasing the vehicle of Madhav Kumar Nepal in Gaur, Rautahat but it is not recent and the incident occurred during the local body elections held in May.
Conclusion
An old video shows a mob chasing the vehicle of CPN (United Socialist) Party Chairman Madhav Kumar Nepal is being recirculated claiming it to be recent in a misleading manner.
Result: Misleading Content /Partly False
Sources
---
If you would like us to fact check a claim, give feedback or lodge a complaint, email us at checkthis@newschecker.co You can also visit the Contact Us page and fill the form.