With the elections to the Federal House of Representatives and Provincial Assemblies only a few days away, the political parties and independent candidates running for the elections have intensified their campaigns. Against this backdrop, an image of Nepali Congress General Secretary Gagan Thapa and independent candidate Ranju Darshana along with two other men purportedly donning white T-shirts bearing the image of Communist Party of Nepal (Maoist Centre) Chairman Pushpa Kamal Dahal and his party's election symbol, hammer and sickle, is being shared online. Those sharing the image claim that Thapa and Darshana are campaigning for Maoist leader Dahal and his party. Newschecker found the image to be edited.
The ruling parties Nepali Congress, CPN (Maoist Centre) and CPN (Unified Socialist) have forged an electoral alliance to contest the upcoming elections. Thapa is contesting for a seat in the Federal House of Representatives from Kathmandu Constituency-4, and independent candidate Darshana is running for a seat in the federal parliament from Kathmandu Constituency-5.
In this context, Twitter user @Bhim0li posted the photo featuring Gagan Thapa and Ranju Darshana with accompanying Nepali text "Jaya Nepal Lal Chalam" implying that Thapa is campaigning for Dahal and his party Maoists. The tweet has been retweeted 17 times and liked by 35 users, and people have posted their replies.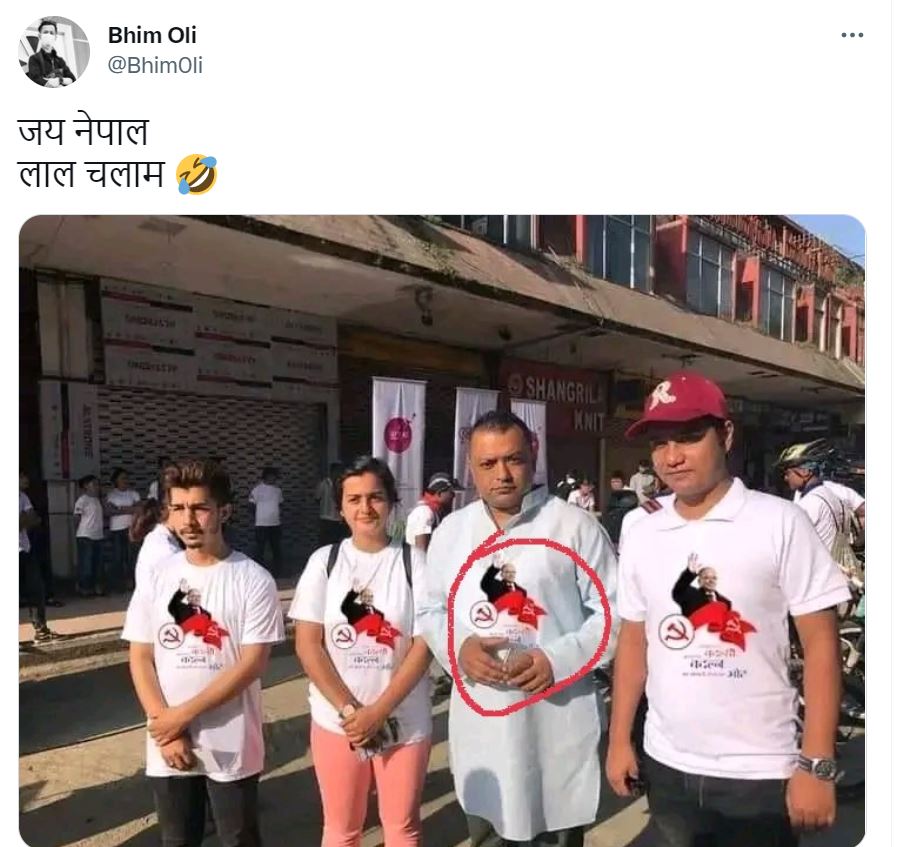 Similarly, Facebook user Narayan Khatri posted the same image with a sarcastic caption reading, "Deuba [President of Nepali Congress] used the people in the picture for campaigning Dahal." The post has been reacted to by 123 users, 38 people have commented on it.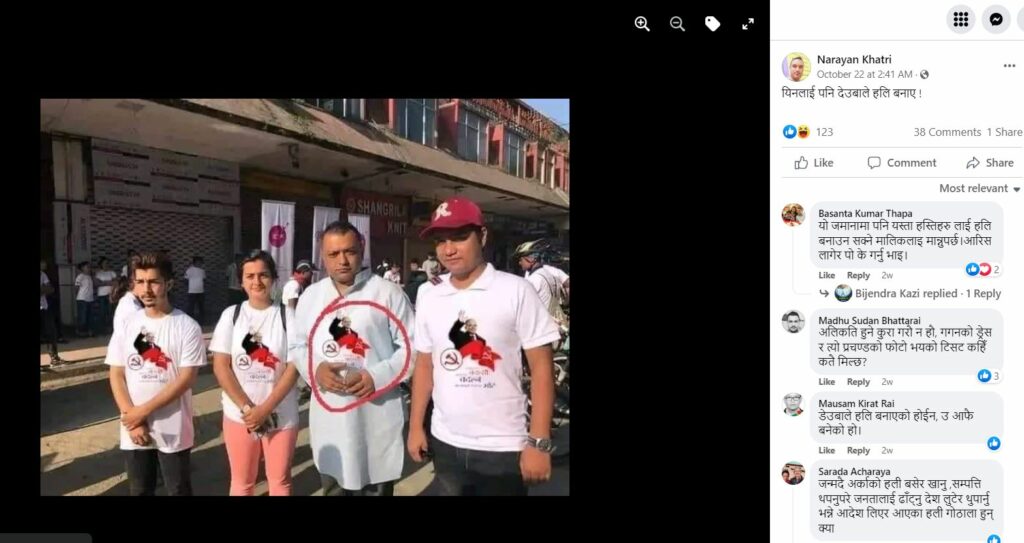 Fact Check /Verification
To check the veracity of the claim made in the viral image, Newschecker conducted a search on google using different keywords. However, the search didn't yield any relevant results. Then we checked photos on Facebook pages of Ranju Darshana and Gagan Thapa.
On checking the page of Gagan Thapa, we came across an image posted by Thapa on September 5, 2017. The image resembled the viral image sans the same T-shirts carrying the logo of Pushpa Kamal Dahal and Maoists' election symbol. Thapa's post accompanying the image read, "Fantastic to see so many youths participating in the cycle rally organised by Striya foundation mark the World Sexual Health Day."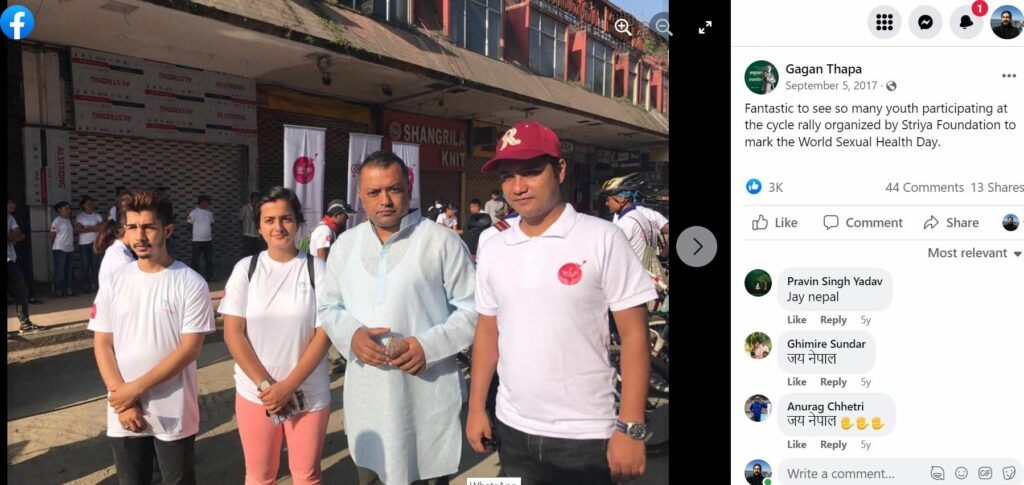 The image was taken during a cycle rally event organized by Striya Foundation to mark the occasion of World Sexual Health Day.
Further, we searched the Facebook page of Striya Foundation and found an image featuring Gagan Thapa and Ranju Darshana along with other two people. We can clearly notice that Thapa and Darshana are wearing the same shirts but without the Maoist logo.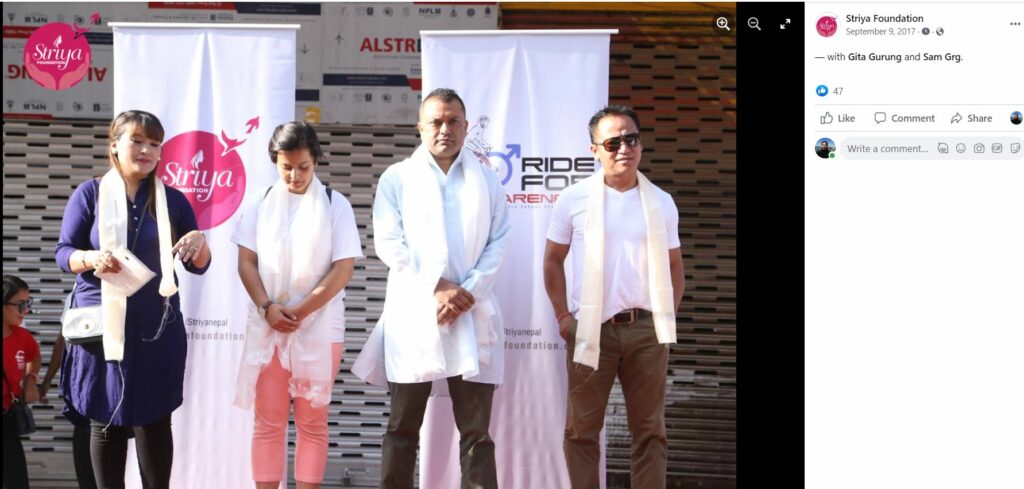 Conclusion

The viral image purporting to show Nepali Congress General Secretary Gagan Thapa and independent candidate Ranju Darshan wearing T-shirts printed with the logo of Maoist Chairman Dahal and his party is edited, and thus misleading.
Result: Altered Image
Sources
Narayan Khatri
Bhim Oli
Gagan Thapa Facebook
Striya Foundation Image

---
If you would like us to fact check a claim, give feedback or lodge a complaint, email us at checkthis@newschecker.co You can also visit the Contact Us page and fill the form.