In a dramatic turn of events, Communist Party of Nepal (Maoist Centre) Chairman Pushpa Kamal Dahal was sworn in as new Prime Minister on Monday December 26 after he walked out of Nepali Congress-led five-party alliance and joined hands with rival bloc led by Communist Party of Nepal-Unified Marxist Leninist (CPN-UML) Chairman Khadga Prasad Oli. Amidst these developments, an image allegedly showing newly appointed Home Minister cum Deputy Prime Minister Rabi Lamichhane posing for a selfie shot with Maoist Chairman Dahal and Communist Party of Nepal-Unified Marxist Leninist (CPN-UML) Chairman KP Sharma Oli waving in the background at the latter's residence in Balkot is being shared on Twitter. Newschecker found the image to be edited.
One Twitter user @prakashneupanee shared a tweet with an image showing TV journalist-turned-politician Rabi Lamichhane posing for a selfie shot at Balkot, residence of CPN-UML Chairman Oli. The two former prime ministers—Dahal and Oli—are seen waving from a terrace in the background. Text accompanying the image reads, "Rabi Lamichhane taking selfie with Prime Ministers of Nepal. He [Lamichhane] was saying that he would take advice from the leaders in Balkot, but the purpose of his visit seemed to take a selfie."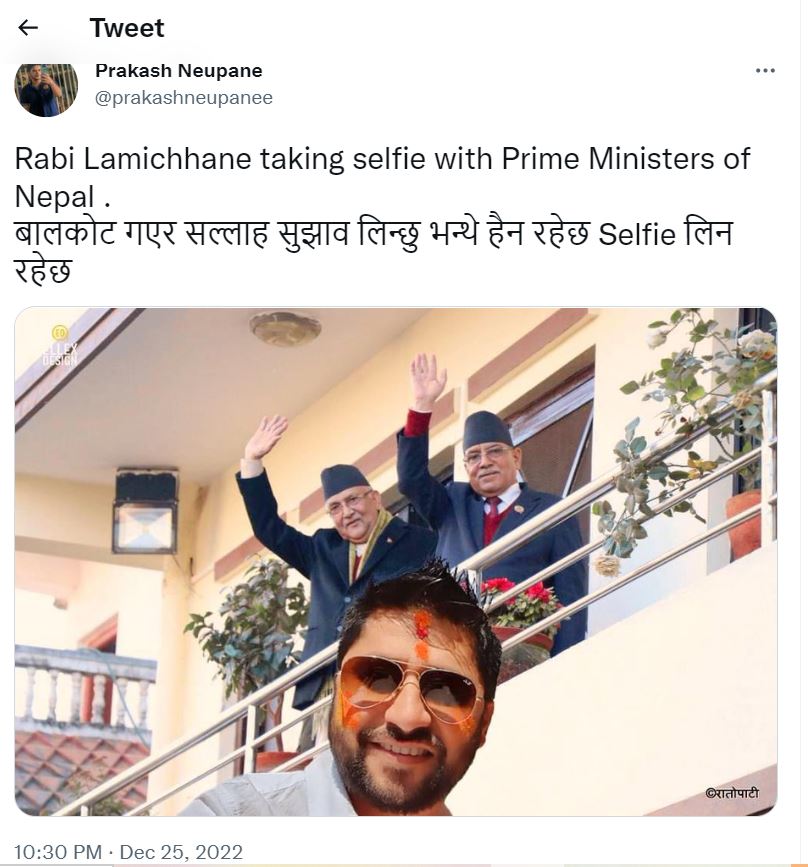 The image posted on December 25 has been viewed 1,154 times and garnered two likes until the last count.
After taking the oath of office and secrecy, Dahal on Monday (December 26) formed an eight-member Cabinet including three Deputy Prime Ministers. Dahal's cabinet expansion also included the appointment of Rabi Lamichhane, chairman of newly formed Rastriya Swatantra Party, as Deputy Prime Minister cum Home minister. Lamichhane's appointment marks a meteoric rise of a man who was running a popular TV show until six months ago. Dahal, who is supposed to hand over the government leadership after two years to Oli, formed the government with the support of seven political parties.
Fact Check /Verification
To check the authenticity of the claim made in the image, Newschecker took a keyframe from the image and conducted a reverse image search which threw up several results. We found an article carrying the image matching the viral image published in Ratopati.com online. The news article published on December 25 showed Dahal and Oli waving from the terrace of the latter's residence after forging a deal to form a coalition government on a rotational basis. However, Rabi Lamichhane was conspicuously missing from the image with Ratopati's watermark.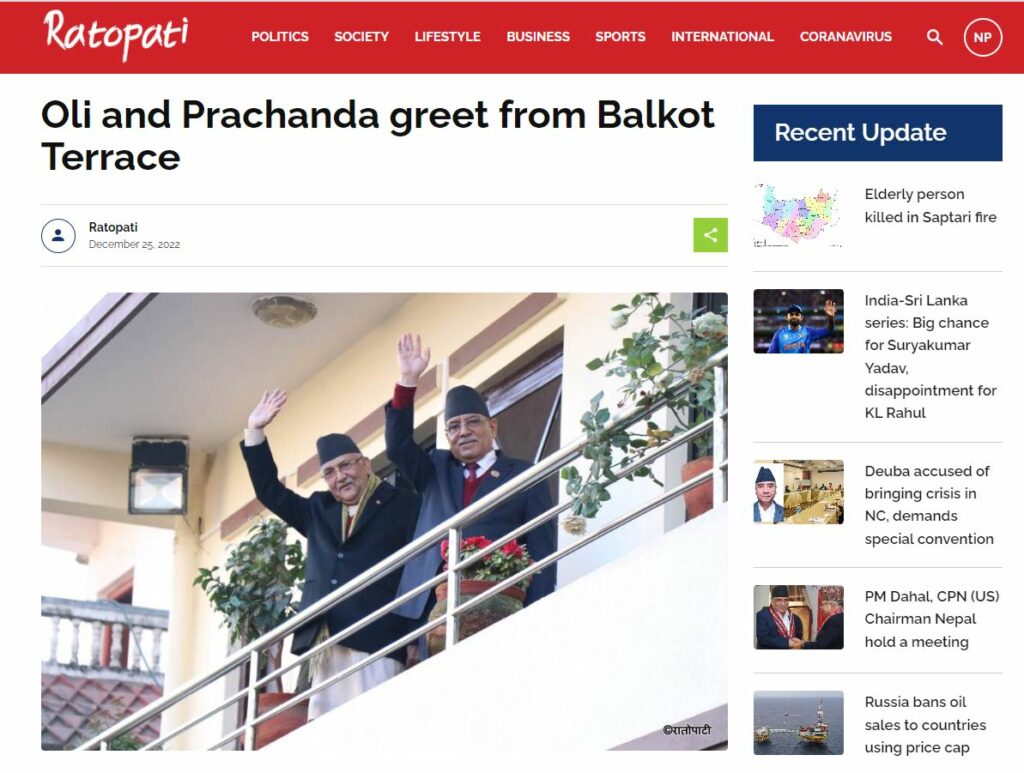 Further, we took another keyframe of Rabi Lamichhane from the viral image and conducted a reverse search. The search result led us to a website carrying the image Rabi Lamichhane. On checking the website which publishes biographies of Nepali celebrities, we found that Lamichhane's image exactly matched the viral image but Dahal and Oli were missing in the background. In the article published in October 2017, we can see Lamichhane's image accompanying his biography and other personal details.
Our findings clearly indicate that the viral image was edited and shared in a misleading manner.
Conclusion
No, Rabi Lamichhane didn't take a selfie with KP Sharma Oli and Pushpa Kamal Dahal in the background after the deal to form a new coalition government on a rotational basis.
Result: Altered Image

Sources
---
If you would like us to fact check a claim, give feedback or lodge a complaint, email us at checkthis@newschecker.co You can also visit the Contact Us page and fill the form.