A video claiming that Nepali journalist Rishi Dhamala was allegedly involved in illegal activities and that Rastriya Swatantra Party (RSP) President Rabi Lamichhane's words have turned out to be true is going viral on TikTok. Newschecker found the video to be old and shared with a false context.
RSP Chief Lamichhane recently resigned as Home Minister due to controversy regarding his citizenship and passport. During a press conference organised to announce the party's decision to recall its ministers from the government on February 5, Lamichhane had criticised Nepali publishers and journalists including Reporters Club Nepal Chairman Rishi Dhamala. While venting his anger at Nepali media personalities, Lamichhane had accused Dhamala of illegally taking rupees five crores while launching Galaxy Television Channel.
Against this backdrop, TikTok user @raajrc180 posted a news video about the arrest of Reporters Club Chairman Rishi Dhamala. The narration says, "Police on Tuesday arrested Reporters Club Chairman Rishi Dhamal on the charge of his alleged involvement with an armed outfit, Ranvir Sena. He has been accused of being involved in arms possession, extortion and explosion, among other criminal activities. Kathmandu District Administration on Wednesday remanded him into custody for 14 days." Text superimposed on the video reads, "This video also proves that Dhamala was involved in illegal activities. Rabi Lamichhane was right." In the video, Dhamala says, "I have been remanded into custody for 14 days and I have strong reservations about it, let the state find the truth and it is a conspiracy against me."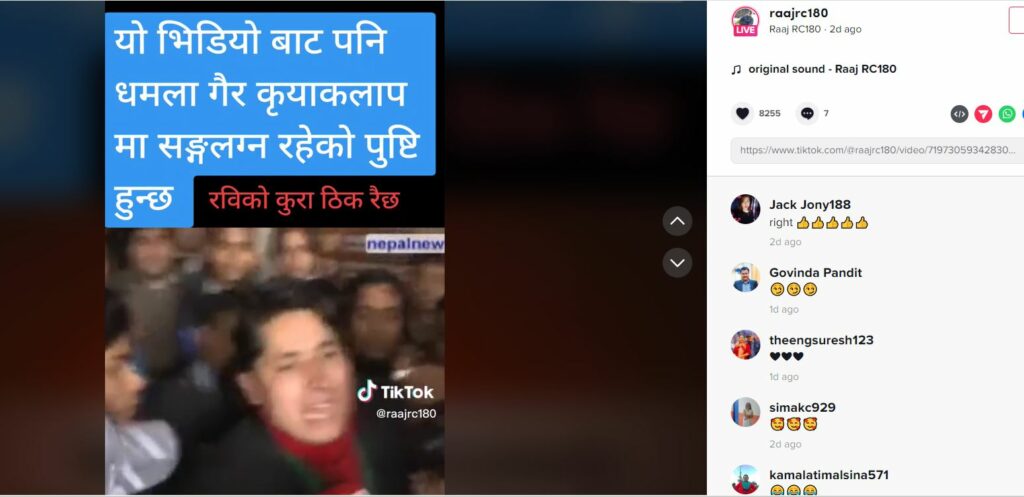 The video posted on February 7 has garnered 8471 likes, and 374 users have shared and seven people have commented on it.
Fact Check /Verification
To check the authenticity of the claim made in the viral video, Newschecker closely analysed the video and noticed a logo named 'nepalnews' on the top right corner of the visual. Taking it as a clue, we conducted a search on google using the keyword 'Rishi Dhamala arrested Nepalnews' which threw up several results.
On checking a video posted on the YouTube channel named Nepalnews Mercantile, we found that the frames and content of the video from the 0.14-minute timestamp exactly matched the viral video. The video report posted on the YouTube Channel on February 6, 2009, revealed that Journalist Dhamala was arrested in February 2009 on charges of having links with an underground Hindu extremist outfit, and was remanded to police custody for 14 days.
Further, we looked for reports of his release by using relevant keywords and found a report published in the Himalayantimes.com on April 12, 2009 about the release of Dhamala after 67 days in custody. According to the news report, Dhamala was released after the Patan Appellate court ordered his release. The report quoted the then president of the Federation of Nepali Journalists, Dharmendra Jha, hailing Dhamala's release as the "victory of Nepali journalists."
We also checked the YouTube channel of Nepalinews.com for the report of Dhamala's release and found a video report, published on April 13, 2009. On listening to the report, we learned that Dhamala, who was detained under Arms and Ammunition Act for over two months in Dillibazar prison, was freed after no evidence could be found to prove the charges against him.
Our investigation of the video found that it was an old news clip from 2009 when Dhamala was arrested on the charges of his alleged links with an armed outfit known as Ranvir Sena. However, he was released after 67 days in custody after the Patan Appellate Court gave him a clean-chit.
Conclusion
The video report regarding the arrest of Reporters Club Nepal's Chair Rishi Dhamala is 14 years old and is being shared in a false context.
Result: Missing context
---
If you would like us to fact check a claim, give feedback or lodge a complaint, email us at checkthis@newschecker.co You can also visit the Contact Us page and fill the form.