With November 20 elections to the House of Representatives (HoR) and Provincial Assemblies drawing closer, many unverified and misleading videos linked with the politicians are making rounds online. In this context, a video featuring a quote and an image of former Prime Minister KP Sharma Oli is going viral on TikTok. The quote attributed to KP Sharma Oli claims that the former prime minister allegedly said that it is not necessary to vote for him or his party because he couldn't run the government when he received a two-thirds majority in the last election. Newschecker found the claim to be false.
TikTok user @Nandandhami416 posted a video, showing an image of Communist Party of Nepal-Unified Marxist Leninist (CPN-UML) in Anjali mudra or Namaste posture. Text on the video written next to Oli's image reads, "Now it is not necessary to vote for me. I am not eligible to run the government. I couldn't run the government when I received a two-thirds majority in the last elections."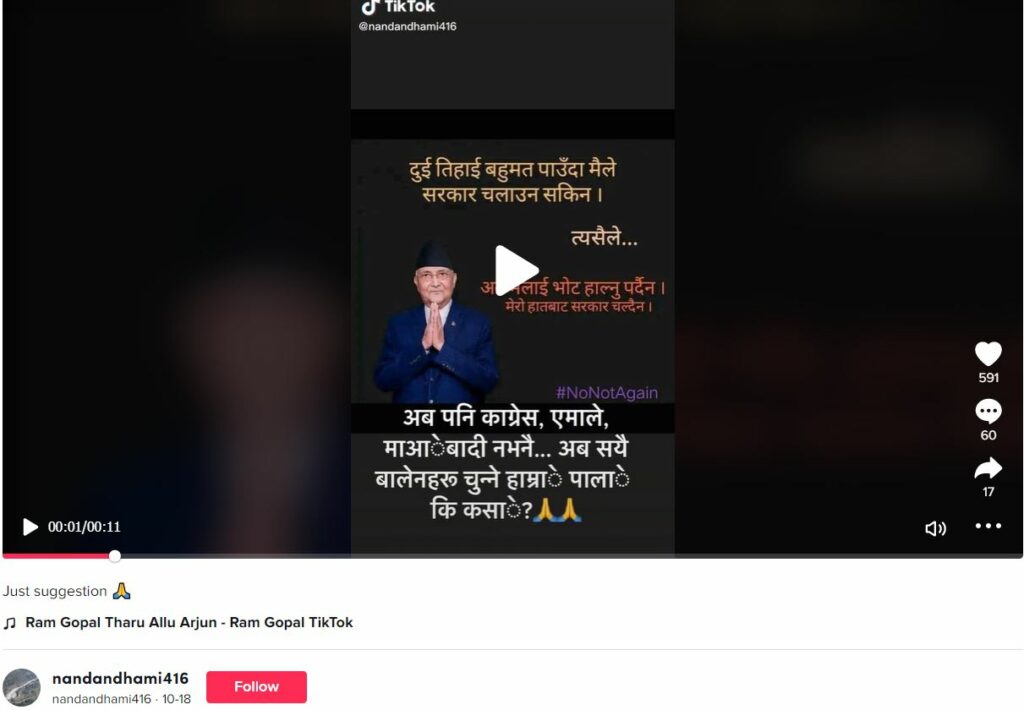 Another text superimposed on the video reads, "We shouldn't vote for the big political parties like CPN-UML, Nepali Congress and CPN-Maoist, isn't it time to elect thousands of Balen Shah [independent candidate who was elected mayor of Kathmandu Metropolitan City]?" We can also notice a hashtag #NoNotAgain on the screen.
The video posted on October 18 has garnered 591 likes, 60 users have commented on it and 17 people have shared it until the last count.
Fact Check /Verification
To check the authenticity of the claim made in the viral video, Newschecker conducted a search on twitter to find the latest election related statement by former Prime Minister Oli using a keyword 'KP Sharma Oli' and found a news clip of Kantipur TV HD. The news clip posted on October 21 says that KP Oli, addressing a programme of indigenous nationalities in Kathmandu, said that his party CPN-UML will not make any assurances for the upcoming elections like other political parties.
Further, we checked the official website of CPN-UML and found a news article published on October 28. The article quoted Oli as saying that the country is currently polarised into two parts—one comprising the CPN-UML, and the other comprising the current ruling alliance. According to the news, Oli said his party CPN-UML is on the side of national interests and independence.
CPN-UML Chairman KP Sharma Oli is contesting the elections for the House of Representatives from Jhapa district constituency-5.
Taking the #NoNotAgain hashtag on the video screen as a clue, we conducted a search on google and found an article published on People's Review online. The article carries a collage of former prime ministers of Nepal including CPN-UML Chairman Oli, (Maoist Centre) Chairman Pushpa Kamal Dahal, Nepali Congress Chairman Sher Bahadur Deuba, and CPN (United Socialist) leader Madhav Kumar Nepal. The video seems to be an attempt by social media users campaigning against electing what they call the same old leadership in the upcoming elections.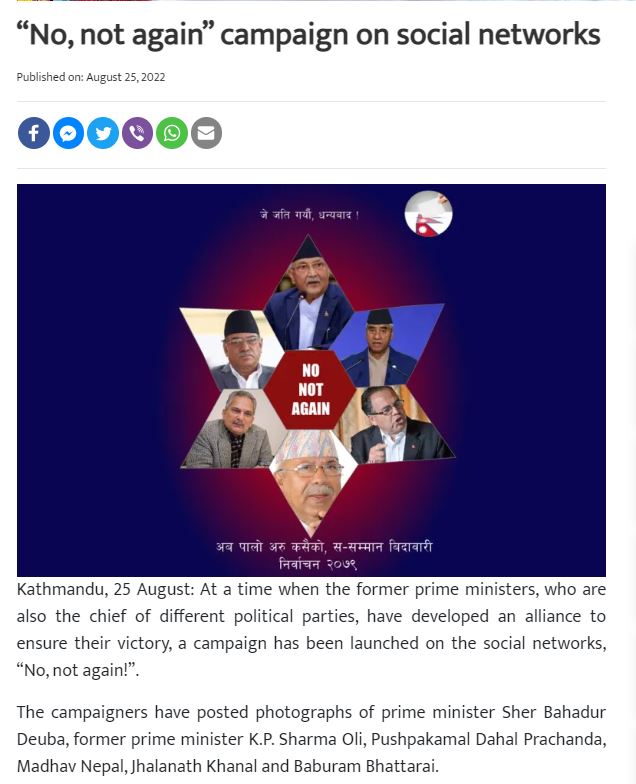 Our findings, thus, make it clear that KP Sharma Oli has not made such a statement, and he has been actively preparing for the elections and attending political gatherings.
Conclusion
No, former Prime Minister KP Sharma Oli has not said that he can't run the government and no need to vote for him. The viral video is circulated by social media users campaigning against the trend of electing the same old persons.
Result: False
Sources
---
If you would like us to fact check a claim, give feedback or lodge a complaint, email us at checkthis@newschecker.co You can also visit the Contact Us page and fill the form.