At a time when Kathmandu Metropolitan City (KMC)'s Mayor Balen Shah has been grabbing the national spotlight with his drive to free up parking spaces and remove encroachment from public areas, many videos linked with the young mayor and his demolition drive are being widely shared online.
In his latest move to reclaim the public path, an excavator mobilised by KMC on September 15 found a segment of Tukucha Khola—a rivulet flowing through downtown Kathmandu—beneath the compound of Jai Nepal Cinema Hall in Kathmandu. Against this backdrop, a 10-second video allegedly showing a new automated garbage truck bought by Mayor Shah is going viral on video sharing platform TikTok. Newscheker found that the video is old and unrelated.
TikTok user @tiktoknews1000 posted a video showing an automated garbage truck grabbing a trash cart, dumping its contents into the truck and putting the cart back to its original place. Text superimposed on the video reads, "Kathmandu's mayor has just brought a new garbage vehicle." The image of mayor Balen Shah can also be seen pasted on the screen.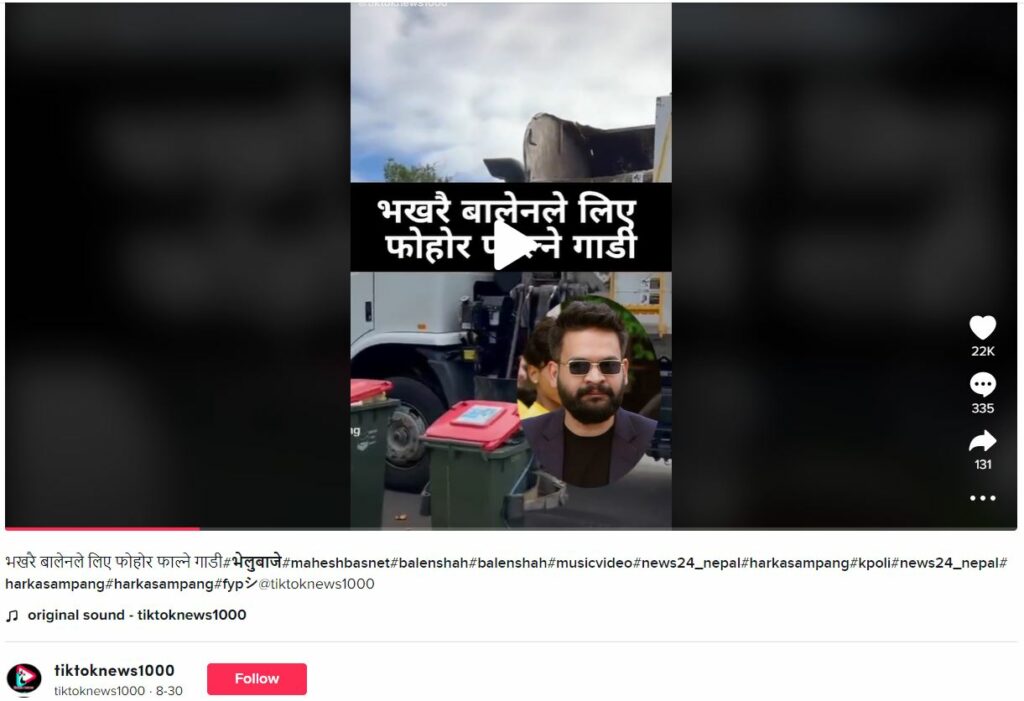 The video posted on August 30 has garnered 22k likes, 131 people have shared it and 335 users have commented on it.
Fact Check /Verification
To check the veracity of the claims made in the viral video, Newschecker took several keyframes from the viral video and conducted a reverse search on google. However, the search didn't yield any results.
Then we closely observed the video for other clues. We noticed the text 'URM' written on the door of the truck. On looking up the abbreviation, we found that the URM stood for United Resource Management, a resource recovery and recycling company based in Australia.
Taking this as a clue, we conducted a search on YouTube using keywords 'URM Garbage Truck' which threw us several results. On checking a video published in a YouTube Channel NSW Garbo 18, we found that the truck seen in the viral video matched the truck seen in the YouTube video.
Further, we compared the garbage vehicles seen in the viral video and the YouTube channel from different angles and found that both the vehicles were the same.

On checking whether Kathmandu Metropolitan City has bought any new automatic garbage trucks, we didn't find any results. Thus, our findings clearly show that the footage of an automatic vehicle collecting garbage is from Australia.
Conclusion
The video claiming to show the garbage collection by a newly purchased automatic garbage truck in Kathmandu is false, and the viral footage is from Australia.
Result: False
Sources
If you would like us to fact check a claim, give feedback or lodge a complaint, email us at checkthis@newschecker.co You can also visit the Contact Us page and fill the form.