Claim
Schools will have two-day weekend from 15 May
Fact
Old news clip from 2022 shared as recent

A video claiming that the educational institutions will open for only five days a week with the implementation of two-day weekend holiday provision effective from 15 May 2023, is going viral on TikTok. Newschecker found the claim to be misleading.
TikTok user @md.aarif0786 posted a video showing an image of a college with a text superimposed on it reading, "Schools will remain shut on Saturday and Sunday and that they will remain operational for only five days in a week. The decision will be implemented from 15 May."  Voiceover accompanying the video presented in a news bulletin style says, "With the government deciding to give two days weekend holidays for Saturday and Sunday, schools and colleges are also going to implement the provision and run the schools only for five days in a week. The government decision has elated the students." The archived version of the video can be seen here.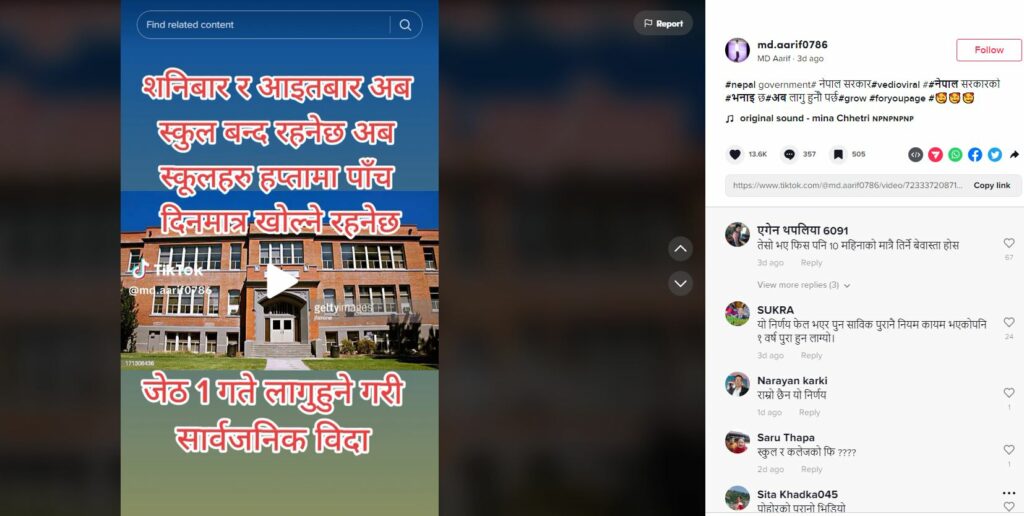 The video posted on May 15 has garnered 13.6k likes, 843 users have shared it and 357 people have commented on it until the last count.  On checking the original audio feature of TikTok, we found 107 TikTok videos have been created by using the viral audio.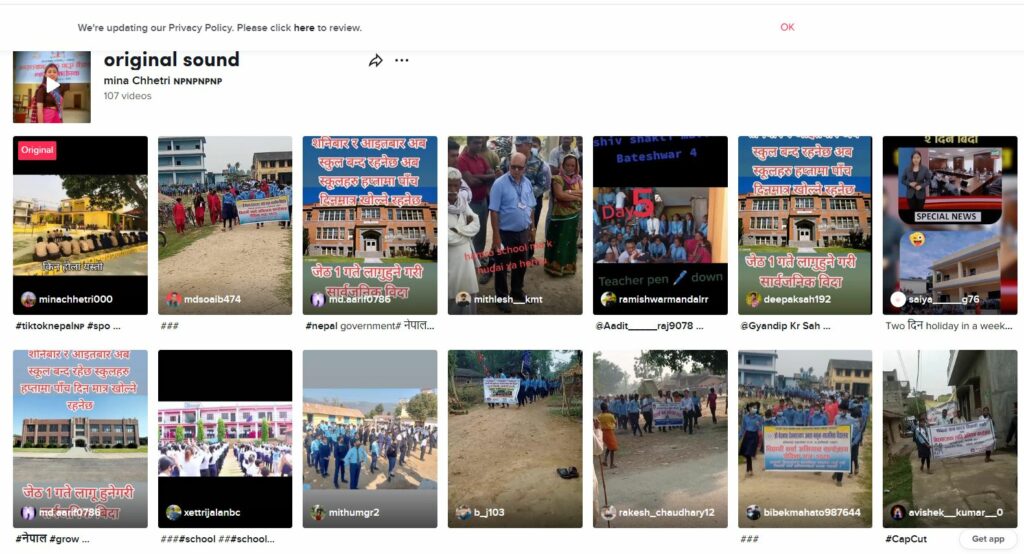 Fact Check /Verification
To check the authenticity of the claim made in the viral video, Newschecker took a keyframe from the viral video and conducted a reverse search that led us to an image of a High school based in Wallowa district of Oregon in the United States.
Then we checked website of Education Ministry to see whether the Nepal government has decided to re-introduced the two-day weekend holiday provision. But we couldn't find any relevant results matching the claim made in the viral video.
Further, we searched for news regarding Nepal government's decision to implement two-day weekend and found several news articles published in April and May last year. On checking an article published on The Kathmandu Post online, we found that a Cabinet meeting in April 2022 had decided to implement a two-day public holiday as a trial effective from May 15.
We also found another article titled 'Schools to remain closed on Sunday from May 16′ published on My Republica online on 11 May, 2022.  We also found another article published on The Himalayan Times online on June 7, 2022, confirming that the government revoked the two-day weekend after criticism from the general public.
Our findings show that the audio clip stating that the educational institutions are going to remain operational only for five days a week is from 2022 May when Nepal government had briefly introduced a two-day weekend holiday from 15 May 2022 only to revoke it after a month later.
Conclusion
The viral video claiming that schools and colleges across the country are going to have a two-day weekend holiday from May 15 is misleading as the news audio clip is from 2022.
Result: False
Sources
The Kathmandu Post, 28 April, 2022
My Republic Online, 11 May, 2022
The Himalayan Times Online, 6 June, 2022
Wallowa County Chieftain
---
If you would like us to fact check a claim, give feedback or lodge a complaint, email us at checkthis@newschecker.co You can also visit the Contact Us page and fill the form