A video purportedly posted by Bollywood star Akshay Kumar issuing an open invitation to TikTokers for doing a duet with him is going viral among Nepali TikTok users. In the video, a purported voice of Akshay is heard challenging TikTok users to stop Nepal's flag so that he will do a duet with him. Newschecker found the video to be edited.
Duet is a feature on TikTok that allows users to post their video side-by-side with a video from another creator. The users must have a public account to allow others to Duet with them.
TikTok user @__king_717 posted a video (Archive link) on February 21 carrying an image of Akshaya Kumar. The video also carries an image of Nepal's flag alongside a movie clip showing flags of different countries changing constantly. An alleged voice-over of Akshaya Kumar accompanying the video says, "Hi guys this is Akshay Kumar. Stop Nepal's flag if you can and you can do a duet with me."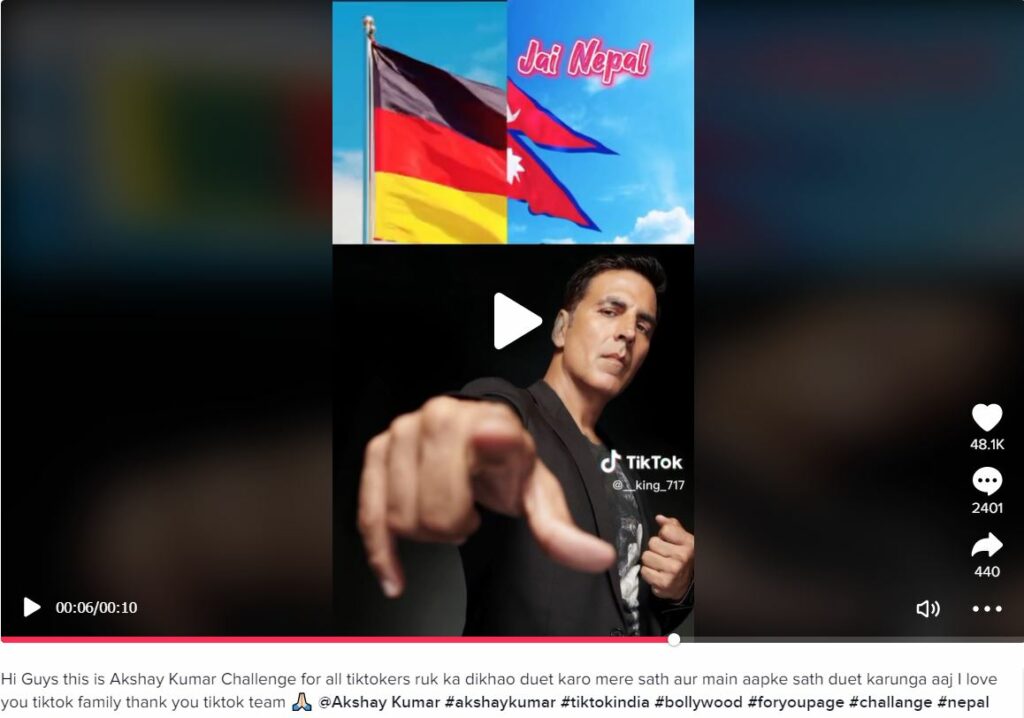 The video posted on February 21 has garnered 48.1k likes, 440 users have shared it and 2401 people have commented on it until the last.
Fact Check /Verification
To check the authenticity of the claim made in the viral video, Newschecker took a keyframe of the image of Akshay Kumar and conducted a reverse search which threw up several results. On checking a twitter post by one Dabboo Ratnani, we found that the image was posted on April 26, 2019. The verified twitter account of Ratnani revealed that he is a renowned Indian fashion and commercial photographer. We also found the same photo published on Ratnani's verified Facebook page on the same date.
Then, we clicked the original audio feature of TikTok which showed that the same audio has been used to create 481 videos until the time of publishing this article.
Further, we googled to check if Akshaya Kumar has spoken about Nepal's flag but couldn't find any relevant results. As TikTok is banned in India since June 29, 2020, the video doesn't show any live person on it and the image used in the video is from April 2019, our findings indicate that the video is created by merging different images with false voice-over.
Conclusion
The viral video purportedly showing Akshaya Kumar calling on TikTok users to try to duet with him is edited, and thus misleading.
Result: False
---
If you would like us to fact check a claim, give feedback or lodge a complaint, email us at checkthis@newschecker.co You can also visit the Contact Us page and fill the form.