Hours after an aircraft operated by private airlines Tara Air went missing with 22 passengers onboard, an image purportedly showing wreckage of the missing aircraft is being widely shared online. Newschecker found that the image is old and unrelated.
What do we know about the missing plane ?
The Twin Otter plane 9NAET took off from Pokhara airport at 9:55am and had last contacted Jomsom Tower at 10:07 from Ghodepani area, according to a statement issued by Civil Aviation Authority of Nepal (CAAN). A FishTail helicopter, which left for search operation shortly after the plane went missing, had to turn back due to inclement weather and poor visibility in the mountainous region, CAAN said in a statement.
Even as the authorities try to locate the missing aircraft, social media is flooded with condolence messages and an image purported to show wreckage of the Tara Air aircraft.
Newly elected vice chairperson of Tribeni Rural Municipality, Kalikot district, Parbati Singh uploaded a Facebook post with an image. "Extremely sorry to hear the crash of an aircraft taking off for Jomsom from Pokhara with 22 people on board. I express my deepest condolences to all the deceased," the post reads. However, the post has been removed now.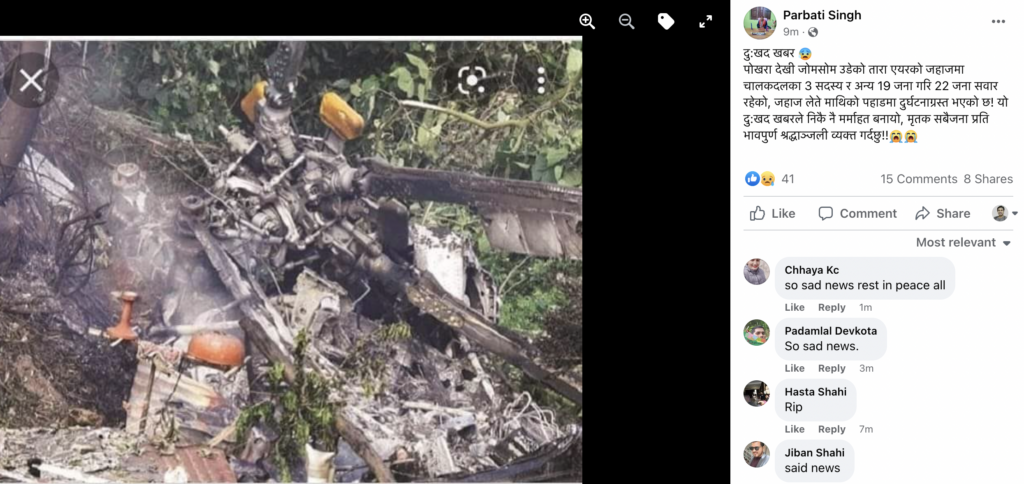 Along with Singh, many social media users of Nepal have shared various images and expressed their condolences. We found several Facebook posts claiming to show the Tara Air crash.

Fact Check /Verification
To check the authenticity of the claim made in the viral post, we conducted a reverse image search on the viral image which threw up several results carrying the same picture.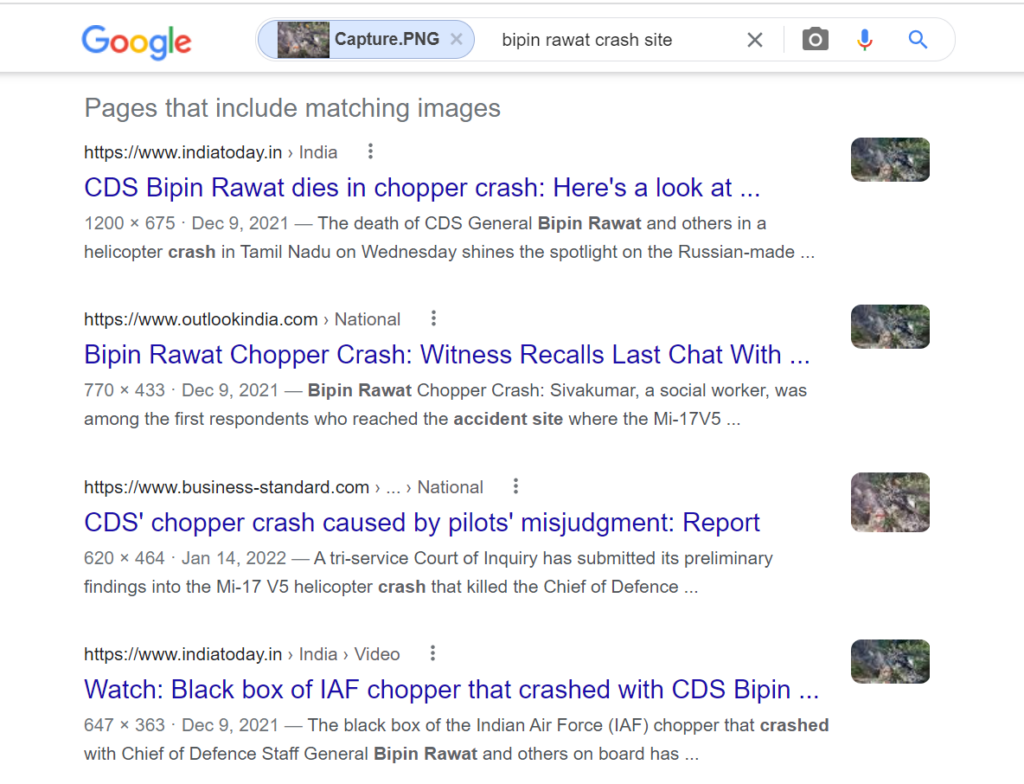 One of the articles published on Indiatoday.in website, carried the image stating that the picture was clicked at the time of the chopper crash involving India Chief of Defence staff General Bipin Rawat. General Rawat, his wife Madhulika Rawat, and 11 other persons who were on board the chopper died when it crashed near Tamil Nadu's Coonoor in December 2021.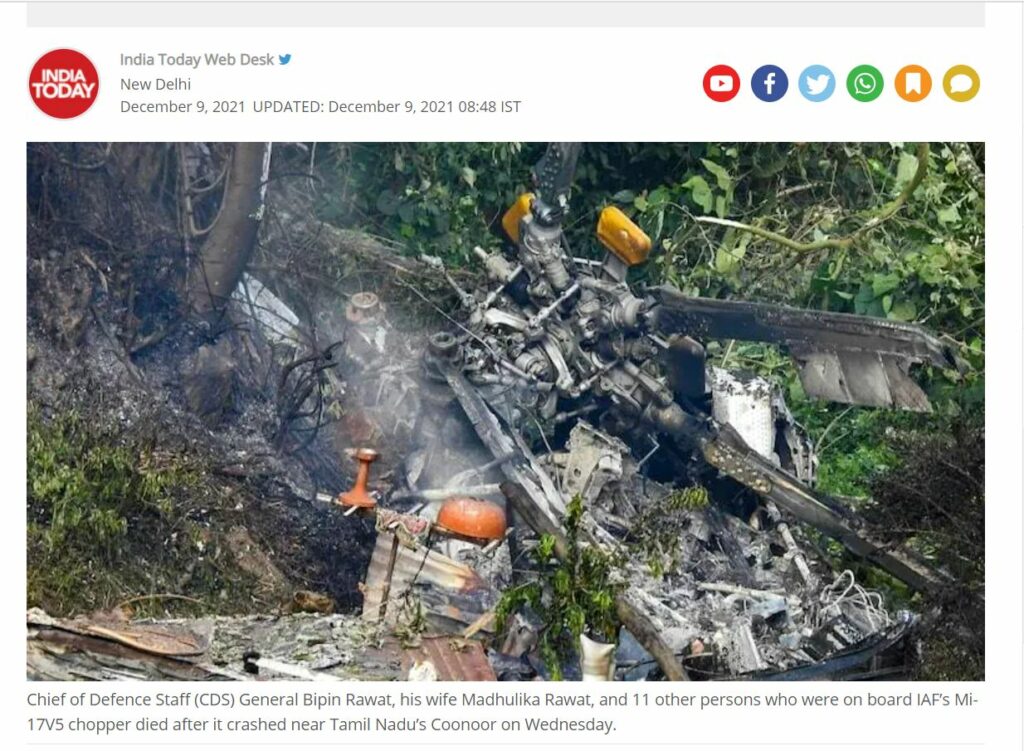 On checking the latest status of the missing aircraft, Newschecker found the Civil Aviation Authority of Nepal (CAAN)'s search and rescue coordination centre, in its third statement issued on Sunday evening, said the status of the aircraft has not been known due to bad weather and difficult geographical terrain though the operation has been focused on possible location.
Nepal Army ground troops and a helicopter with rescue teams were involved in search and rescue operations to locate the missing aircraft until Sunday evening. Based on the information gathered from locals, Nepal Army believes the possible incident site to be in and around Lete, Mustang.
Nepal Army Spokesperson Brigadier General Narayan Silwal wrote in his Twitter post, "NA has halted all efforts of search and rescue for today due to loss of daylight and adverse weather. The search will be resumed early in the morning tomorrow both from air and ground. Our search and rescue team with HC is on standby at Jomsom."
In his earlier tweet, Silwal said the plane has not yet been located. "We are trying to reach the place where locals have allegedly seen something burning. Once our troops reach the location then only we can verify the findings officially and independently," he wrote.
Conclusion
Viral image claiming to show the wreckage of the missing Tara Air plane actually shows the Indian Airforce Chopper that crashed in Tamil Nadu, India in December 2021 killing the Indian CDS Bipin Rawat and twelve others.
Result: False / False context
Sources
Twitter Page of Civil Aviation Authority of Nepal
---
If you would like us to fact check a claim, give feedback or lodge a complaint, email us at checkthis@newschecker.co You can also visit the Contact Us page and fill the form.