A video alleging to show a Russian military aircraft crash landing on water is going viral among Nepali TikTok users. Newschecker found the video to be old and unrelated to the Russia Ukraine war.
Now in its sixth week, the Russia Ukraine war continues to drag on with Ukraine's regional authorities saying that there has been no let-up in attacks by Russian forces despite pledging reduction in military action.
In this context, TikTok user @susmi5011 posted a video, showing a military aircraft landing on the ocean near a beach. Text superimposed on the video reads, "A Russian plane crash-landed in the ocean recently, what do you call this pilot who safely landed this plane? Or was it downed by Ukraine?"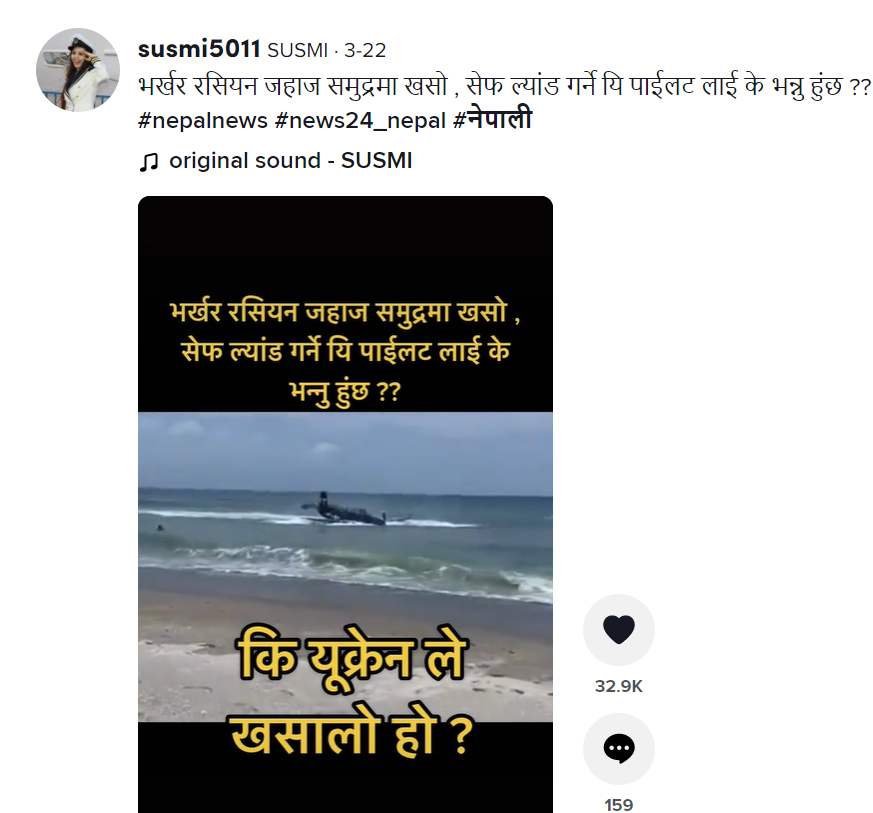 The video, posted on March 22 is spreading quickly, garnering 32.8K likes and 213 shares, while 157 people had commented at last count.
Fact Check /Verification
To check the authenticity of the claim made in the video, Newschecker took different key-frames from the viral video and conducted reverse image searches on google. But the searches didn't yield any relevant results. Then we searched on google using keywords 'plane crash landing on water' and found a video bearing a resemblance to the viral video on the YouTube Channel of American TV Show "Today".

Newschecker analysed the visual and found that it matched the viral video. The video shows an emergency landing of a World War II-era plane after experiencing a mechanical glitch during an air show near Cocoa Beach, Florida in April 2021.
Further, we searched for another video of the Florida incident on YouTube and found a video matching the viral video posted on a YouTube channel named ViralHog. Text on the video stated that the footage shows the splashdown landing of a World War II-era plane that took place in Florida in the US in April 2021.
Conclusion
The viral video showing an emergency landing of a World War II-era plane near Cocoa Beach in Florida, US in 2021 is shared with a false context claiming it to be a Russian plane crashing in the ocean.
Result: False Context/False
Sources
---
If you would like us to fact check a claim, give feedback or lodge a complaint, email us at checkthis@newschecker.co You can also visit the Contact Us page and fill the form.