A video is going viral on TikTok, alleging that an announcement by Chinese President Xi Jinping about China's unification with Taiwan has "rocked the world". The video, which appears to be a news clip, is being widely shared in the backdrop of escalating tensions between China and Taiwan.
China views Taiwan as its breakaway province, while the self-governing island considers itself a sovereign state, and this has been a bone of contention between them for the past 40 years.
Has Xi Really Unveiled a New Taiwan Policy?
The viral video carries a voice-over in Nepali with the narrator claiming that "the Chinese President has pledged support to countries that help China in reunification with Taiwan". The video further claims that China will extend support to countries that are "colonies" of India, Britain, and the United States of America to gain independence in exchange for support to China.
The video is being circulated at a time when China sent a record number of military jets into Taiwan's air defence zone, ramping up long-simmering tensions. It has so far garnered 28,000 likes.
Fact Check Verification:
But has the Chinese President made such an announcement?
To investigate the veracity of the claim made in this viral video, Newschecker conducted a fact check and found that while President Xi said that "reunification with Taiwan must be fulfilled", he has not made a specific announcement as claimed in the viral video. Xi's remarks seem more conciliatory in tone.
On investigating further, Newschecker found that the visuals seen in the viral video have been played out of context as they are from October 2019, when President Xi attended China's national day military parade at Beijing's Tian'anmen Square to mark the 70th founding anniversary of the People's Republic of China.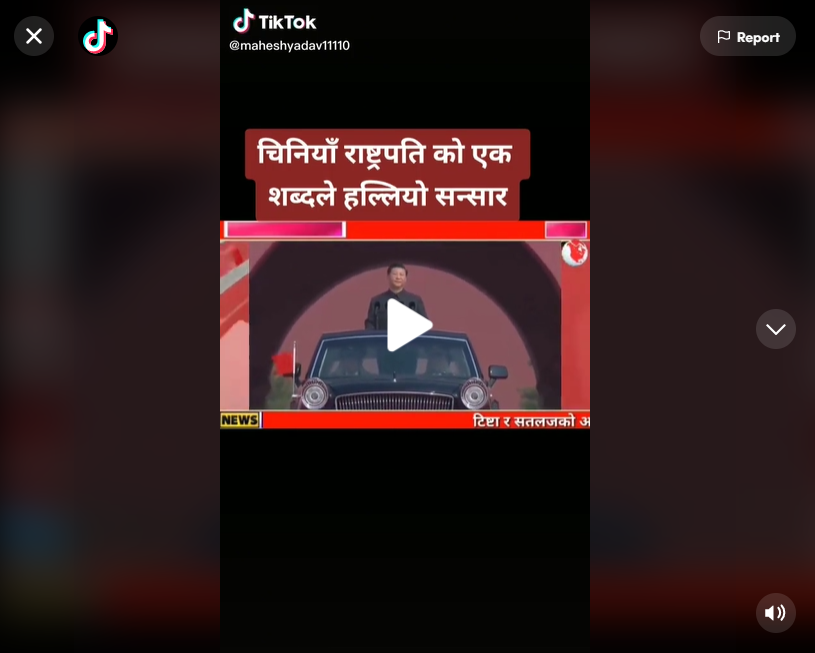 Has Xi Jinping Offered to Help Former US, UK "Colonies" in Exchange for Support on Taiwan Issue?
Xi Jinping's 'New Taiwan Policy'We found another video with similar footage on CGTN's YouTube channel from which the clip seems to have been taken and used to fabricate the claim with the help of a voiceover.
In addition, a running scroll band can be seen superimposed on the viral video in question with the text "The voice of Teesta and Sutlej, Greater Nepal TV 24 hours in service". The terms "Teesta and Sutlej" refer to the region surrounding rivers Teesta and Sutlej, east and west of Nepal respectively. Both rivers now fall outside the current international borders of Nepal and are part of the current Indian territory.
Greater Nepal is an irredentist concept, with its proponents claiming that present-day territories of India, controlled by the Gorkha Army between 1791 AD and 1804 AD, should be returned back to Nepal. The Gorkhas later ceded the territories to the British East India Company under the 1816 Sugauli Treaty as part of a war settlement.
Champions of the cause for Greater Nepal believe that Nepal's western border should extend to include the regions up to the Sutlej river in Himachal Pradesh and that the eastern borders should include regions up to the Teesta river which flows between Sikkim and West Bengal.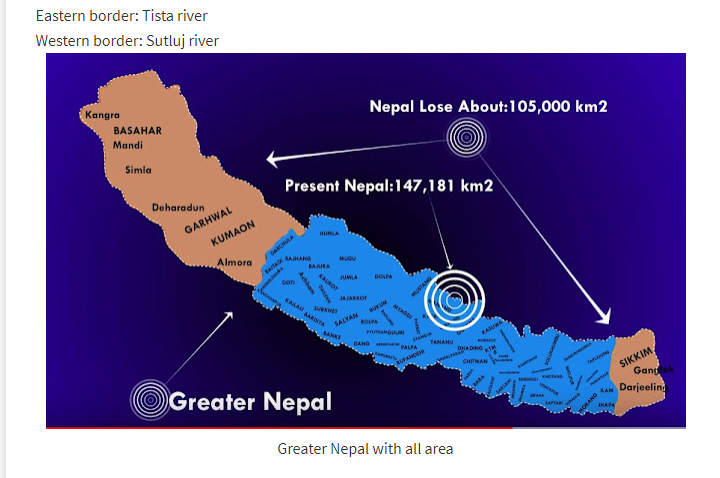 The cause of Greater Nepal is being raised by Unified Nepal National Front, a small political group led by Phanindra Nepal, but has not found traction with while the big political parties of Nepal have not adopted the issue in their agenda, probably because of its implausibility.
While Newschecker has come across many videos and posts on social media furthering calls for a Greater Nepal, this issue has never figured in official talks in diplomatic talks with India.
Moreover, India, which was a British colony under Britain colony until its independence in 1947, doesn't have any "colonies" as claimed in the video. Most countries under British rule have since gained independence barring approximately 10 islands. Similarly, while the United States of America exerts control over certain islands namely Guam, American Samoa and Virgin Islands, they are identified as colonies and are considered to be " non-governing territories" by the UN.
Conclusion:
The viral video of Chinese President Xi Jinping's announcement alleging support to countries that help China for its reunification with Taiwan is false and fabricated.
Result:
False
Our Sources:
---
If you would like us to fact check a claim, give feedback or lodge a complaint, email us at checkthis@newschecker.co You can also visit the Contact Us page and fill the form.