At a time when the country is gearing up for the elections to the House of Representatives and Provincial Assemblies, many unverified videos linked with Nepali politicians are being shared online. Against this background, a video claiming that Deputy Mayor of Kathmandu Metropolitan City (KMC) Sunita Dangol has allegedly said that she is ready to quit her party, Communist Party of Nepal-Unified Marxist Lennist (CPN-UML), but she can't give up on KMC Mayor Balen Shah, is going viral on TikTok. Newschecker found the claim to be false.
Dangol, who ran for the post of deputy mayor of KMC from CPN-UML ticket, had won the election while independent candidate Balen Shah was elected as the mayor of Kathmandu in the local level election held earlier this year in May. Balen Shah has been gaining traction for his unconventional moves like bulldozing the illegally built structures and reclaiming the parking spaces of the metropolitan city. However, mayor Shah lately has also been in the news for using "unwarranted force" to remove the street vendors occupying the roads.
In this context, TikTok user @its_me_k_prasad5 posted a video, showing images of Deputy Mayor Dangol, and Mayor Balen Shah. Text superimposed on the video reads, "Sorry, I am ready to quit the CPN-UML party but can't stop supporting Balen sir. This country needs a person like Balen Shah but not a political party. I will always lend my support to Balen Shah."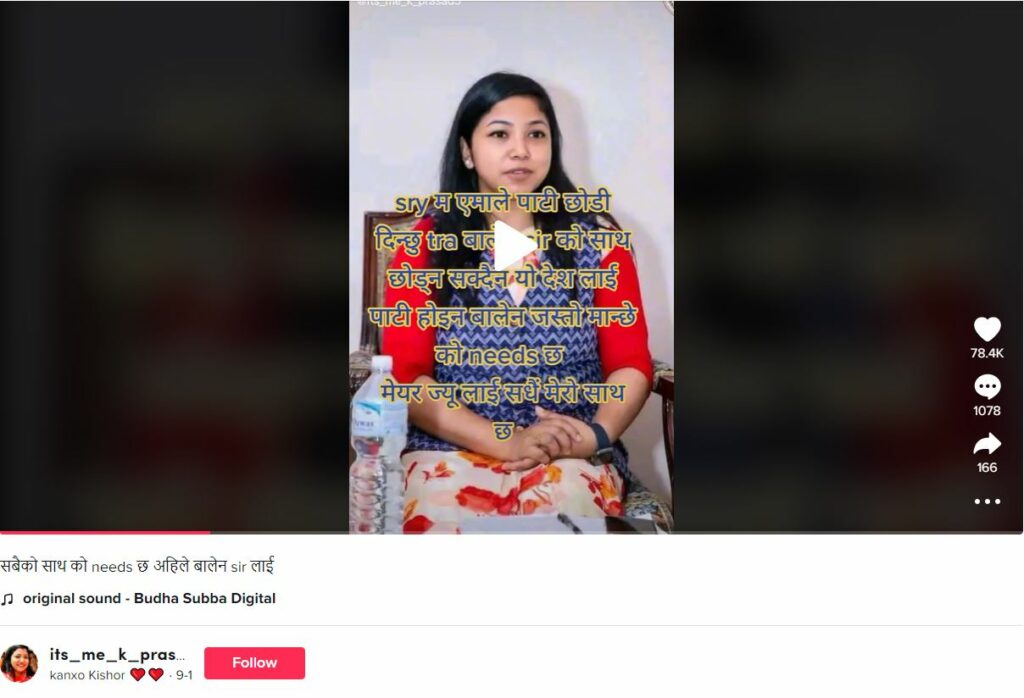 The video posted on September 1, 2022 has garnered 78.4k likes, 1078 comments, and 166 shares.
Fact Check /Verification
To check the authenticity of the claim made in the viral video, Newschecker took screenshots of the images used in the video and conducted a reverse image search for each of them. The reverse search for the first image threw up several results matching the video. We clicked a twitter post by the handle named mayor Balen Shah and found that the viral video used the same image. The post which became quite popular read, "Sunita Dangol says, 'Yes, I was a candidate from a political party, but after I was elected, I will be working as a common representative of Kathmandu city residents." However, Dangol was not quoted as saying anything like she is ready to quit her party.
On checking another image posted on Facebook by a user named Maya, we found the image almost identical. Then we conducted a reverse search on the second screenshot and found that the image was carried by a news article published by the Kathmandu Post in June. The article was an opinion piece about the election of youths in Nepali politics.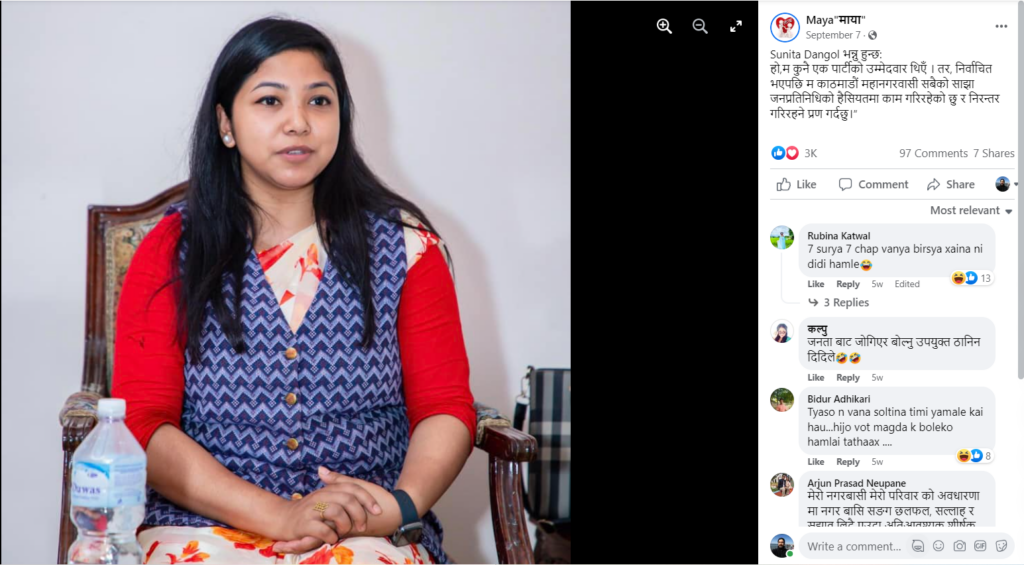 Further, we searched for news if Dangol ever said that she is ready to abandon her party to stand in favour of the mayor. But we could find no such news.
We reached out to Bishwa Shakya, personal aide to deputy mayor Dangol, who confirmed that she had never made such a statement.
Conclusion
Viral video claiming that Deputy Mayor Dangol said she is ready to quit her party CPN-UML is false.
Result: False
Sources
---
If you would like us to fact check a claim, give feedback or lodge a complaint, email us at checkthis@newschecker.co You can also visit the Contact Us page and fill the form.