Ever since reports of rape allegation against Nepali cricketer Sandeep Lamichhane came to the fore, many unverified claims linked with the star cricketer has found its way to social media. Lamichhane was arrested from Tribhuvan International Airport, Kathmandu, on October 6 upon his arrival from the Caribbeans, and is currently being held in remand. In this context, a video is going viral claiming that Lamichhane has been proven innocent after the minor, who accused him of molesting her, allegedly admitted before a court that her age is 19. Newschecker found that the claim is false.
Lamichhane was suspended by the Cricket Association of Nepal on September 8 after an arrest warrant was issued against him over an alleged rape case. A 17-year-old girl in the presence of her guardian lodged a rape complaint against Lamichhane at Gaushala Police Circle in Kathmandu. Lamichhane, who was in the West Indies to participate in CPL 2022 when the case was lodged against him, pulled out of the tournament and announced that he would turn himself in to the police.
According to Nepal's Criminal Code 2017, anyone having sexual intercourse with a woman without her consent or, in the case of a woman below eighteen years of age even with her consent, shall be deemed to have committed rape.
Against this backdrop, TikTok user @manishyadavb458 posted a video, which shows a series of images of cricketer Lamichhane. The audio, presented in a news bulletin style says, "Sandeep Lamichhane has been proven innocent. Famous cricketer Lamichhane had been taken into custody on the Day of Dashain. Today, Lamichhane was presented before the court for investigation. Lamichhane said that the girl, who accused him of coercing her to have sexual relations, has revealed that her age is 19-year-old."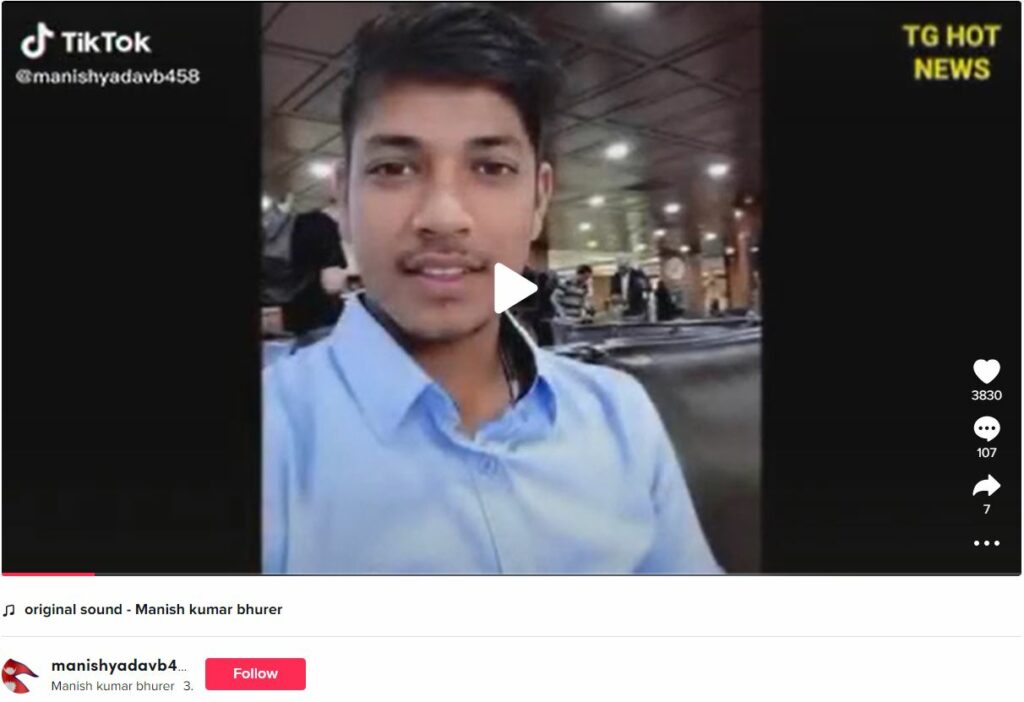 The video posted on October 11 has garnered 3830 likes, seven users have shared it and 107 users have commented on the post. Thirteen other videos have been created by using the viral audio until the time of publishing this article.
Also Read: Old Videos Of Cricketer Lamichhane Arriving At Kathmandu Airport Shared With False Claim
Fact Check /Verification
To check the authenticity of the claim made in the viral video, Newschecker took keyframes of the images used in the viral video and conducted a reverse search on each of them. We found that three of the four images—second, third and fourth—were old and carried by khabarhub.com, pahilopost.com and wicketnepal.com respectively. But we couldn't find the original source of the first photo.
Further, we looked for the latest updates regarding the rape case against the Nepali leg spinner and found several news confirming that Lamichhane was presented before Kathmandu District Court. On checking a news article published in the Himalayan Times, we found that the Kathmandu District Court on Thursday (October 13) granted permission to extend remand of the suspended cricketer for five more days.
We also found a video report regarding the extension of Lamichhane's remand published in South Asia Newsline on October 13.
These reports corroborate the fact that Lamichhane is still in custody and has not been proven innocent as claimed in the viral video.
We further reached out to the lawyer of Sandeep Lamichhane, Saroj Krishna Ghimire, who said that they are studying the case minutely and haven't found any evidence to prove that the girl had reduced her age in her official documents. "We will be more than happy if anyone can provide us with the proof," he said. 
Conclusion
The viral video claiming that Sandeep Lamichhane has been proven innocent after the woman who levelled the rape charges against him confessed her true age, is false.
Result: False
Sources
---
If you would like us to fact check a claim, give feedback or lodge a complaint, email us at checkthis@newschecker.co You can also visit the Contact Us page and fill the form.