Claim
CPN-UML Chairman KP Oli praised Rabi Lamichhane as force to be reckoned with
Fact
Viral clip shows KP Oli addressing the 23rd general convention of CPN-UML's student union ANNFSU
A viral video purporting to show former Prime Minister and Communist Party of Nepal-Unified Marxist Leninist (CPN-UML) Chairman KP Sharma Oli hailing Rabi Lamichhane as a force to be reckoned with is going viral on TikTok. Newscheker found the claim to be misleading.
TikTok user @rabilamichaneking posted a video showing a split screen of KP Sharma Oli addressing a programme alongside an image of Rabi Lamichhane. In the video KP Oli, allegedly referring to Rabi Lamichhane, is heard saying, "This is not a ship that sinks but the one who can sink others. If someone challenges it, they will be destroyed without being aware. This is not a toy ship made out of paper that can be overturned by a small wave but a giant ship that can float regardless of the waves." Text superimposed on the video reads, "Rastriya Swatantra Party Rabi Lamichhane is not a sinking ship." The video also carries an image of Rabi Lamichhane carrying a bell, the election symbol of his party. The archived version of the article can be seen here.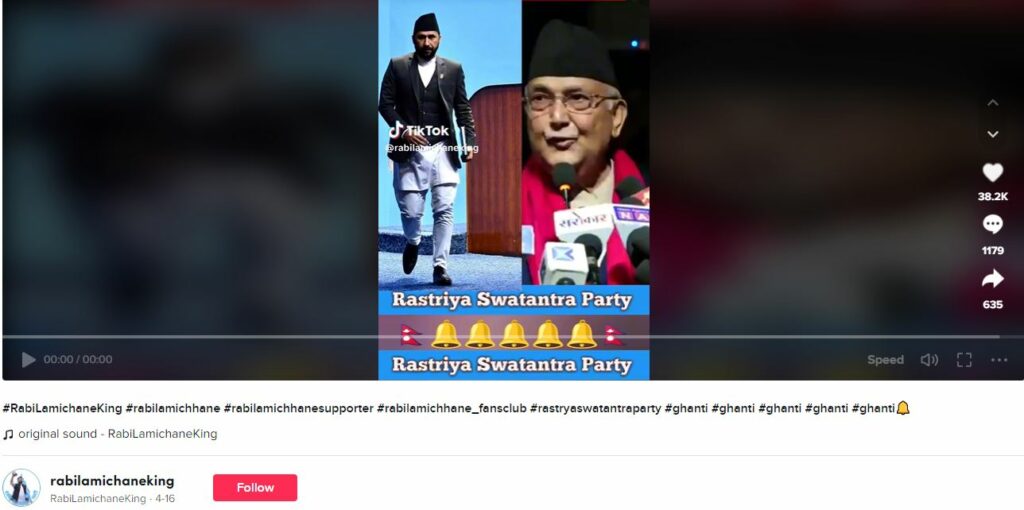 The video posted on April 16 has garnered 34.6k likes, 579 users have shared it and 1106 people have commented on it until the last count.
Fact Check /Verification
To check the veracity of the claim made in the viral video, Newschecker took several keyframes from the viral video and conducted reverse searches on them. However, the searches did not give any related results.
Then, we conducted a search on YouTube by using Nepali keywords 'KP Sharma Oli address' and found a video titled 'KP Oli's address to the 23rd National Convention of All Nepal National Free Students Union (ANNFSU)' posted on the YouTube channel named Canada Nepal. On analysing the video posted on 14 February 2023, we found that the dress worn by KP Oli and placement of microphones of various Television Channels on the dais resembled the viral video. So, we thoroughly checked the video and found the frame and the audio from 44.20-minute onwards exactly matched the viral video.
In the video, KP Oli is heard praising the glorious history of the CPN-UML's student wing during the national convention of the ANNFSU in Kathmandu.
Further, we took a keyframe of the image of Rabi Lamichhane used in the viral video and conducted a reverse image search and found the image showing Lamichhane walking away from the parliament rostrum posted on Facebook by one Jwala Sangroula on January 27.
Our findings show that a video clip of CPN-UML Chairman Oli addressing the National Convention of the party's student union was edited by using an image of Rastriya Swatantra Party President Rabi Lamichhane to make the false claim.
Conclusion
The viral video allegedly showing CPN-UML Chairman Oli hailing Rabi Lamichhane as a reckoning force is edited by merging an unrelated image of Lamichhane.
Result: Edited Video
Sources
Canada Nepal, 14 February, 2023
Jwala Sangroula, 27 January, 2023
---
If you would like us to fact check a claim, give feedback or lodge a complaint, email us at checkthis@newschecker.co  You can also visit the Contact Us page and fill the form.