Claim
Janaki Temple has been finally designated as a UNESCO World Heritage Site of Nepal
Fact
Historic Janaki Temple is only on the Tentative list of Nepal intended for nomination to the World Heritage List
A video claiming that Nepal's historical Janaki temple has been enlisted on the world heritage site on May 20, 2023 has been going viral on TikTok. Newschecker investigation found the claim to be misleading.
A Hindu holy site dedicated to Hindu goddess Sita, consort of Lord Ram, Janaki temple has been known for its historical, religious, and cultural significance. The temple has a unique architectural blend of Mughal and Koiri domes.
TikTok user @rudranshpoliceacademy posted a video showing an image of Ram Janaki Temple in Janakpurdham. Text superimposed on the video reads, "From today Nepal's pride and honour Janaki Temple has been put on the [UNESCO] world heritage site list May 20, 2023."  The archived version of the TikTok video can be seen here.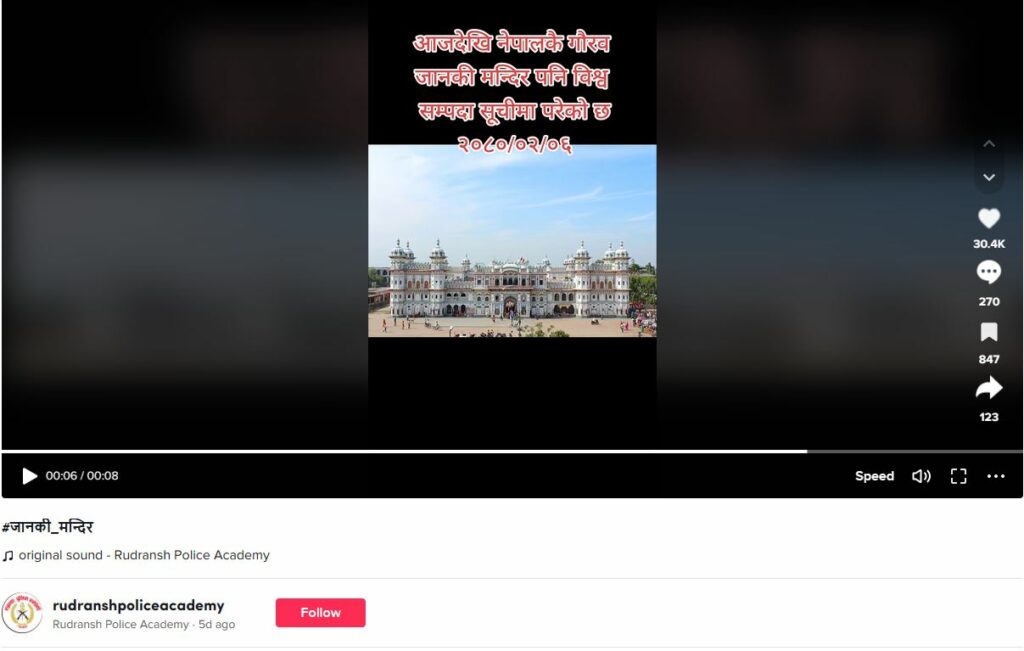 The video posted on May 20 has garnered 30.4k likes, 123 users have shared it and 270 people have commented on it until the time of publishing this article.
Fact Check /Verification

To check the authenticity of the claim made in the viral video, Newschecker conducted a google search about the status of Janaki temple by using relevant keywords. We found several articles that indicated that Janaki Temple has only been included on the tentative list of Nepal to be inducted into the United Nations World Heritage List. On checking an article published on the official site of UNESCO, we found that the historic Janaki temple has yet to be put on the World Heritage Site list. According to the website, a tentative list is a record of those properties which the State Party intends to consider for nomination.
Further, we found an article titled 'Janaki Mandir likely to be included on UNESCO World Heritage List' published on the onlinekhabar.com on 8 February, 2019. The news article confirmed that the site was designated as a UNESCO Tentative Site in 2008. However, we didn't find any other official documents or reports confirming that the Janaki Temple has been included in the UNESCO world heritage site list.
Then, we reached out to Nirana Shakya, an official at UNESCO office based in Kathmandu, who told Newschecker that Janaki Temple is still on the Tentative site list and yet to be put on the World Heritage Site list.
Conclusion
The viral video claiming that Janaki Temple has been put on the UNESCO World Heritage Site list is misleading.
Result: Partly False
Sources
UNESCO Tentative Lists
Online Khabar.com
Factopedia Nepal
---
If you would like us to fact check a claim, give feedback or lodge a complaint, email us at checkthis@newschecker.co You can also visit the Contact Us page and fill the form