Does the Covid vaccine have anything to do with the death of a 78-year-old man who reportedly died within an hour after taking Johnson & Johnson's Covid jab?
Dhading's Nar Bahadur Shrestha died moments after receiving J&J's single-dose Covid jab on 23 July in Nilkantha municipality, 90 kilometres west of Nepal's capital Kathmandu. A doctor who handled the adverse event said "he was an asthma patient with chronic diabetes" and that the incident was being investigated further.
Shrestha's death made headlines in Nepal's mainstream media before spilling over to social media platforms.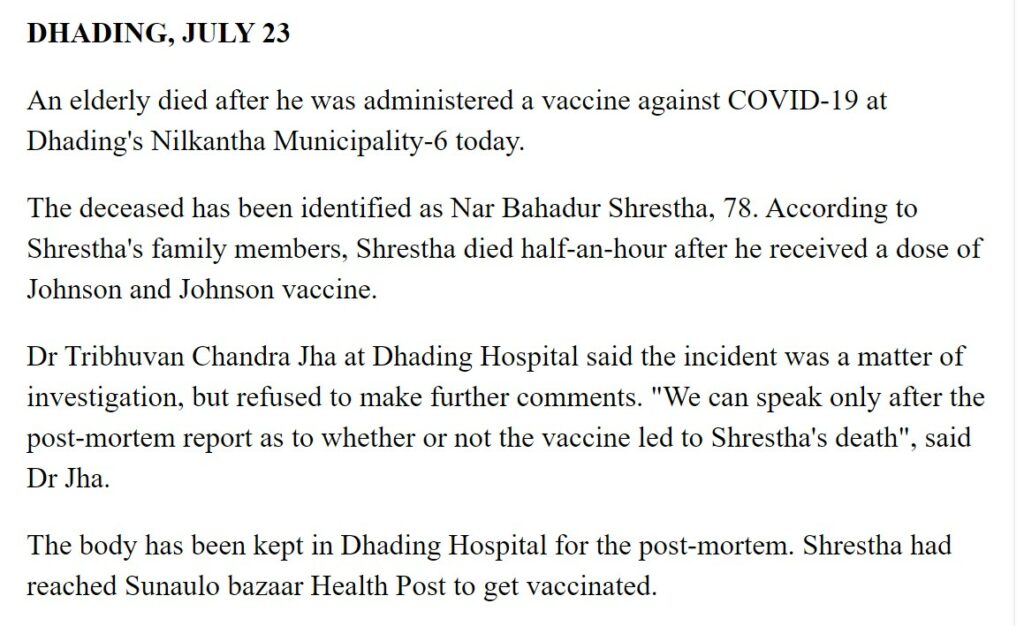 The news became viral on TikTok, too.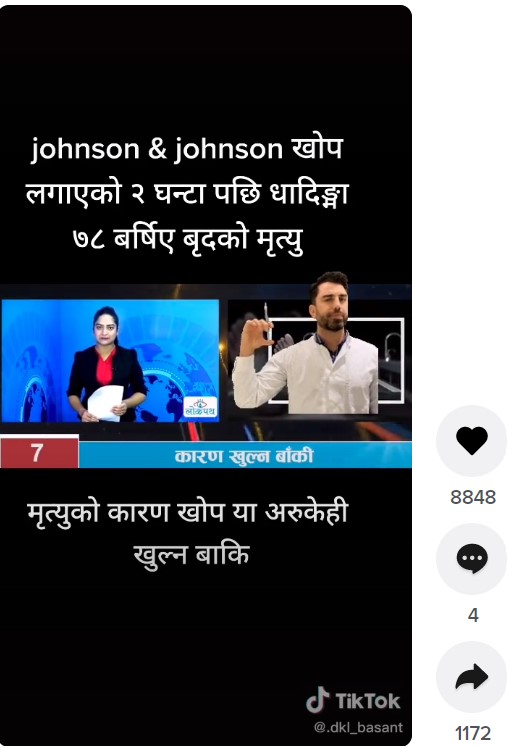 A user took to Twitter and wrote a post asking for the result of the investigation to be made public
Also Read: Is Johnson & Johnson's Covid Vaccine Unsafe?
Fact Check / Verification
After US healthcare regulator, the Federal Drug Administration warned on 12 July about a potential adverse event that could cause a rare nerve syndrome in some, both the FDA and the WHO have clarified that the vaccine's benefits "far outweigh the risks" of adverse effects.
The FDA on July 13, stated that out of the 12.5 million inoculated there were only 100 preliminary reports of adverse effects.
What caused the death of the Dhading man?
Dr Jha told Newschecker that "Shrestha's relatives reported that he had chronic diabetes and he collapsed within minutes of reaching his house from the health post where he got the vaccine dose".
Dr Tribhuvan Chandra Jha, a medical doctor posted at Dhading District Hospital handled the adverse event on 23 July told Newschecker "by the time he was rushed to the hospital by his relatives he was already dead."
Shrestha's body was taken to a well-equipped medical facility in Kathmandu for further investigation. His post-mortem report is being studied by an investigation team of the Department of Health Services, according to the Division's Director, Dr Taranath Pokharel.
The Division is entrusted with investigating similar adverse events, including possible correlation between the Covid vaccine and deaths like the one that was recorded in Dhading on 23 July.
Covid vaccine-related deaths
Dr Pokharel told Newschecker: "Preliminary reports suggest that he was a patient of asthma and chronic diabetes. The exact circumstances leading to his death after taking the Covid vaccine are still being investigated."
As of 19 August, over 4.8 million Nepalis have already received the first dose of Covid vaccine, while over 3.7 million have got both doses of the vaccine.
Johnson & Johnson is a single dose vaccine, though. After receiving 1.5 million doses from USA on 12 July, Nepal has been administering J&J jabs to refugees, people with disabilities and health workers.
Health officials maintain that not a single death or serious adverse event or disability has occurred because of Covid vaccine.
Dr Pokharel told Newschecker that "6.5 million people have been vaccinated since February and 30 deaths have been recorded after vaccination. We investigated all the incidents. And Covid vaccine had no role in any of the adverse incidents."
Nepal started its Covid vaccination programme in January 2021, and currently 3 vaccines- AstraZeneca, Vero Cell and Johnson & Johnson- have been given emergency use authorisation for preventing the spread of covid
Dr Krishna Prasad Poudel, Spokesperson at the Ministry of Health and Population maintains that covid vaccines are safe and that "the Dhading incident is more like an accident and this shouldn't discourage people from getting vaccinated."
Conclusion:
As none of the 30 deaths recorded after the Covid vaccination had any proven connection with the vaccine, health officials suspect the 23 July death of the Dhading man may be unrelated to the possible side-effects of the Covid vaccine. As investigations continue, it would be misleading to conclude that the Covid vaccine triggered the death.
Result: Misleading.
Our sources:
WHO: https://www.who.int/news-room/feature-stories/detail/the-j-j-covid-19-vaccine-what-you-need-to-know
Ministry of Health and Population: https://covid19.mohp.gov.np/
---
If you would like us to fact check a claim, give feedback or lodge a complaint, email us at checkthis@newschecker.co You can also visit the Contact Us page and fill the form.